China's largest cargo airline will continue to draw upon AFI KLM E&M's expertise for the maintenance of its CF6-80C2 engine stock.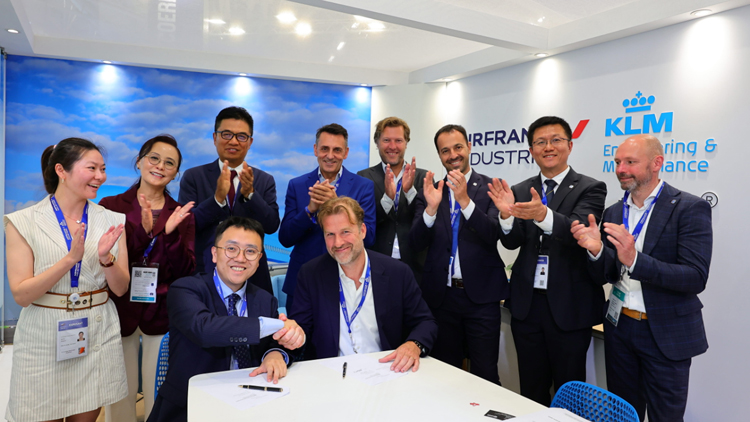 Today, at the 2023 Paris Air Show, AFI KLM E&M and SF Airlines have announced a contract providing performance restoration shop visits for seven CF6-80C2 engines. Through this new cooperation, the two groups are continuing a successful partnership founded 15 years ago, over the course of which AFI KLM E&M has already performed heavy shop visits for 22 of SF Airlines' engines.
High-performance support with a signature Airline-MRO touch
The mutual trust and partnership built up between the two players is founded upon AFI KLM E&M's ability to design highly effective support packages and customized solutions, adapted to the specific operational challenges faced by SF Airlines. As an MRO backed by a group of airlines which is itself an air cargo operator, AFI KLM E&M is particularly attentive to the issue of securing its customers' operations – in its cooperation with SF Airlines, this objective is reflected notably via the application of solutions with major added value, such as AOG support and the provision of spare engines, in order to maintain the customer's operational continuity.
Li Sheng, VP of SF Group and CEO of SF Airlines, has stated: "year after year and engine after engine, AFI KLM E&M delivers high-level technical services and remains attentive to our needs and expectations. The support program they have designed for our CF6-80C2 engines will contribute directly to the robustness of our operations, and we're happy to be pursuing and strengthening our partnership."
Ton Dortmans, EVP KLM Engineering & Maintenance, said; "we are honored that an operator of SF Airline's stature is renewing their confidence in us. This is a testament to the quality of our services, to our teams' commitment to defining solutions that meet the precise needs of our customers (including in the air freight sector), and to our ability to undertake heavy work scopes with flexibility and responsiveness."