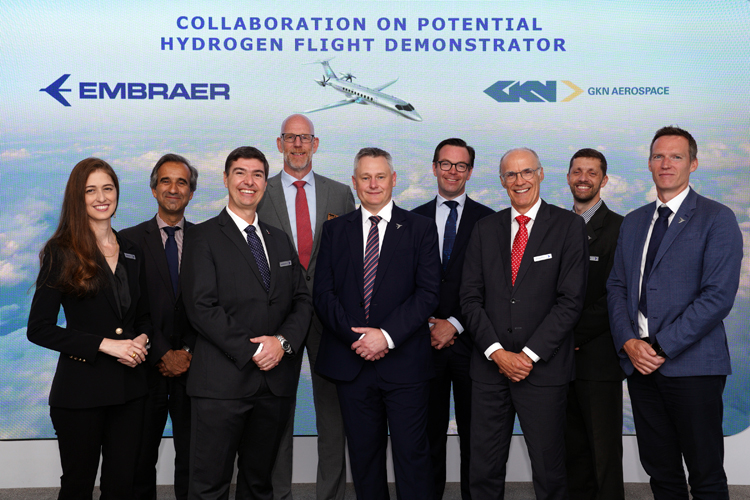 Embraer and GKN Aerospace, both renowned leaders in the aerospace industry, today announced a collaboration agreement on cutting-edge hydrogen technological development programmes. The partnership aims to accelerate the implementation of hydrogen technologies in aviation, reducing emissions and paving the way for a more sustainable future. The collaboration will also explore the potential for a hydrogen flight demonstrator.
The agreement is part of Embraer's commitment to the global efforts to collaborate with the Air Transport industry's commitment to achieve net zero carbon by 2050. Together, both companies will leverage their extensive expertise and resources to actively support the development of innovative Hydrogen Fuel Cell technology, as well as optimize airframe systems integration. GKN Aerospace is at the forefront of ground-breaking collaborative hydrogen programs across the Netherlands, Sweden, and the UK.
"The imperativeness of sustainability drives research and development programmes at Embraer, and the potential development of a hydrogen flight demonstrator represents an important milestone in our technology roadmap toward to the future of sustainable aviation. It is a pleasure to have GKN Aerospace as a partner in this technological journey with us," said Luís Carlos Affonso, Senior Vice President, Engineering & Technological Development at Embraer.
"Collaboration is key to exploring innovative solutions and accelerating disruptive technologies. That's why we are excited to work together with GKN Aerospace to enable the application of disruptive technologies in a shared vision for a greener future," said Daniel Moczydlower, Global Head of Innovation Ecosystems at Embraer.
John Pritchard, President Civil Airframe at GKN Aerospace said: "We are proud to partner with Embraer and explore the next steps in the adoption of hydrogen technologies in aviation. By joining forces and harnessing the power of hydrogen technologies, we are not only reducing carbon emissions but also creating a new generation of clean air travel. This partnership exemplifies our commitment to driving innovation and forging a path towards a greener future for the aerospace sector."
Russ Dunn, CTO GKN Aerospace added: "Hydrogen-powered aviation represents a tangible and compelling solution for achieving zero-emissions flight. Advancing this pioneering technology to the next level necessitates unparalleled collaboration within the industry, as exemplified by our partnership with Embraer as well as combining expertise of aerospace ecosystems in our countries and support across governments."
GKN Aerospace's flagship hydrogen exploration programme, H2Gear, is focused on developing a highly efficient liquid hydrogen propulsion system specifically designed for sub-regional aircraft. With the potential for scalability to larger aircraft, this system converts liquid hydrogen into electricity within a state-of-the-art fuel cell system. By efficiently utilizing this electricity, the aircraft operates with zero carbon emissions, revolutionizing the aviation industry and ushering in a new era of sustainable air travel.