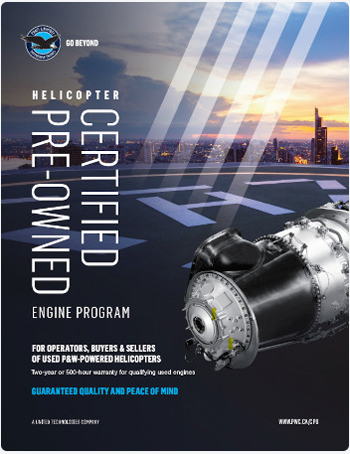 Pratt & Whitney Canada's Certified Pre-Owned Engine Program
Pratt & Whitney Canada (P&WC), a business unit of Pratt & Whitney, today announced global helicopter distributor Rotortrade has signed an agreement that will increase the number of helicopter engines the company will enroll every year to the Certified Pre-Owned (CPO) Engine Program, further supporting the marketability of their helicopters.
"Rotortrade has built its business as the only helicopter dealership that provides nose-to-tail certified pre-owned helicopters," said Philippe Lubrano, CEO and president of Rotortrade. "CPO delivers tangible value to both sellers and buyers of used helicopters. With a certified engine, buyers can make decisions with confidence and then fly their newly purchased aircraft with peace of mind. We are always seeking new and innovative means to deliver benefits to our customer base and Pratt & Whitney Canada's CPO program does exactly that."
Rotortrade, was one of the first customers of the CPO Engine Program with Pratt & Whitney Canada in 2018. All Pratt & Whitney Canada helicopter engines are eligible for the CPO Engine Program, which offers a two-year/500-hour warranty. The engine must have been maintained at a P&WC-owned or designated facility, contain only genuine P&WC parts, and pass a thorough inspection conducted by a licensed inspector.
Dealers such as Rotortrade can differentiate their inventory by promoting that their engines come with a P&WC-backed inspection and warranty. Operators can purchase a pre-owned helicopter with peace of mind and confidence knowing the aircraft's engines have the engine manufacturer's stamp of approval.
"Rotortrade has been a key supporter of the CPO Engine Program, and we are delighted to further strengthen our relationship with them," said Irene Makris, vice president, Customer Service, Pratt & Whitney Canada. "This program delivers value to both sellers and buyers of used helicopters. Our relationship with Rotortrade demonstrates our commitment to support customers with innovative solutions."
In addition to the warranty, CPO customers are also entitled to:
A credit of up to $15,000 USD towards enrollment in Pratt & Whitney Canada's Eagle Service™ Plan (ESP™) engine maintenance program.
A one-year complimentary subscription to the Pratt & Whitney Canada technical publications maintenance collection.
Discounts on engine maintenance training from Pratt & Whitney Canada's global training supplier FlightSafety International.
"The CPO Engine Program is another example of our comprehensive efforts to support our customers and can provide them with an attractive avenue to upgrade to an ESP enrollment, which goes well beyond the warranty and provides long-term peace of mind, predictable maintenance costs, and increased asset value throughout the lifecycle of their engines," said Makris.