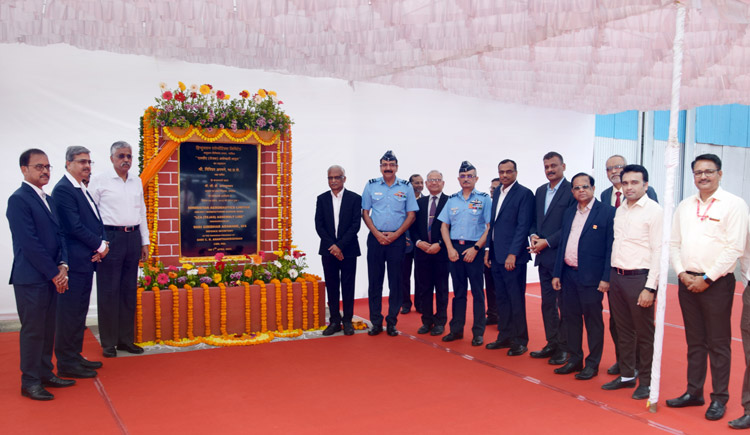 LCA Assembly Line Inauguration
The Defence Secretary, Giridhar Aramane inaugurated the third LCA production line and also handed over 100th Sukhoi-30 MKI ROH aircraft to Air Vice Marshal Sarin, VSM, Assistant Chief of Air Staff (Eng A), Indian Air Force in a programme at HAL's Nashik Division today. The Signal Out Certificate (SOC) of the 100th ROH aircraft was handed over by Mr Saket Chaturvedi, CEO (MiG Complex) to Air Vice Marshal Sarin, VSM in the presence of HAL CMD, C.B.Ananthakrishnan and other senior officials.
The Defence Secretary lauded HAL's efforts in taking up the challenge of setting up an ROH facility for Su-30 MKI and also establishing a new production line for LCA manufacturing. He remarked that HAL has been fulfilling the needs of the country's security. He said, "The Government has come out with several 'Aatmanirbhar Bharat' policies, and that puts HAL in a very important position. HAL will be producing more in the coming years. Build more systems, come out with new concepts, new platforms for future growth," he added. He also urged HAL to take up new initiatives to aggressively compete in the defence market and look into new areas like unmanned vehicles as the country is in need of these advanced systems. He emphasized on Initiatives, Innovation and Excellence and focus on performance. He visited the LCA Assembly Complex, Su-30 ROH Flight Hangar and Final Assembly Hangar.
C.B.Ananthakrishnan, CMD, HAL said, "The new production line will enable the Company to enhance LCA MK1A production capacity from 16 to 24 aircraft per year. HAL's Nashik Division has achieved peak overhaul capacity of 20 Su-30 aircraft per year despite having supply chain issues in current geopolitical situations." HAL has already set up two LCA manufacturing facilities in Bengaluru.
HAL's Nashik Division set up Su-30 MKI Repair and Overhaul (ROH) facility in 2014, the first of its kind anywhere in the world to meet the operational requirements of the IAF. Having gained experience from manufacturing MiG-series and Su30-MKI aircraft and subsequent overhaul of MiG-series aircraft, HAL successfully mastered the technology with valuable support from the IAF, regulatory bodies and private industries. Several HAL sister Divisions are involved in the ROH activities. HAL plans to reduce the dependency on OEM by indigenising majority of components required for ROH within the next 3-5 years.
Defence Secretary at Su-30 MKI hangar
Defence Secretary at LCA Assembly Complex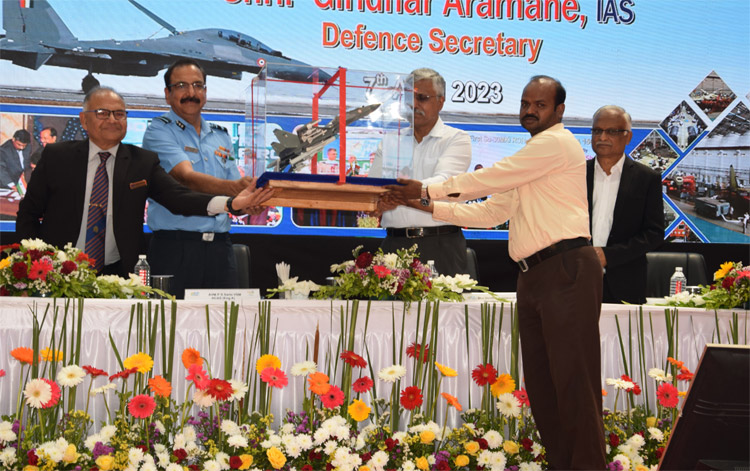 Defence Secretary - Su-30 ROH aircraft symbolic handover