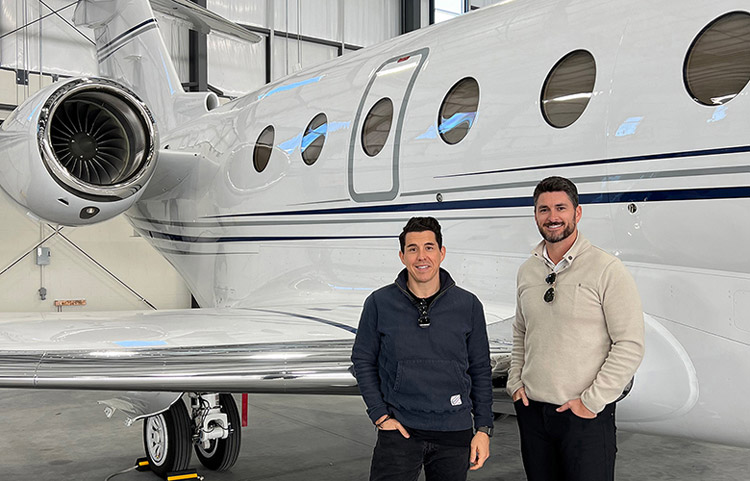 The North Texas private aircraft marketplace is home to young buyers with diverse backgrounds and mission requirements. To answer this growing market demand, JetHQ is applying a hands-on approach with a fresh perspective into its aircraft transaction and brokerage business, opening its first physical office in the Dallas-Fort Worth Metroplex, led by Cole White, Vice President of Sales in the Central United States.
White and the JetHQ team, including Vice President of Marketing RJ Miller, will be based at Galaxy FBO at Addison Airport (KADS). The location puts JetHQ within easy distance for buyers in the prestigious North Dallas area and conveniently located for aircraft owners around the region.
Like the prospective buyers and sellers JetHQ serves, White comes to aircraft sales with a unique history and impressive background. A graduate of the United States Military Academy, he served with the U.S. Army, leading a tank platoon as a commissioned officer. He also played baseball at West Point, getting drafted by the Pittsburgh Pirates, but deferred his professional career to fulfill his military commitment. While in the Pirates' organization, he played with and against some of the top prospects in the game, including future World Series champion and No. 1 overall pick Gerrit Cole.
"I've been fortunate to have had the experiences I've had," White said. "In baseball, in the army, in business – it allows you the opportunity to see a range of perspectives and that successful relationships are built on trust.
"Leaders in any field stand out and this new generation getting involved in private aviation has demonstrated a savviness in how they approach aircraft transactions and a vision for results. They want the deep-dive analytical side of the equation while looking to see how they can incorporate new ideas into the process. At JetHQ, we're able to accommodate both aspects and advise them in what will be best for the future."
At the North Texas location, White and his team will be catering to young entrepreneurs and financial leaders. They will also tap into oil and gas companies throughout the state and businesses who use the growing Dallas-Fort Worth markets as a base for long-range and international trips. Those users are finding more and more frustrations with traditional airline service, including last month's software outages.
White and JetHQ will advise prospects on the advantages of specific aircraft to meet their mission needs and gain greater productivity for their businesses. As part of his aviation background, White developed strategy, extensive fleet planning and market research for a major business aircraft solutions provider.
JetHQ has a global network of aviation professionals, and can tap into an extensive research and sales support team. It handles deals around the globe, completing more than 50 aircraft transactions last year. Its team also boasts in-house contracting, legal, and financial resources to get deals done.
Miller came to JetHQ at the end of 2022 having specialized in nimble, interactive digital campaigns, marketing world-renowned brands to the same demographic of end users who are now in position to purchase aircraft. He's also worked extensively in lifestyle marketing, engaging audience for clients and helping generate sales leads.
The Galaxy FBO offers JetHQ clients brand-new facilities and amenities. Aside from its convenience to north Dallas clients, it is far enough away from the congestion of the Metroplex's larger airports.