Eve Holding, Inc. to Trade on the New York Stock Exchange Under the Symbol "EVEX"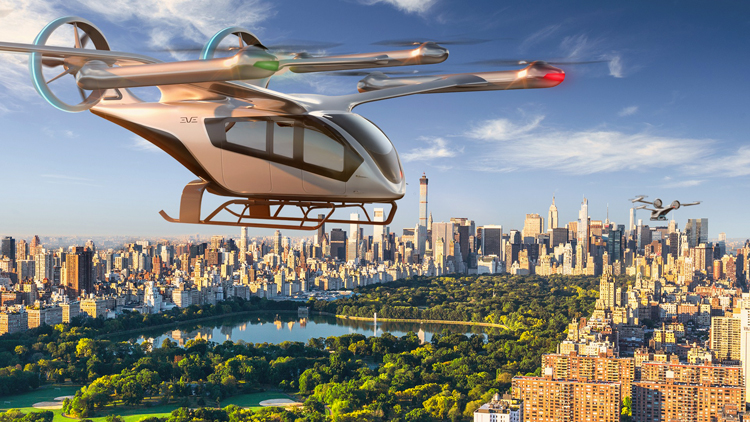 Eve Holding, Inc. (the "Company"), formerly known as Zanite Acquisition Corp. (Nasdaq: ZNTE, ZNTEU, ZNTEW) ("Zanite"), announced today that it has closed the previously announced business combination (the "transaction") with Eve UAM, LLC ("Eve"), a leader in the development of next-generation Urban Air Mobility ("UAM") solutions and a subsidiary of Embraer S.A. ("Embraer"). The transaction was approved by Zanite's stockholders on May 6, 2022.
With the transaction now complete, Zanite has changed its name to "Eve Holding, Inc." In connection with the closing of the transaction, Zanite's securities will be voluntarily delisted from the Nasdaq Capital Market after market close on May 9, 2022, and the Company's common stock and public warrants are expected to begin trading on the New York Stock Exchange on May 10, 2022 under the symbols "EVEX and "EVEXW", respectively."
"The successful completion of this transaction is an important milestone, providing capital and strategic support for Eve to play a pivotal role in accelerating the global UAM ecosystem. The funding raised through the transaction provides Eve with growth capital and positions Eve well to execute its development plans, aided by our ongoing strategic partnership with Embraer. We intend to further strengthen our position as a leading global UAM player by delivering an effective and sustainable new mode of urban transportation," said the Company's Co-CEO Andre Stein.
The Company's Co-CEO Jerry DeMuro added, "The closing of this transaction sets us on a path to further develop and commercialize our comprehensive UAM solution. I believe that our skilled team, world-class board and extensive strategic global partnerships provide superior positioning for Eve to execute on key development initiatives in the years ahead, in our quest to deliver strong value creation for our stakeholders."
An upsized $357 million PIPE priced at $10.00 per share also closed on May 6, 2022, immediately prior to the closing of the transaction. The PIPE includes investments of $185 million from Embraer, $25 million from Zanite's sponsor and $147 million from a consortium of leading financial and strategic investors including Acciona, Azorra Aviation, BAE Systems, Bradesco BBI, Falko Regional Aircraft, Republic Airways, Rolls-Royce, SkyWest, Inc., Space Florida and Thales USA.
White & Case LLP served as legal advisor to Zanite. Jefferies LLC, BTIG, LLC and Cowen and Company LLC served as financial advisors and capital markets advisors to Zanite. Skadden, Arps, Slate, Meagher & Flom LLP and Mattos Filho, Veiga Filho, Marrey Jr. e Quiroga Advogados served as legal advisors to Embraer and Embraer Aircraft Holding, Inc. Raymond James & Associates, Inc. served as financial advisor and capital markets advisor to Eve and Banco Santander (Brasil) S.A., Banco Bradesco BBI S.A. and Banco Itaś International served as financial advisors to Eve.