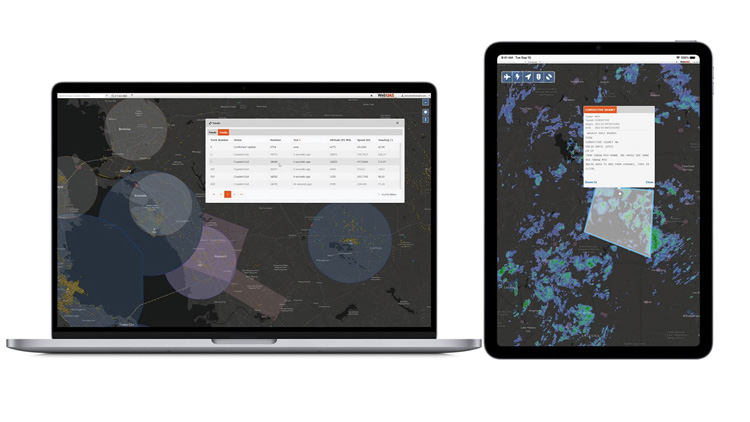 Collins Aerospace is leveraging the synergies of its recent acquisition of FlightAware by announcing today at the World ATM Congress the availability of new aircraft tracking and alerting features for its Uncrewed Aircraft System (UAS) digital platform, WebUASSM. By integrating FlightAware FirehoseSM, the world's most comprehensive global flight tracking and ADS-B flight status data feed, WebUAS is now able to provide Air Navigation Service Providers (ANSP) and UAS operators an even higher-fidelity picture of active flight operations within airspace they are monitoring.
Autonomous and remotely-piloted flights are currently unable to commercially operate Beyond Visual Line of Sight (BVLOS) because of gaps in Air Traffic Management (ATM) technologies and infrastructure systems. Collins is helping to bridge these gaps with the integration of aircraft telemetry data and primary radar feeds, and the ability to stream real-time aircraft tracking data from 195 different countries, private data link partners, and the world's most comprehensive ADS-B network.
"Collins is not only preparing for the future of flight, but also setting the framework for the successful integration of autonomous operations through the integration of FlightAware data with the rest of ourleading digital and connected aviation solutions," said Jen Schopfer, President of Connected Aviation Solutions for Collins Aerospace. "By continuing to deploy intelligent solutions and connected flight services, Collins Aerospace is helping to create the path for expanded Advanced Air Mobility and creating new value for the aviation community."
In addition, Collins Aerospace is an active partner for NASA's Advanced Air Mobility National Campaign as a Developmental Test partner for infrastructure services. The Campaign's goal is to promote public confidence and accelerate the realization of emerging aviation markets for passenger and cargo transportation in urban, suburban, rural, and regional environments.