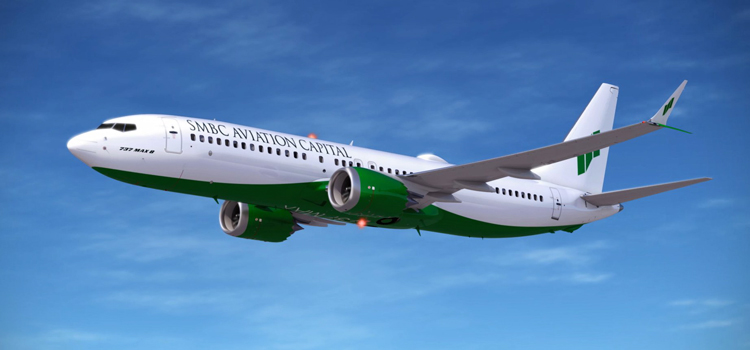 Boeing and SMBC Aviation Capital announced today the airplane lessor is ordering 25 737-8s. The new order increases SMBC's backlog to 81 737 MAX jets focused on the market-leading 737-8.
With travel demand surging around the globe, lessors are looking to increase their single-aisle portfolios to provide airlines with more fuel-efficient jets capable of operating across various route networks.
"We are pleased to conclude this further order with our long-standing partner Boeing and we look forward to working closely with them in the future. This transaction demonstrates our commitment to provide our customers with the latest-technology, most fuel-efficient aircraft, as they seek to meet their own sustainability objectives and reduce operating costs," said Peter Barrett, CEO of SMBC Aviation Capital. "Our customers have demonstrated clear, long-term demand for the 737 MAX and our expanded order pipeline positions SMBC Aviation Capital for future growth against the background of a strong global recovery in air travel."
The 737-8 provides flexibility across airline's networks while reducing fuel use and emissions by up to 20% and on average. Each airplane will save up to 8 million pounds of CO2 emissions annually compared to those airplanes it replaces. Boeing has secured more than 400 737 MAX family orders in 2023.
"As one of the industry's leading airplane lessors, SMBC's decision to increase its 737 MAX backlog with an order for 25 737-8s shows its confidence in the value the airplane brings to its airline customers," said Stan Deal, president and CEO of Boeing Commercial Airplanes. "The 737-8's incredible versatility and unrivalled fuel-efficiency makes it a key asset for the leasing community in its drive to help airlines achieve sustainability and efficiency goals."
The 737-8 seats 162 to 210 passengers depending on configuration with a range of 3,500 nautical miles and operates profitably on short- and medium-haul routes.