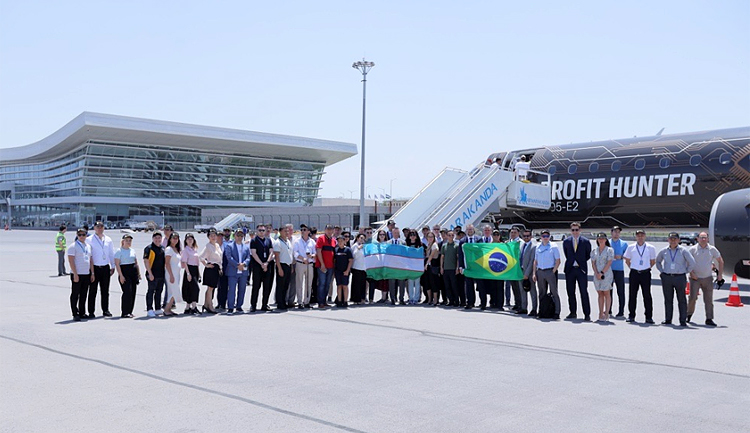 The Embraer E195-E2 made its debut in Uzbekistan with a two-day tour. The demonstration flights offered government officials, the media and airline representatives an up-close experience of the E2 family of jets' innovative design and operational efficiency.
The demonstration underscored the urgent need for enhanced domestic and regional connectivity within Uzbekistan, a nation increasingly focusing on tourism development and infrastructure expansion. Given the country's challenging geography, marked by intense summer heat and mountainous terrains, the necessity for a versatile, reliable, and efficient aircraft has never been more evident.
The demonstration flights were attended by representatives from the Government of Uzbekistan, the Brazilian Embassy, media, plus representatives of the local aviation community and airlines from the region.
"The demonstration flights provided an excellent opportunity to showcase the operational efficiency, low maintenance costs, and adaptability of our E2 family to challenging conditions, making it a perfect fit for the Uzbekistan market," said Michal Nowak, VP Sales & Marketing, Head of Region for Europe and Central Asia – Commercial Aviation. "We are excited about the opportunities this market presents."
The event was co-hosted with Uzbekistan Airports and Uzbekistan Airways.
"Embraer's range of regional aircraft has proven itself in the global aviation market. I am glad that the manufacturer is constantly working on new aircraft developments, paying attention to important criteria like sustainability, fuel efficiency and noise level reduction. Today we are witnessing a historic moment as the aviation sector of Uzbekistan is experiencing a real boom. Over the past year, several new domestic airlines have been launched in the country and new aircraft types have started operations in Uzbekistan., providing a strong boost for the development of tourism, both domestic and international. Against this background, this event is very important for us, when domestic carriers can be familiarized with a new aircraft type, directly ask questions to the manufacturer, and take part in the demo flight," said Rano Juraeva, Chairwoman of the Board of Uzbekistan Airports.
"Adaptability, operational efficiency, and reliability in a unique geographical environment are key factors to be considered as we evaluate our future fleet development. We are thankful for this opportunity to sample the Embraer E195-E2's capabilities in Uzbekistan, which will allow us to make an informed decision to improve our service and develop the airline's route network" said Shukhrat Khudaykulov, CEO of Uzbekistan Airways.