Global Jet Capital is recognised worldwide for its singular focus on financing business aircraft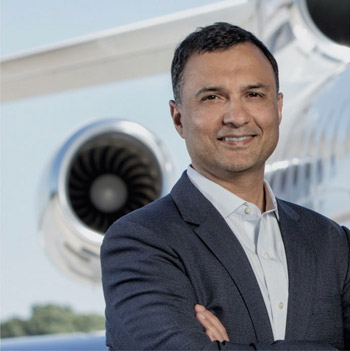 Vivek Kaushal, Chief Executive Officer,
Global Jet Capital
Global Jet Capital (GJC), a global leader in financial solutions for business aircraft, announced that it has provided more than $3.5 billion in financing to users of new and pre-owned aircraft. This milestone is significant for the specialty financer that has focused on delivering a unique customer-centric experience since its inception, providing speed, flexibility, and personalised financing solutions unmatched in the marketplace.
Global Jet Capital is recognised worldwide for its singular focus on financing business aircraft and its talented group of experts in this asset class. This focus enables the company to transact quickly and seamlessly on highly complex deals compared to non-specialised lenders. "Financing business aircraft can be inherently complex, but we've dedicated ourselves to finding ways to address client pain-points and to provide unique solutions," affirmed Vivek Kaushal, Chief Executive Officer. "In particular, our operating lease product helps our clients minimise their capital investment and risk while receiving all the benefits of a dedicated business aircraft."
The Company commenced operations in 2014. GJC added scale and a broad reach in 2016 when it completed the aquisition of GE Capital's business aircraft portfolio. In 2018, GJC issued the first asset-backed security (ABS) backed exclusively by business jet operating leases and loans. The company has now successfully issued an aggregate of $3.6 billion of ABS notes and has continued its growth and exceptional portfolio management through the unprecedented pandemic period.
"Reaching this $3.5 billion originations milestone is a testament to how we've built the business and reflects an appreciation for our approach to the financing process by both our customers and the market," stated Kaushal. "We never attempt to fit our customers into a mold. We strive to understand their needs and structure financing solutions to achieve their goals. And we are uniquely qualified to help our clients make well-informed decisions."