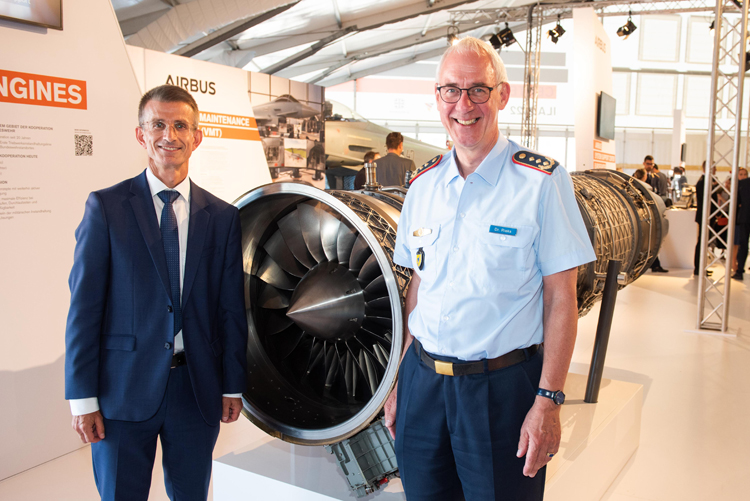 The close cooperation between the Bundeswehr and MTU on maintenance of military engines that was first launched in 2002 has developed into an excellent partnership. Members of the military and colleagues from MTU have been working together hand in hand under the company's leadership ever since the EJ200 engine, which is used in the Eurofighter, was introduced.
Before that, there had always been a clear division of labor between the armed forces and the national aviation industry:one is the customer, the other the contractor. The Bundeswehr maintained some of its engines on its own for decades while having the others maintained by aviation industry players. That meant that the same infrastructure and special tools had to be kept available twice over for the same work – once at MTU's workshops, and a second time at Luftwaffe locations.
It was not until the late 1990s, when the Eurofighter was launched, that the issue was reconsidered. "Procurement volumes were lower compared to earlier defense projects, it would not have been economically justifiable to divide the work between two maintenance facilities," saysLieutenant General Dr. AnsgarRieks, Deputy Chief of Staff of the German Air Force. That was especially true of the engines.
The solution came in the form of a completely new type of cooperation, in which members of the Bundeswehr and MTU employees are integrated into the company's workflows. "While overall responsibility for the maintenance package rests with MTU, the service members – most of them technical officers and engine mechanics – are still assigned to the Luftwaffe in disciplinary terms and follow their orders," explains Klaus Günther, head of military programs at MTU.
In addition to engine maintenance itself, replacement parts management and forecasting, investigations of damage, product monitoring, and quality assurance are also part of the cooperation package. "But all these functions are performed at the MTU location in Munich, where service members who are working as part of the cooperation are also integrated into the relevant teams," Günther says.
"The Bundeswehr task forces change the engines, and only perform minor checks and replace auxiliary equipment. We are handing over maintenance services, but not all competencies due to the integration of soldiers. We are still involved in working on the engine types, and we stay an intelligent customer," saysRieks. "That's important so that we have expertise of our own and can operate in any military situation and in far-flung applications and settings."
MTU was the Bundeswehr's first choice of industry partner. The armed forces and MTU had begun working together back in 1959, with the licensed construction of the J79 engine for the Starfighter. That was followed by the RB199 engine used in the Tornado, the Tyne engine for the Transall and its successor, the Airbus A400M with its four TP400-D6 engines.
The crucial factor is that MTU was already involved in the development of the engines. MTU is also contributing this experience to the maintenance of the engines. In the cooperation between the partners, that came to apply not just to the EJ200 engines, but also the RB199 and the MTR390, which is used in the Tiger helicopter. Both were incorporated into the arrangement in later years. The goal has remained the same: to get the engines back onto the wing – or, in the case of the Tiger, under the rotors – as soon as possible, at the best possible quality and the lowest possible cost. "Our success is measurable, too," says Günther. "In the first ten years of our cooperation, we doubled on-wing time for the RB199, for example. The engine's reliability rose 20 percent in the same period. Those values have largely held steady to this day."