India offers advantages to global defence industry, such as competitive land costs, skilled human capital, vibrant start-up ecosystem & huge defence market: Defence Minister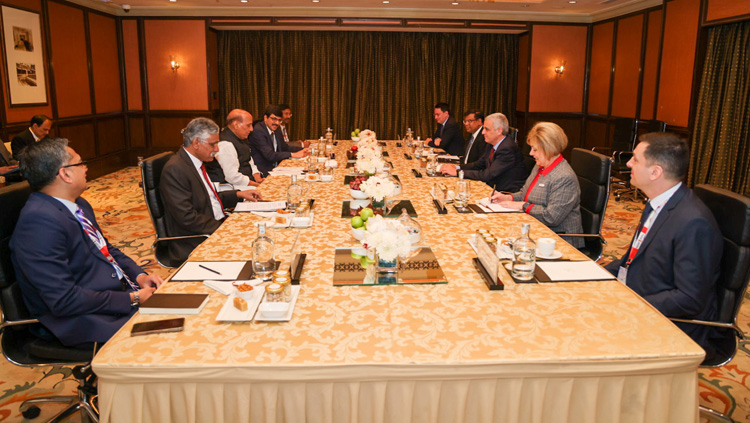 Defence Minister Rajnath Singh addressing at CEOs Round Table at Aero India 2023, in Bengaluru on February 13, 2023.
Defence Minister Rajnath Singh met the CEOs of Original Equipment Manufacturers (OEMs) on the sidelines of 14th Aero India on February 14, 2023. During the interaction, he highlighted that India offers significant advantages of competitive land costs, skilled human capital, a vibrant start-up ecosystem and a huge domestic defence market to the Global Defence industry. He described this as a win-win situation where defence manufacturing companies from across the world can become a part of the Indian growth story.
Rajnath Singh emphasised the importance of the defence sector for India saying, "Defence production meets the twin goals of becoming self-reliant in a critical sector as well as generating jobs for our people." He also mentioned the incentives given by Uttar Pradesh and Tamil Nadu state governments for investment in Defence Industrial Corridors, central government policies promoting FDI and defence manufacturing in India, the strong legal system protecting stakeholders' interests and improvements in ease of doing business.
"There are opportunities to co-develop, co-produce, integrate and strengthen supply chains, from Joint Ventures, set up manufacturing in India and make for the world," he said. The CEOs gave their suggestions to facilitate Global investment in Indian Defence Manufacturing and Defence Minister assured them of government efforts to remove regulatory hurdles for private industry.
CEOs and senior management of General Atomics, Safran, Boeing, Embraer and Rafael Advanced Defence Systems attended the interaction. Defence Secretary Giridhar Aramane, DG (Acquisition) Pankaj Agrawal, Additional Secretary, Defence Production T. Natarajan and other senior officials of the Ministry of Defence were also present.