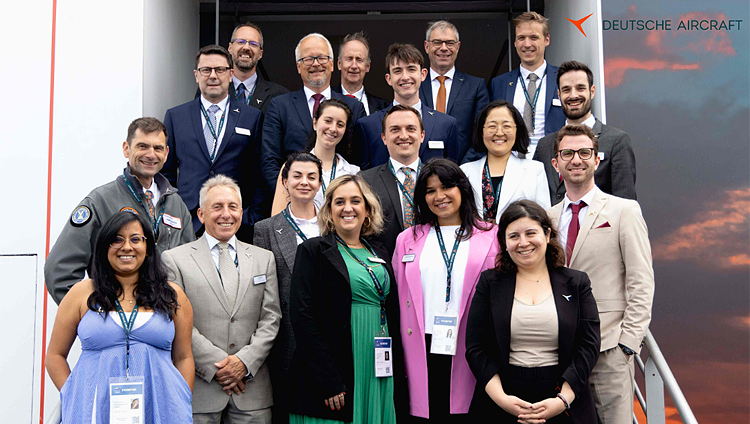 Deutsche Aircraft at Paris Air Show 2023, Le Bourget
Deutsche Aircraft wrapped up a successful week at the Paris Air Show after announcing major collaborations with the German Aerospace Centre (DLR), Sasol ecoFT and other important suppliers. This year, the German OEM (Original Equipment Manufacturer) focused on the D328eco™ programme, the new sustainable 40-seater turboprop that will be 100% SAF (Sustainable Aviation Fuel) compatible. The Deutsche Aircraft chalet also featured a cabin and cockpit mock-up of the D328eco aircraft that will enter into service in 2026.
The week started of with major announcements, including the signing of an important agreement with the German Aerospace Centre (DLR) for the D328® to be used as a flying testbed for future propulsion technologies. Deutsche Aircraft also announced a collaboration with South African chemicals and energy giant Sasol ecoFT on SAF Power to Liquid (PtL) and other partnerships with key suppliers who play a pivotal role in the development of the D328eco.
From the heart of Bavaria to Paris
As a German aircraft manufacturer with roots in Bavaria, Deutsche Aircraft organised a special gathering with a Bavarian theme. This event offered journalists and industry partners a chance to network with the Deutsche Aircraft team to learn more about the D328eco product and take an exclusive tour of the cabin and cockpit mock-up which highlighted the aircraft's latest technologies.
Anastasija Visnakova, Vice President Sales & Marketing at Deutsche Aircraft, was delighted about the outcome of the Paris Air Show and the connections made at this year's event. "After Covid-19, it is fantastic to be back in Paris to catch up with the developments in the industry. We are here to build solid relations with industry partners and we did so successfully throughout this week with our announcements about major collaborations. We also kept the industry updated with our progress on our D328eco programme."
Paul Wawruszczak, Head of Marketing at Deutsche Aircraft, expressed gratitude to his team who made the show possible. "The Paris Air Show is one of the most prestigious aviation events where we pulled out all the stops and leave our mark as a brand and we are extremely satisfied with the outcome as we had a huge interest to our chalet and the D328eco cabin and cockpit mock ups. It is always an honour to be part of this event where you have the opportunity to join the wider aviation family and find out about current trends in the industry. This year, we also presented a cabin mock-up of our D328eco, where visitors could get to know more about the on-board experience."
Now getting ready for the upcoming shows
Deutsche Aircraft team is now getting ready for the upcoming global aviation events to continue the promotion of the D328eco and build lasting relationships with important business partners from around the globe.