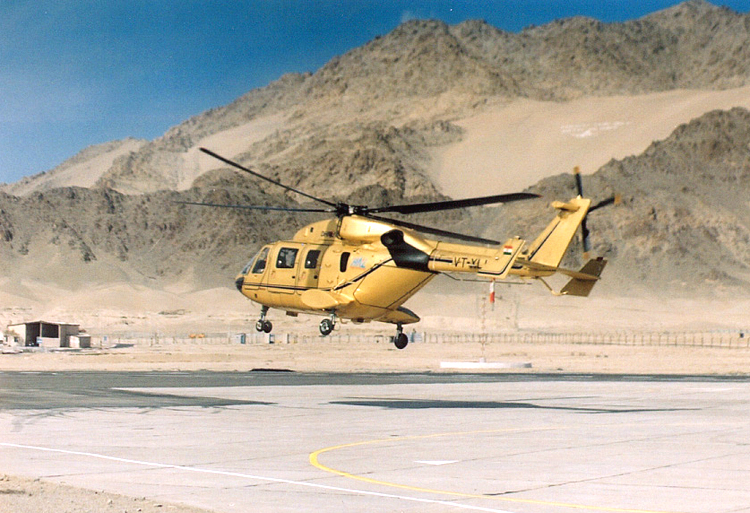 ALH-Dhruv
India's defence aviation major, Hindustan Aeronautics Limited (HAL) is looking for Indian private companies to manufacture the civil version of its Advanced Light Helicopter-Dhruv (ALH). HAL, on February 16, released a tender, inviting Expression of Interest (EoI) to identify an Indian partner to license manufacture Dhruv.
Speaking on the EoI, T. Suvarna Raju, Chairman and Managing Director, HAL, said, "Considering the increasing need of helicopters in civil operations of the country, this will be a mega deal from HAL which is the OEM and Licensor."
According to HAL, "Company is now looking forward to develop a reliable Indian Partner (IP) to service the potential demand to different customers in civil sector in shorter time span. The selected Indian Partner would also be required to provide support to the customers throughout the life of the product (20 years) thereby ensuring long term business relationship."
"As a technology provider, HAL shall provide transfer of technology through license and transfer of know – how, technical assistance and license rights for production of ALH-Dhruv (Civil) for the selected business partner," company added.
As per the EoI, the Indian Partner should have five years of experience in engineering/aerospace industry (including manufacturing and assembly) and its net worth is not less than 2000 crores and minimum turnover of 2500 crores, on an average for last three financial years. It should either be an India registered company or majority holding by Indian stakeholders.
The company is expected to enter into strategic collaboration with HAL.
ALH Dhruv, a HAL designed and developed helicopter, is a 5.5 ton multi-role workhorse of the India military aviation. Currently, Dhruv is being flown by the Indian Army and Indian Air Force in variety of roles including search and rescue, transportation, survey, special force operations etc. Dhruv fleet has logged around two lakhs flying hours.
According to aviation industry studies, India has the potential to become one of the largest civil helicopter markets. After the introduction of helicopter service in the regional connectivity scheme, the domestic demand for helicopters is expected to rise.