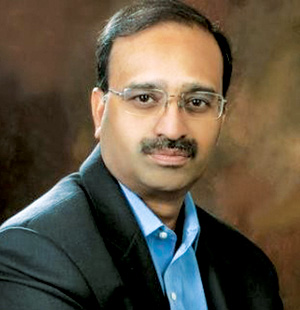 D. Anand Bhaskar, CEO, Air Works India Private Limited
SP's Aviation (SP's): Tell us about your background and what solutions does your company offer?
Anad Bhaskar (Bhaskar): Hi, my name is Anand.
I have a total experience of 27 years, including over 10 years as CFO/Controller of LargeCorporations until recently since I became the Chief Executive Officer of Air Works. Prior joining Air Works, I served as VP Finance at Moser Baer, as Senior VicePresident & Global Controller at Genpact and as Head of Finance at Canon India. I did my Bachelor of Commerce from Delhi University and am a Chartered Accountant.
Air Works is a leading diversified aviation services provider with presence in 4 continents across the globe founded in 1951, Air Works provides engineering, asset management and safety and technology solutions to the commercial and business aviation communities.
We are India's first and largest EASA Certified Airline MRO and the only Indian MRO to provide services to OEMs, Indian carriers and defence forces. We are service providers to global aircraft leasing companies and airlines, first-line service providers to leading OEMs, 1 of only 6 IATA certified safety auditors and a global market leader for charter safety ratings.
SP's: What is impeding the growth of the MRO industry in India? What are the main challenges faced by the MRO/Ground Handling industry?
Bhaskar: At the outset, I would like to stress the point the MRO is a different industry than ground handling with its own nuances and challenges and that clubbing the two together is probably one of the impeding factors for the growth of this industry.
Speaking specifically of the MRO industry, I see several roadblocks to a vibrant MRO industry in India.
Firstly, the key international airports have lack of hanger space, which is needed for temporary protective storage of the aircrafts. Secondly, setting up MRO is highly capital intensive with high initial as well as recurring investments and a long break-even time. Thirdly, operating a credible MRO is highly dependent on investing in the right manpower – that is regularly trained and optimally utilized with a strong focus on quality and turnaround time. It also requires continuous investment in tooling, certification from safety regulators. Fourthly, non-availability of spare parts leads to frequent grounding of aircraft for lack of spares. The custom duty regime discourages the MROs from stocking parts on behalf of customers.
SP's: How are taxes/GST affecting the MRO industry in India?
Bhaskar: Though there have been several improvements in the recent past, the present tax regime still doesn't address some key issues faced by the industry. MRO activity attracts GST at 18 per cent. A lot of carriers presently fly their aircraft outside India for maintenance where they don't have to pay any tax. There is no duty imposed on the aircraft when it flies back to India after maintenance. This creates a peculiar problem for the domestic MROs. Though airlines can get a credit of the GST that they have to pay on getting MRO done in India, there is no clarity if this input credit for the spares and parts component of the MRO is available for their economy class revenue. For low cost carriers, this may mean an extra cost of straight 18% as their entire revenue is from economy class tickets. We see this as a big revenue loss to the exchequer whenever an aircraft flies out of India for maintenance even though the capabilities and capacities are available within the country.
SP's: What does the MRO sector mean for our country (India)?
Bhaskar: With the commercial aviation fleet expected to almost double in the next 10 years, from ~600 now to ~1200 by 2028, the size of the Indian MRO market will increase from ~$1.8 billion now to ~$3.2 billion by 2028. A large part of this MRO spend currently goes out of the country. With this kind of growth, we will need to ramp up the MRO capacity in the country to service the expandin per cent of this spend which presently goes out of the country. Similarly, a conducive tax regime would help in reducing the "import" of the airframe maintenance for which the capabilities are very much present in the country.
MRO is a skill intensive industry and every crore of rupee spent in India has the potential to create 3-5 skilled jobs. Hence, we are looking at a resource requirement of 40,000-50,000 highly skilled and trained engineers and technicians in the next 10 years in the Indian market and about 750,000 personnel globally. India is very well poised to take advantage of this huge global demand for skilled resources because of its large pool of technical talent.
The landscape of the maintenance industry is evolving rapidly, and the stakes are high. Establishing MRO facilities in India will enable operators to achieve quicker service time, savings in operating costs and a decline of foreign exchange outflows. To support the fast-growing aviation industry, a robust MRO is needed, which will not only create large-scale employment but also act as opportunities for the SMEs. Efficient MRO facilities would also attract work from overseas, which will result in overall lift of the economy.
SP's: What could prove to be a game changer for the MRO sectorin India?
Bhaskar: With the growth in GDP and the increasing disposable incomes, the air traffic is growing at a tremendous pace leading to a fast growth in aircraft fleet. in the next two decades, India is projected to increase its aircraft density (i.e. no. of aircraft per 10,000 sq. km. area) to 7 from about 1.5 at present. This growth in itself is a game changer for the MRO sector in India. A large fleet and increasing cost pressures would force airlines to look for cheaper alternatives for their MRO requirements closer home rather than flying their aircraft abroad.
The regional connectivity scheme (UDAN) is also going to provide a big fillip to the domestic MRO industry. The first 2 rounds of RCS bidding has seen four new operators with a total of 15 to 18 aircraft there are four more similar rounds expected in the near future. UDAN operators with small fleets (<20) of both fixed-wing and rotary-wing aircraft will opt for outsourced turnkey maintenance to drive efficiency and reduce lead time to revenue flying.
SP's: What is being done to attract talent to the MRO sector in India?
Bhaskar: India's current civilian MRO market size is estimated to be around $1.8billion. The market is expected to grow at 6 per cent CAGR for the next 10 years to reach over $3.2 billion by 2028. Globally, this number is projected to increase from $77 billion at present to $114 billion in the next 10 years.
"Establishing MRO facilities in India will enable operators to achieve quicker service time, savings in operating costs and a decline of foreign exchange outflows."
It is projected that the worldwide demand for maintenance technicians will outstrip the supply by 9 per cent in next 10 years and a bigger problem will be that of an 'expertise gap' with fleet being divided between older and newer technology aircraft.
The projected growth in the MRO sector and government's focus on skill development would result in a large and steady availability of manpower and I don't see availability of talent as an issue at least for India. Just to give some numbers, 8 AMEs (Aircraft Maintenance Engineers) and 32 Technicians are required for a C Check. Low entry level qualification (10+2 for AME certification course) and desired conversion ratio from technician to AME (1 out of 5) provides us with a significant talent pool at low cost and protects against high attrition at technician level.
The relatively young fleet in India (only 16 per cent fleet is >10 years old) reduces the exposure to technology gap as well.
On our part, we have invested in a Part 147 training institute to provide practical training to students of AME course to improve their skill set and ensure availability of good talent.
SP's: How does the technology play a role in this MRO sectorand what are the latest technological advantages being utilized?
Bhaskar: Though aerospace industry is an early adopter ofnew technologies, the MRO industry has lagged in adopting technology in the past. The things are now changing. The key change I see coming is from the evolution in the field of data analytics and Big Data. An aircraft generates a huge amount of data both from flying operations as well as from maintenance records. Smart analytics on this data could give important insights into the preventive maintenance scheduling of the aircraft and help the MROs in better planning their operations.
SP's: How do you see the MRO sector evolving in India and what are your future plans?
Bhaskar: I see Indian aviation industry to follow the same pattern over the next 2 decades that China has seen in its aviation industry in the last 2 decades. Our fleet size today (at ~600) is comparable to China's (~700) 20 years ago. China's present GDP (PPP) per capita is ~$18K and we are projected to reach that in the next 20 years. China has seen an exponential growth in its domestic traffic in the last two decades and to support that growth and the resulting increase in fleet size, a lot of MRO capacity was added. The future growth in Chinese aviation will be led by the international traffic. Similarly, India will see a huge growth in the next 20 years in its domestic traffic, and in fact we have started experiencing the beginning of this phase. MROs in India will have to step up their game to support this growth.
We intend to face this challenge upfront and lead the independent MRO industry in India from the front. We have recently taken narrow body hangars at a South India airport to cater to the domestic demand and to target foreign carriers flying into India for base maintenance checks. We already have a wide body facility at Hosur near Bangalore and would develop that further.
We also intend to cater to the requirements of the defence forces. Largely hidden from plain eyesight, Defence MRO is an equally bigger market, if not bigger, as the civil MRO market. The defence forces are nor now looking to outsource MRO of the non-combat aircraft (troop carriers, trainers, etc.). We already count the defence services amongst our esteemed customers and would continue to build on that relationship and serve the nation.