Dublin-based carrier ensures its ATR fleet is maintained to the highest standards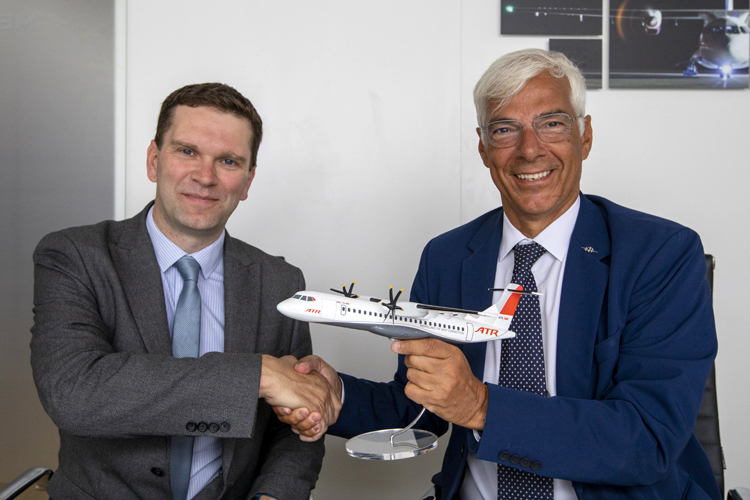 New Irish regional carrier Emerald Airlines, exclusive operator of the Aer Lingus Regional network, and the world leading regional aircraft manufacturer ATR, have signed a Global Maintenance Agreement (GMA). Through this eightyear pay-by-the-hour contract, the airline will benefit from the repair, overhaul and pooling services of Line Replaceable Units. The contract also covers propeller availability and maintenance services for its entire fleet of ATR 72-600 aircraft.
Emitting up to 45% less CO2 than similar-size regional jets, the ATR 72-600 forms the backbone of Emerald Airlines' growing fleet, which provides vital connectivity across 18 routes from Dublin and Belfast to the United Kingdom. These air links prove invaluable for local communities who can rely on a quick, modern, and responsible access to essential goods and services, economic and educational opportunities.
Commenting on the announcement, Richard Spencer, Director of Engineering and Fleet at Emerald Airlines said: "We are very pleased to have signed a Global Maintenance Agreement with our partners at ATR. Entering into an agreement and forging a close working relationship with the aircraft manufacturer, will prove to be significantly advantageous in all aspects of our airline. We will no doubt benefit from the team's vast experience and operational support as we continue to develop Emerald's network. We look forward to working closely with the team at ATR."
"An aircraft is only valuable when it is flying," said David Brigante, Senior Vice-President Customer Support and Services at ATR. "For over 20 years, ATR has been reducing operators' maintenance costs and increasing time in the air through maintenance and repair. This contributes to making regional air transport ever more reliable, accessible and sustainable. We will be supporting Emerald Airlines at every step of its expansion plan, offering our expertise to ensure it can make the most of its ATR fleet."