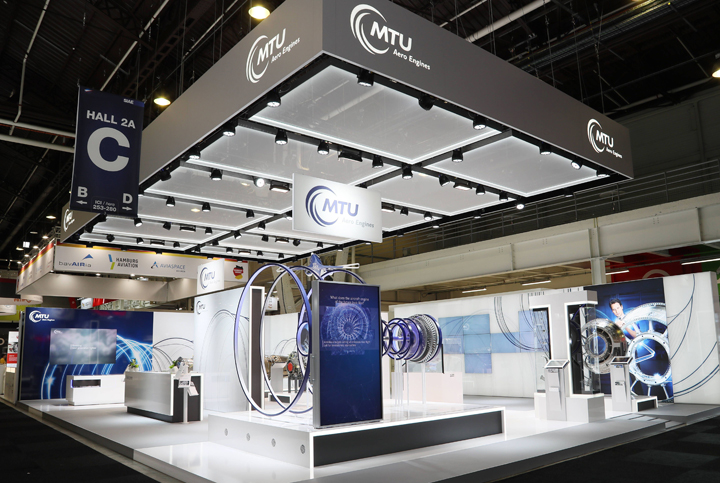 "Pioneering Aerospace" is the theme of this year's ILA in Berlin, and MTU Aero Engines has made this idea its own with "Driven by visions of tomorrow." From June 22 to 26, 2022, at the air show, Germanyís leading engine manufacturer will be showcasing what itís renowned for: innovative technologies for the commercial engines of the future and beyond, as well as high-thrust military engines and customized maintenance solutions. Personnel marketing will be in focus, too.
Emissions-free flight is the overall goal of commercial aviation and the vision of MTU. To achieve this, the engine experts are offering ideas that are more pioneering than ever before: evolutionary enhancements of the gas turbine engine based on the geared turbofan, and revolutionary propulsion concepts like the Water-Enhanced Turbofan (WET engine) and the Flying Fuel Cellóall of which are due to hit the marketlong before 2050. The concepts will be presented at the companyís approximately 300 m2 booth in Hall 4, No 320, using models and a technology exhibit. In the latter, an 85-inch screen moves along a stylized engine, displaying MTU technologies in interactive detail.
MTU is introducing its updated Clean Air Engine (Claire) technology agenda to the public for the first time. The agenda formulates potential solutions and concepts for sustainable commercial engines, as well as the corresponding time horizons. There are three stages on the journey to emissions-free flight, and alternative, sustainable fuels play a key role.
At ILA, MTU will also be exhibiting a broad range of military solutions: on display at the booth will be the EJ200 engine from the Eurofighter, the TP400-D6 engine from the A400M, and the T408 engine from the Sikorsky CH-53K helicopter. The Next European Fighter Engine or NEFE, slated to power next-generation European fighters, will of course be represented as well by exhibits that explain the concept ideas behind its individual innovative technologies. MTU will also be present at the FCAS Chalet (West row, No 10Ė11) as part of EUMET as well as in the Military Support Center in Hall 3. MTU experts will be available at both locations for discussions.
In addition, MTU will be showcasing its own innovative repair technologies at ILA in the form of an interactive "holo touch" exhibit. MTU Maintenance representatives will be on hand to supplement the exhibit with their expertise. Colleagues from MTUís human resources department will be available as well to advise on how to give personal careers a boost.
Germanyís leading engine manufacturer will round off its appearance at ILA with numerous presentations and participation in expert discussions and panels. Some of these will take place as part of the Future Lab (Hall 4, Booth No 230). Visitors can also view MTUís technology display case there, featuring components and the latest materials. And on June 21, the day before the air show, MTU will be sending a sizable contingent to the Berlin Aviation Summit.