Airframers, engine manufacturers and related OEMs have invested heavily in research and development efforts and there are some astounding results which have benefited the industry and consequently the community at large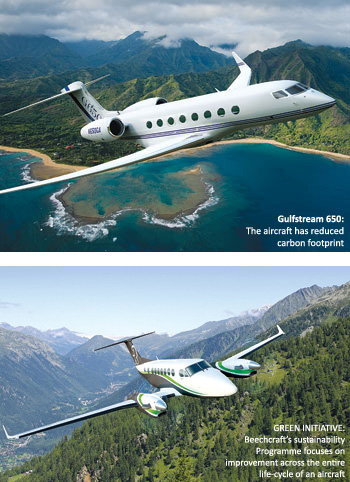 Business aircraft produce less noise and emit less greenhouse gas (GHG) emissions, but yet continuous efforts are on by original equipment manufacturers (OEMs) to do even more for environmental sustainability and societal responsibility. It is said that business aviation's worldwide carbon emissions are approximately two per cent of all aviation and .04 per cent of global man-made carbon emissions. This is an excellent record, but the community is keen on bettering it. In 2009 in Copenhagen, the International Business Aviation Council (IBAC) and its member associations, along with business aircraft manufacturers, released a comprehensive statement on climate change in support of an International Civil Aviation Organisation (ICAO) appeal for an aviation sectoral approach in a post-Kyoto agreement on GHG emissions.
It set specific targets as follows:
Carbon-neutral growth by 2020
Improvement in fuel efficiency of an average of two per cent per year until 2020
Reduction in total carbon emissions of 50 per cent by 2050 relative to 2005
These aggressive targets are based largely on developments and advancements in four areas namely technology, infrastructure with operational improvements, alternative fuels and market-based measures. "Business aircraft manufacturers and operators will put forth sustained effort to meet these targets, but a strong partnership between industry and the government is also absolutely necessary to achieve these goals," Pete Bunce, President and CEO, General Aviation Manufacturers Association (GAMA) had said. "We look forward to working hand-in-hand with all stakeholders to meet this critical global challenge of emissions reduction even as we grow to meet expanding demand for transportation," he added.
Don Spruston, Director General of IBAC, had stated, "Business aviation wants to be an integral part of a comprehensive, ambitious and fair worldwide action to mitigate emissions. As a global industry, we believe that ICAO should be granted sectoral responsibility to develop a simple and straightforward system to address aviation emissions worldwide."
In line with this strategy, airframers, engine manufacturers and related OEMs have invested heavily in research and development efforts and there are some astounding results which have benefited the industry and consequently the community at large. Two groups in particular, the Sustainable Aviation Fuel Users Group and the Commercial Aviation Alternative Fuels Initiative are focusing on the adoption of eco-friendly biofuels for jet travel. Instead of traditional airline fuels, which eat away at the Earth's ozone, the Sustainable Aviation Fuel Users Group is promoting the use of two new biofuels, jatropha curcas and algae. Though these fuels are not yet in use, the group hopes that these will enable the aircraft to perform just as well as it does with traditional jet fuel and leave a much smaller carbon footprint.
'Clean Sky' Programme in Europe
The 'Clean Sky' programme is an European Joint Technology Initiative (JTI) that was launched in Brussels on February 5, 2008. The objectives of 'Clean Sky' are to reconcile sustainable development and growth in international air traffic, validate the technologies needed for the "green" aircraft due for 2020 and reduce CO2 emissions and noise by 30 per cent. The initiative involves 16 countries, 86 organisations, 54 manufacturers, 15 research centres, 17 universities and the entire European aeronautical supply chain.
Clean Sky is structured around six Integrated Technology Demonstrators (ITD) such as smart fixed-wing aircraft (SFWA), green regional aircraft and helicopter, "green engines" platforms, systems for green operation and eco-design, etc. Tests of the first demonstrators are scheduled for 2013-14.
Dassault for Eco-efficiency
Dassault Aviation is working closely with Airbus on the SFWA to study a wing of the future and reduce engine acoustic impact. It is jointly responsible for the eco-design ITD. This demonstrator aims to reduce environmental impact during aircraft production and decommissioning and to develop "clean" onboard energy systems (e.g. the "all-electric" aircraft). For Dassault Aviation, the Clean Sky project is a key step to bringing technologies and concepts to maturity for use on future Falcon business jets.
The environmental performance of conceptual virtual aircraft, combining the technologies under study in all ITDs, will be compared to the performance of current aircraft, to provide an overall assessment of the expected benefits of Clean Sky Technologies by 2020.
Dassault reportedly makes the most environmentally-friendly jets which have better strength-to-weight ratios than most competing jets and are equipped with advanced engines that create less noise and produce fewer emissions than ever before.
Falcons maintain the air industry's most efficient thrust-toweight ratios. On average, they use 20 to 60 per cent less fuel than competing models for equivalent performance and agility.
Dassault states that it is committed to applying the most efficient eco-design concepts throughout the entire life-cycle of its aircraft, from the mining of raw materials to production, from in-service operation to end of service and recycling. All Dassault plants are certified ISO14001. This is the international standard that demonstrates an organisation has developed and implemented an effective environmental management system. It has introduced the use of new chromate-free paints with a lower concentration of volatile organic compounds (VOCs) at all plants. Dassault spends 15 per cent of its manufacturing budget on improving environmental performance and has taken more than 700 major steps in this area since 2005. Over the past decade, consumption of industrial gas and fuel at company plants has decreased by 30 per cent, while water use has dropped by 70 per cent, despite a production rate increase during this period.
Environmental-Friendly Falcons
Recently, the US Federal Aviation Administration (FAA) certified two newest members of the Falcon family of business jets, the Falcon 2000S and Falcon 2000LXS. The two-year-long flighttest campaign for the two new models demonstrated short-field and low-speed performance substantially better than targeted figures, greatly expanding the number of airports the two aircraft can serve. Upgraded Pratt & Whitney PW308C engines make both models economical to operate and environment friendly. Thanks to the engine's TALON II combustor, the Falcon 2000S and 2000LXS will generate significantly lower emissions than previous aircraft models and meet the most exacting future emissions standards with margin to spare.
Gulfstream's Commitment to Sustainability
In October 2012, Gulfstream's full fleet of demonstration aircraft flew to the 65th Annual National Business Aviation Association Meeting and Convention on advanced biofuels. The five aircraft flew from Savannah to Orlando with both engines operating on a 50/50 blend of Honeywell Green Jet Fuel and petroleum-based jet fuel. The renewable, second-generation jet fuel used for the flights was made from camelina, a sustainable, non-food plant, which can be grown in rotation with wheat and other cereal crops. Each gallon of camelina-based Honeywell Green Jet Fuel burned instead of petroleum jet fuel reduces the carbon dioxide-equivalent emissions by 68 per cent based on life-cycle analysis studies.
"This is a first for business aviation and it reflects Gulfstream's ongoing commitment to sustainable practices," said Scott Neal, Senior Vice President, Sales and Marketing, Gulfstream. "A little over a year ago, a G450 became the first aircraft to cross the Atlantic on biofuel when Honeywell flew from Morristown, New Jersey, to Paris, for the Paris Air Show. Now, we're the first OEM to have its full fleet fly to a trade show on advanced biofuels."
The effort signifies Gulfstream's commitment to achieving the business aviation industry's goals on emissions reductions, including carbon neutral growth by 2020 and a reduction in total carbon emissions of 50 per cent by 2050, relative to 2005 levels. Alternative fuels could account for 40 per cent of these reductions, while the remaining improvements will come from technology and operations.
"Using biofuels is part of the multipronged approach Gulfstream has taken toward sustainability," Neal said. "In addition to reducing our carbon footprint, we're focused on improving aircraft efficiencies. For example, the Gulfstream G650 flies farther and faster than any other business jet in the world, burns less fuel for the same mission, and as a result, has a reduced carbon footprint and produces fewer emissions such as nitrous oxide. We continue to invest in research that will ensure our aircraft are fuel-efficient and quiet to further lessen their environmental impact."
Gulfstream's sustainability efforts also include green buildings and manufacturing practices. The company has committed to reduce the impact that manufacturing has on the environment by ensuring that all new company buildings are LEED-certified. Additionally, Gulfstream has a dedicated sustainability group committed to reducing industrial emissions, conserving energy and recycling consumables. Gulfstream offers single-stream recycling at all of its facilities, where employees have diverted 1.2 million pounds of recyclables from the company's waste stream.
Beechcraft Focuses on Product Life-cycle
Through Beechcraft's increasing global presence and a dedication to environmental responsibility, the company aims to have the industry's best sustainability programme and reputation. Beechcraft's goal is to improve sustainability and responsibility for the entire product life-cycle of aircraft manufacturing to customer operations and product maintenance.
Beechcraft has defined its sustainability programme as excellence in product value, manufacturing leadership, environmental performance, people and ideas. Beechcraft has a unique and strong sustainability programme that focuses on opportunities for improvement across the entire life-cycle of aircraft and services. The company is committed to continuous innovation in supply chain selection with emphasis on conserving scarce global materials, manufacturing, aircraft maintenance/operations and product life long-term goal of recycled materials and responsible care.
Beechcraft has found that composite manufacturing reduces the raw material needed for each aircraft by nearly 70 per cent. Metal aircraft typically use six to seven pounds of raw material to yield one pound of finished goods, while composite aircraft use only 1.5-2 pounds. The company increased the maintenance lubrication schedule from 150 to 200 hours in April 2008. This and other changes to the aircraft flexible maintenance schedule have reduced maintenance man-hours by 30 per cent year over year.
Cessna develops Alternative Energy Technologies
Cessna partners with the greater aviation industry, government and leadership to raise awareness of environmental issues as well as to advocate for policies and practices that balance progress and technology with environmental sensitivity. Its continued commitment to improving energy efficiency and reducing the environmental impact of its aircraft and manufacturing operations benefits both the environment as well as its business.
Cessna is collaborating with Bye Energy Inc., an integrator of clean, alternative energy technologies for business and general aviation aircraft, to design and develop an electric propulsion system for a Cessna 172 proof-of-concept aircraft.
Embraer Invests on Green Technologies
Embraer established its Environmental Strategies and Technologies Office in 2007 to develop specific environmental vision, targets and projects, considering the whole product life-cycle, including environmental requirements to the supplier chain. Embraer is fully engaged in industry-leading work on biofuels and sustainability programmes. In 2002, Embraer became the first aircraft manufacturer to develop an aircraft powered by biofuel with the introduction of the ethanol-powered Ipanema crop duster.
Today, Embraer is an active participant in several sector wide initiatives to develop drop-in biojet fuels across the world. In 2007, Embraer established a dedicated research and development (R&D) team whose aim was to support aviation sustainable growth promoting the development of a renewable and sustainable biojet fuel significantly reducing aviation CO2 emissions, to work in cooperation with stakeholders to foster the development, certification and scaling up of biojet fuels and evaluate the potential impacts of biofuel on Embraer products.
Embraer invests heavily in technology and safety. In 2002, it was the first aerospace manufacturer to achieve the ISO 14001 certification. In 2008, Embraer achieved its zero-waste goal for its factories including 100 per cent hazardous waste recycling.
Embraer Executive Jets are said to be the most fuel-efficient and greenest in their respective class. Executive jets meet or exceed standards set by the ICAO-CAEP/6 Emissions and Stage 4 Acoustic requirements by leveraging new technology to lower emissions and reduce noise.
The Phenom 100 complies with and surpasses ICAO Stage 4 noise requirements with a significant margin of 33EPNdB and features lower noise levels than competitors. Its closest competitor has 13 per cent more C02 emissions. The Pratt & Whitney engines PW617F-E on Phenom, has high fuel efficiency and low carbon emissions.
Based on the Legacy 600's proven AE3007A1E, the Legacy 650 has Rolls-Royce engines AE3007A2 with a redesigned widechord fan for increased efficiency. It provides higher thrust with reduced fuel consumption and generates 22 per cent less CO2 than current generation of jets.
Composites on Bombardier's Learjet 85
Bombardier Aerospace is pressing ahead with development work to improve the environmental performance of its Learjet 85 aircraft. The Canadian company has been working on composite wings that make a plane lighter and therefore, more fuel-efficient.
Bombardier has confirmed that the development and production of advanced composite wing skin panels and spar components for the Learjet 85 business jet will be undertaken at its complex in Belfast, Northern Ireland. Final assembly of the wings will take place at Bombardier's plant in Queretaro, Mexico.
Bombardier Aerospace, near Belfast, will produce the primary wing structures using its resin transfer infusion (RTI) process, currently being developed in Belfast for the company's CSeries aircraft's advanced composite wings. Expanding the technology to the Learjet 85 will provide an opportunity to further develop the design and manufacture of advanced composite wings, according to the firm.
Michael Ryan, Vice President and General Manager, Bombardier Aerospace, said, "Given the success we have had till date with our CSeries aircraft demonstrator wing using the RTI technology, we are confident that this process can be further developed, adapted and applied to our Learjet 85 business jet."
Ralph Acs, Vice President, Learjet 85, Bombardier Business Aircraft, said, "Our Belfast facility is a centre of excellence for advanced composite technology, giving us access to the latest available processes while leveraging our in-house capabilities in order to develop an aircraft that offers optimal performance, reliability and comfort."
Launched on October 30, 2007, the Learjet 85 aircraft will be the first Bombardier Aerospace jet with both fuselage and wings built primarily from carbon composites, designed for certification under FAA regulation.
It must be mentioned that the business aviation community is quite conscious of environmental sustainability and has taken laudable initiatives. This effort has to be continuous.