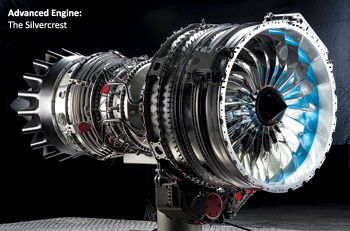 Snecma is fast advancing on the new Silvercrest turbofan engine designed to power a new generation of super mid-size and long-range business jets
Unveiled in 2006, at the National Business Aviation Association (NBAA) convention, the Silvercrest development programme was officially launched in 2010 by Snecma, a Safran Group affiliate. During the market study held in 2004-05 for a 10,000 lbs class engine, Snecma had identified a number of key technologies that could be introduced to satisfy emerging highend business jet programmes.
Very Advanced Design
When the Silvercrest programme was launched, it was soon decided to design a very advanced engine that would meet extremely stringent requirements: affordability, power, fuel-efficiency, reliability, ease of maintenance… Using previous experience gained on other advanced projects such as the Snecma M88 turbofan that powers the Rafale omnirole fighter or the acclaimed CFM56 engine that has set new standards in the field of civilian airliners (nearly 25,000 CFM56 engines have been sold worldwide for a number of applications, including the Boeing 737, the Airbus A320 family and the A340), Snecma has come with a new engine that will offer significant performance improvements compared with rival designs. The thrust will range from 9,500 to 12,000 lbs. depending on the power requirement specified by the customer. According to figures provided by Snecma, fuel burn will be at least 15 per cent lower than that of current engines in the same thrust range, and emission levels will be significantly reduced too (15 per cent in terms of CO2 emissions and 50 per cent margin versus CAEP/6 for NOx emissions). Finally, noise will be up to 20 EPNdB less than Stage IV requirements, corresponding to a noise footprint reduction of 50 per cent.
Optimised Architecture
The Silvercrest is fitted with a HP compressor that features four axial stages and a centrifugal stage which makes the engine simpler and helps significantly reduce the overall weight and the global part count. The high-pressure and low-pressure spools are contra-rotating, a concept extensively tested during the 'Tech56' R&T programme initiated by Snecma to improve the performance of its future engines. This choice helps ensure a better match between HP and LP turbines to both ameliorate the efficiency of the LP turbine and reduce fuel consumption. The high bypass ratio and high overall pressure ratio both guarantee an even better fuel burn, a decisive advantage for business jets.
Comprehensive Testing Programme
In 2006, the development of a new high-pressure core demonstrator was initiated to make sure that the technologies selected for the new project were mature enough. The core demonstrator test campaign was held from November 2007 to March 2008.
Full scale development was launched in September 2010 and several engines have already been assembled for performance, operability, temperature, vibrations, engine controllability and endurance testing. A larger number of high-tech facilities are being used for the Silvercrest testing programme. Ground testing began in October 2012 and the Silvercrest has already been pushed to its maximum thrust rating and to its maximum rotating speed. During ground trials, Snecma engineers accurately monitor hundreds of parameters. Testing will also help prove that the ambitious maintenance and reliability requirements are met.
Flight Testing
Under the latest plans, the first flight will be conducted on an instrumented Gulfstream II business jet from late 2013. For the Silvercrest trials, the Gulfstream II flying test bench had to undergo extensive modifications, including adaptations to its left engine pylon to replace the original Rolls-Royce Spey Mk 511-8 engine with the new design, and installation of the data acquisition system and of the associated monitoring bays.
Serviceability and Customer Support
With the Silvercrest, Snecma engineers wanted to significantly increase engine reliability and engine life, compared to older engines and to rival designs. As a result, the turbofan has been optimised from the outset for ease of maintenance and is 'tailoredmade' for the business aviation. The Silvercrest is conceived for 'on condition' maintenance, meaning it is removed for a shop visit only if needed, when the real condition of its internal components dictates a repair. This will help significantly improve availability and will limit routine maintenance to oil changes, borescope inspections and trend monitoring. The Silvercrest is fitted with a real-time monitoring system which checks engine performance and behaviour. Data is continuously acquired and sent via satellite link to the Snecma engineering centre where specialists perform real-time data processing. State-of-the-art algorithms, elaborated thanks to Snecma's massive operating experience, are then capable of detecting and analysing data in order to detect and diagnose a problem before it develops into a mechanical failure. This innovative system will set new standards: service will be extremely quick, and depending on the circumstances, Snecma engineers will be able to dispatch a mobile repair team and send the needed spare parts, even before the end of the flight, without having to wait for further inspections after the landing.
Snecma aims to have a global support network fully operational before the Silvercrest enters service. This network will include field service engineers and customer support centres in the United States, Europe and Asia.
Selected for the Citation Longitude
In 2012, it was announced that the Silvercrest had been selected by Cessna for its Citation Longitude after a comprehensive assessment programme. The Citation Longitude is a new generation super mid-size jet, scheduled for certification in 2017, with initial deliveries to the customers planned for late that very same year. The Citation Longitude will be powered by two Silvercrest turbofans rated at 11,000 lbs each.
High-end business jet deliveries have kept increasing since 2007, and in 2012, half of the bizjets deliveries were in the super mid-size segment. Although nothing has been officially confirmed as yet, it is understood that the Silvercrest will be offered for various other applications and the new turbofan could find itself powering new types in the not too distant future.
It may be noted that CFM 56 and LEAP engines are products of CFM International, a 50-50 joint company between Snecma (Safran) and GE and the world's leading supplier of commercial aircraft engines. The company has delivered more than 25,000 engines to about 530 operators around the globe. The CFM56 fleet has logged more than 635 million flight hours in the past 30 years as the most reliable engines in the air.