In recent months, the MoCA appears to be making moves towards rendering regional aviation more attractive. Airlines are upbeat about the ongoing cogitations by MoCA but are tentative about their reactions. New airlines wait in the wings to take-off.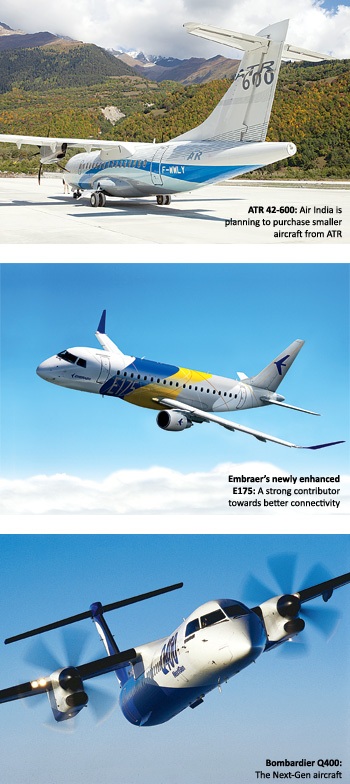 The internal contradictions in the Indian aerospace arena are interesting. India has a successful space programme but no indigenously produced civil aircraft of any size. The nation has loss-making airlines but the government continues to subsidise some petroleum products at the cost of exorbitant aviation turbine fuel prices. And finally, India is the ninth largest aviation market in the world and is projected to become the third largest by 2020; but regional connectivity remains lamentable. India's vast geographic expanse and munificent natural raw material resource base are inexorably distending its industrial base away from big, well established cities. An existence of around 500 airstrips, some of the World War II vintage and abundant land resources to create new airports, hold the potential for extending India's civil aviation to all corners of the country. However, scheduled airlines have remained largely tethered to large cities, with the smaller, regional airports getting only the leftovers. At present, there is no functional regional airline in India. In its Annual India Aviation Outlook Report for Financial Year 2013-14, the Centre for Asia Pacific Aviation (CAPA) has stated that while the Indian Government is trying to device policies for creating a robust regional connectivity, they lack feasibility. The regulatory and infrastructural scenarios do not provide adequate sustenance to regional aviation. As a result, 36 per cent of the total domestic capacity is deployed only to connect the six metros. Another 57 per cent flights connect metros to non-metros, thus leaving a paltry seven per cent share for the routes connecting non-metro to non-metro airports. CAPA's report says that unviable cost structure, high landing charges and limited airport infrastructure are some of the reasons for low regional connectivity.
Current Status
The single major factor responsible for this state of regional aviation is the absence of a focused, structured and cabinet-approved national aviation policy. As a result, the civil aviation sector has not attracted serious corporate investors in proportion to its potential. The existing airlines excluding Kingfisher had combined losses of $1.65 billion ( Rs. 9,900 crore) during the last financial year. IndiGo was the only airline that made a profit during the year. The combined debt of Indian carriers went up by nine per cent during that year to an estimated $14.5 billion ( Rs. 87,000 crore). Airlines generally continue to bleed irrespective of their market shares and seat occupancies due to the high operating costs, with aviation fuel being the single largest pain point. Skewed government policies have resulted in a self-inflicted injury. Emirates' is now India's leading international airline and if the Jet-Etihad deal fructifies, Air India may well be relegated to the third position, behind Etihad.
Coming back to regional aviation, SpiceJet seems to have decided that the high cost of operations in the domestic market needs to be countered by the more attractive international growth opportunities. This particular development is perturbing inasmuch as SpiceJet was the one keen on regional aviation and had ordered a large number of Q400s to deploy on the Tier- II/III routes. Prior to quitting, SpiceJet CEO Neil Mills stated, "We'll add about six destinations in places like the CIS, the Gulf and South East Asia over the next few months. It is cheaper for us to fly international because of lower taxes and cost-base." Similarly, GoAir is lobbying hard to get the 20-aircraft rule waived for airlines to fly international. Air India has decided to go in for smaller turboprop aircraft to serve non-metros and is said to be evaluating the Q400 and the ATR.
Development of Non-Metros
The distaste amongst Indian carriers for flying to Tier-II/III airports remains unanimous. Indeed, the Ministry of Civil Aviation (MoCA) has had to stipulate route dispersal guidelines (RDGs) to ensure that at least a fraction of the total scheduled aviation is on routes connecting non-metros to metros and other non-metros. In recent months, the MoCA appears to be making moves towards rendering regional aviation more attractive. The Planning Commission announced in July that the government plans on spending Rs. 1,15,000 crore in the next six months on public-private partnership (PPP) projects. Of this, Rs. 20,000 crore is to be spent on two new international airports at Bhubaneswar and Imphal. Fifty-one new smaller airports are planned at Tier-II/III cities. If and when all these projects are completed, there should be no dearth of regional destinations to fly to whether for business, tourism or leisure.
Operational Costs
Considering that around three-fourths of available seats in India's airlines are low cost, the creation of airports designed as low-cost airports would provide relief to the airlines operating to these airports. MoCA is also working towards reducing landing and parking charges at smaller airports to make them more attractive. In May, the Minister of Civil Aviation Ajit Singh was said to have declared that he was considering a new plan under which airlines plying to Tier-II/III towns would not have to bear landing and parking charges, navigation charges and user development fees. "We will give subsidy to regional airports. We have identified 85 such towns with economic potential. In some of these, there are airstrips; in others, new airports will have to be constructed," he said. AAI would reimburse the costs incurred on airports in smaller towns.
AAI also plans to reimburse the expenditure incurred on airports in smaller towns from AAI's share of revenue from Mumbai, Delhi, Bengaluru and Hyderabad airports, which is about Rs. 3,000 crore. The Prime Minister has reportedly stated that "instead of giving subsidies to airlines, we will give it to airports. In a way, we are subsiding passengers. An airline will have the choice as to in which town it wants to start services. The government will not decide city pairs for airlines".
Another plan was for a subsidy to airlines under Essential Air Services Fund. This fund was to be supported partly by the Central Government budgetary support and partly by cess on passengers flying between the metros. However, this idea appears to be on hold.
State Governments and Regional Aviation
State governments may be asked to underwrite some seats on these routes to support domestic carriers; the annual estimated value would be Rs. 300 crore. AAI is expected to prepare a detailed plan clearly stating the functions the states would have to provide free of cost, if it wants air connectivity to remote and non-lucrative airports. MoCA had tasked Deloitte to prepare a report on 'Promotion of Regional and Remote Area Air Connectivity in India'. The report recommended that "based on indicative values of input variable presented above, the total fund requirement is estimated to be Rs. 2,800-3,000 crore over a 10-year period. Considering a number of other assumptions around existing passenger base, growth in passengers expected over the next 10 years as well as likely increase in costs on account of inflation, the passenger charge/cess per departing passenger is indicatively estimated to be in the range of Rs. 40-50".
Should AAI waive navigation, landing and parking charges and states provide land free of cost for extension of runways/new buildings, exempt the airport from all municipal charges, provide infrastructure like power and roads up to the airport free of charge, underwrite some seats on airlines which agree to operate such non-profitable routes, provide free security for terminal and perimeter premises of the airports and agree to reduce sales tax/value added tax (VAT) on aviation fuel to four per cent, regional aviation could really take-off.
Other Steps
The MoCA has also mooted a system allowing airlines to trade seat capacity as a part of its plan to promote regional routes. Airlines unable to operate flights to certain towns under government mandates could trade seats with other operators under that policy.
The unbundling of the air ticket which allowed airlines to charge for some services like advance booking, seat selection, food, etc beyond the basic ticket cost, was a move with the intent of permitting airlines more freedom to charge from the value-conscious customer.
Yet another step that is being considered is the setting up of a special purpose vehicle (SPV) jointly by the Airports Authority of India (AAI) and oil marketing companies to provide infrastructure for handling and storing aviation fuel imported by airlines directly from the international market. While the government had permitted import of aviation fuel, practicability of doing so for individual airlines already cash strapped and loss making, was a distant dream. The dream may be fulfilled if this SPV takes off.
Airlines Watch Warily
Airlines are upbeat about the ongoing cogitations by MoCA but are tentative about their reactions. New airlines wait in the wings to takeoff. Air Costa and Kairali Airlines are set to launch regional services in the south while Volk and Air Pegasus are waiting and watching. Meanwhile, AirAsia India is raring to go and aviation watchers keenly anticipate the waves it will create in the Indian regional scenario considering the fact that Tony Fernandes has already declared that he is going to woo the non-metros. The entry of AirAsia may have a mixed effect on regional aviation. On the one hand, it will be a boon for passengers in the Southern region, but on the other hand, it may force other players out of the Southern region due to its known aggressive marketing strategies.
Airlines are promoted to make profit; it is reasonable for them to optimise their networks for maximum profits. From a broader perspective, the ideal situation would be for RDGs to be replaced with some sops favouring flights to non-metros which are likely in the near future. Once these measures are in place, the tide may turn and competition for metro routes may get replicated on non-metro routes. Meanwhile, Indian civil aviation can rejoice over the fact that the establishment has finally turned its attention to promoting regional aviation. Genuine intent is manifest in the move away from the assertive RDG policy to the more benign and enticing policies that monetarily reward airlines for adding non-metros to their networks.