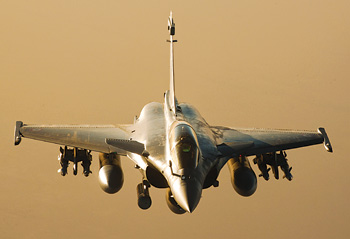 Military aviation is undoubtedly the most strategic weapon today. In modern warfare, air dominance from day one is a must, so that ground and maritime operations can be conducted safely and efficiently. In this third article of the five-part series on MMRCA, read how Dassault Rafale is designed to support all this and much more.
"Deal for the 126 Rafale medium multi-role combat aircraft (MMRCA) with the French aerospace major Dassault Aviation, is not bogged down or held up due to any issues," said Minister of State for Defence Jitendra Singh, on the sidelines of the 50th Paris Air Show in June 2013. "It is the biggest deal of its kind in the world and a very complex one too. The French are talking to the Hindustan Aeronautics Limited (HAL) as well as with the private sector companies in India, so things are progressing," he added. Protracted price negotiations are currently under way as issues like life-cycle costs and transfer of technology terms need to be factored in. The Indian Air Force (IAF) and the optimists are hopeful that the contract will be signed by the end of this year. With the national elections around the corner, some feel that the deal may be thrown into the lap of the next government.
Depleting numbers of squadrons and delay in induction of the light combat aircraft (LCA) Tejas have left the IAF with no option but to postpone the retirement of the older MiG-21 variants. Accidents on the MiG-21 in the recent past have once again brought the controversy related to the ageing fighter into the public domain with pressure mounting on the IAF to phase out the fleet. However, the imperatives of national security require IAF to sustain the combat fleet to a minimum level in terms of number of squadrons. Early finalisation of the Rafale deal will greatly help the IAF in arresting the erosion of combat capability. There is a fair possibility that the IAF may have to exercise the option to seek 63 additional aircraft increasing the final numbers to 189. Even if the contract is signed by end 2013, deliveries of the aircraft can commence not earlier than 2016-17.
Enhanced Capabilities – New Missions
'Rafale' in French means a 'sudden gust of wind.' The aircraft came out a winner after competing with five other world-class state-of-the-art fighters from aerospace superpowers such as the US, Russia and European aircraft majors. The IAF has had a history of successful fighter aircraft from the French aerospace industry beginning with the Toofani (Ouragans), Mystere IV, Jaguar (Anglo-French) and the Mirage 2000. Snecma engines and Thales avionics have been most reliable and time-tested. As the world awaits for the 'deal of the century', let us see what this 'omnirole' fighter means to India's national security. Incorporating the most advanced technologies with an open and highly adaptive architecture, the Rafale can efficiently perform all types of missions by day or night, in all-weather conditions, both in stand-alone mode and in mixed-formation operations. These attributes give it high levels of strategic flexibility. The Rafale is combat proven in Afghanistan, Libya and Mali.
Defence Analyst Chris Pocock describes about the first mission of the Rafale to Mali which was a four-aircraft 5,440-kilometre air interdiction launched at night. The aircraft took off from an airbase in France with less than 48 hours notice and destroyed 21 rebel targets in the middle of Mali. Each was carrying three 2,500-litre external fuel tanks with either six 500 GBU-12 laser-guided bombs and a Thales Damocles designator pod or six Sagem 'Hammer' Armament Air-Sol Modulaire (AASM), air-to-ground modular GPS precision guided smart bombs. They landed back at N'Djamena in Chad after flying for nine hours 45 minutes, having been air-refuelled six times in this period. Subsequently, up to six aircraft flew daily day and night missions from N'Djamena to targets 1,280 kilometres away for reconnaissance and close-air-support (CAS). Lt Colonel Francois Tricot, Commanding Officer of one of the two French Air Force Rafale squadrons paid tribute to the crew thus: "To rendezvous with an air refueller at 0200 hours over a dark continent when you are miles from anywhere, was commendable and reassuring and proves that our interoperability training works!" He noted that the new generation reconnaissance pods contain long-range infrared band 2 and visible spectrum sensors that can image from high altitude as well as an infrared band 3 sensor that is designed for high-speed, low-altitude missions. To save time interpreting the imagery, some preselected frames were data linked to a ground station. "We could see and report people hiding in trenches and vehicles under cover, using our night-vision goggles and the cockpit display from the targeting pod. "A Rafale can launch 12 'Hammer' from two aircraft within a minute and hit targets dispersed over a wide area," said Tricot. The Rafale can also now carry the long-range 500 GBU-22 and larger 2,000 GBU-24 laser-guided bombs. Availability rate of the Rafale fleet was over 90 per cent, despite the tough deployment conditions. Mali also saw interoperability of the Rafale with some of the aircraft types which also fly with the IAF. These included the IAI Heron UAV, the Boeing C-17, Lockheed Martin C-130 and the IL-76 among others. In Afghanistan and Libya, the Rafale has been tested in deserts, over rough seas and in high mountains. They have flown air defence, longrange strike, maritime strike, reconnaissance and suppression of enemy air defences (SEAD) missions that are perfect examples of how the IAF would be able to use the Rafale.
The French very proudly say that one day the Rafale will be the sole combat aircraft type with French Air Force and the Frence Navy. It reflects the security assurance of the mothernation in the aircraft. The Rafale covers the entire spectrum of fighter/bomber missions which include air defence/air-superiority, air-to-ground and air-to-sea attack, air reconnaissance and nuclear deterrence. Its multi-role capability is significantly enhanced by simultaneous management of systems for multiple missions with the pilot acting as the "battle manager". Land and carrier versions have minimal differences. In fact, this is the only non-US fighter cleared to operate from US aircraft-carriers. The Rafale has been thoroughly tested in large number of bilateral exercises such as Red Flag, Advanced Tactical Leadership Course exercise at UAE, Tiger Meet, Indo-French Garuda, etc. The fly-by-wire powered canard control surfaces give it high manoeuvrability and immense close air combat ability.
The active electronically scanned array (AESA) radar, the integrated self-protection suite, the front sector optronic system (passive long distance detection) and the operational data link (ODL), provide the pilot with data-fused clear situational awareness to take tactical decisions. Commercially available modular data processing unit allows continuous upgrades and seamless integration of new weapons. The maximum take-off weight, which is 2.5 times of its empty weight, gives it great fuel and weapon carriage combinations and external load of phenomenal nine tonnes. Visual and beyond visual range (BVR) MICA missile variants, modular bombs with option of global positioning system (GPS)/infrared/inertial kits, long-range stand-off air-to surface (ground/sea) weapons, laser-guided bombs, 30mm canon capable of firing 2,500 rounds per minute, among others, make it a very potent weapon platform. Stealth features and electronic warfare suite improve its survivability. Wide angled head-up display, handson-throttle-and-stick (HOTAS) controls and helmet-mounted sight make an excellent man-machine interface. Being a 'mid-sized' aircraft, albeit twin-engine, makes it more affordable. High reliability and modular concept, even for the M-88 engine, would reduce maintenance man-hours, spares inventories, down-time and costs. Embedded in the design is easy accessibility, making it a maintenance engineer's dream machine. Onboard oxygen generation removes a big constraint for very long-range missions.
Extended mission range will allow the IAF dominance and power-projection through 'air-sovereignty' missions covering the Indian Ocean littorals and match India's global standing and aspirations. Benefits of transfer of modern technology would mean imbibing extensive technical knowledge. France is the only Western country outside the US with complete range of aviation technologies in its basket. Any cooperation with it would be mutually beneficial to India and France.
Neighbour's Envy
The People's Daily, the Chinese Communist Party newspaper, says the sale of the Rafale fighter planes encourages, excites and spurs India's appetite and ambition to become a great military power while intensifying its aggressive and expansionist tendencies, which poses a serious threat to peace and stability in Asia. An article published in The People's Daily (French edition only) argued that India and France were supposed to be non-violent countries, how could they ink such a deal? "Does India have a choice, considering the People's Liberation Army's frantic speed of fighter development," says Claude Arpi Frenchborn author, journalist, historian and expert on Tibet. The Pakistani defence websites and forums are full of envy for the Indo-French deal. They feel Sino-Pak JF-17 is just an upgrade and Rafale would have been the natural choice for the Pakistani Air Force to replace the Mirage III and V fleets.
Events in the recent decades in the Falklands, Iraq, Bosnia, Kosovo, Afghanistan, Libya, Mali and Uttarakhand, have confirmed that air power always is the first military component engaged in all crises or conflicts. Military aviation is undoubtedly the most strategic weapon today. In modern warfare, air dominance from day one is a must, so that ground and maritime operations can be conducted safely and efficiently. The Rafale is designed to support all this and much more.