With the launch of 30 commercial aircraft over the last 26 years, Bombardier has built a unique technical, commercial and manufacturing expertise. In an interview with SP's Aviation, Michele (Mike) Arcamone, President Bombardier Commercial Aircraft, said that the company is now focused on existing development programmes—the all-new CSeries aircraft.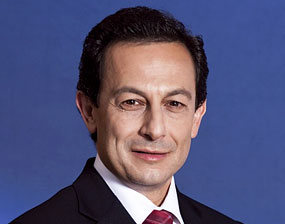 BIOGRAPHY
Mike Arcamone was appointed President, Bombardier Commercial Aircraft on February 1, 2012, after a highly successful 30-year career in the automotive industry. His unique background of international experience as well as his hands-on leadership approach and wealth of experience in operations and programme management were timely additions to the Bombardier Aerospace leadership team as the organisation drives towards bringing the CSeries aircraft to market.
Prior to joining Bombardier, Arcamone held the position of President and Chief Executive Officer, GM Korea, based in Seoul, where he was accountable for a multi-billion dollar organisation with exports to 150 customers. Earlier in his GM career, Arcamone successfully delivered multiple large-scale projects and developed a global perspective through his leadership roles in North America, Europe and, in particular, Asia—a key growth region for Bombardier.
SP's Aviation (SP's): Can you briefly catalogue the Bombardier commercial aircraft in production that are flying around the world today?
Michele Arcamone (Mike): Having successfully launched 30 aircraft over the last 26 years, Bombardier has built a unique technical, commercial and manufacturing expertise. Our Q400 NextGen turboprop fulfils airlines' requirements for immediately available, fast, reliable, economical, comfortable, high-performance aircraft with solid environmental credentials better than any other turboprop. It offers the most profitable solution for connecting short- to medium-haul Tier-II and Tier-III cities. Our CRJ NextGen series aircraft show outstanding economics, excellent dispatch reliability, low fuel-burn and offers another solution to connect second and thirdtier cities that are farther apart. Bombardier's CRJ NextGen family of aircraft remains the world's most successful regional jet with over 1,785 sold. With game-changing technology, the ability to offer same range and seat-mile cost as larger single-aisle aircraft and a significantly lower break-even load factor, CSeries aircraft will provide the lowest risk and most profitable solution for airlines to connect Tier-I cities with Tier-II cities domestically and Tier-II cities to international destinations once it enters service in 2014.
SP's: What are the new regional aircraft, jet and turboprops that Bombardier plans to launch in the near future?
Mike: We are constantly keeping an eye on the market conditions. However, at this time, we are focused on existing development programmes—the all-new CSeries aircraft being one of them. We are very much looking forward to its imminent first flight. The CSeries will truly be a game changer, the only aircraft in its class fully-optimised for the 100- to 149-seat segment.
Its airframe makes extensive use of aluminium/lithium materials while its wing is made of carbon-fibre resulting in a lighter aircraft and improved aerodynamics as well a much lower fuel-burn, a major advantage in an era of record high fuel prices. The CSeries Pratt & Whitney PurePower PW1500G geared turbofan engine represents a major leap forward in jet engine technology: CO2 emissions reduced by 20 per cent and NO2 emissions reduced by 50 per cent for a cleaner environment. The flight deck benefits from the latest avionics technology and will set a new standard, offering reduced costs thanks to increased operational efficiency and reduced pilot training, while improving reliability. With the CSeries, airlines are looking at 15 per cent cash operating advantage, 20 per cent fuel burn advantage and a range of 2,950 nm. It will be up to 12,000 lbs lighter than other aircraft in the same seat category and will provide passengers with a best-in-class, wide body cabin environment in a single-aisle aircraft.
In fact, the smaller variant of the CSeries family of aircraft, the CS100, will boast exceptional airfield performance capabilities—operating at airports where larger single-aisle aircraft cannot and giving operators access to more markets in India.
SP's: Bombardier has both jets as well as turboprop aircraft in the regional aviation segment of the global airline industry. Can you describe the relative merits and unique features of each with regard to their employment for regional aviation?
Mike: Bombardier's regional aircraft provides operators with the only fully optimised fleet solution to meet their unique needs while offering best-in-class economics, reliability, performance and passenger comfort.
As observed during the last decade, worldwide regional fleets have been increasingly shifting towards turboprops providing operators with a natural hedging tool against rising fuel prices. For short- to medium-haul segments, the Q400 NextGen turboprop's superior performance offers the flexibility to compete with jet block times while offering more than 30 per cent fuel savings compared to today's in-production 70-seat jet aircraft.
Regional jets, on the other hand, have been the key to opening longer, thinner connections in both hub-and-spoke as well as pointto-point systems where larger variations in range are encountered. The CRJ NextGen family of aircraft represents the latest evolution of the world's most successful regional jet programme. With a common engine, advanced avionics and enhanced cabin, it offers the lowest cash operating costs in the industry, making it the optimal solution in both growth and mature markets.
SP's: What is your assessment of the market for turboprop regional aircraft in India?
Mike: Due to its unique ability to provide the most compelling economics and maintain jet equivalent speed on short and medium sectors, the Q400 NextGen turboprop offers the most cost-effective and profitable solution for connecting Tier-II and-III cities. SpiceJet's success with the Q400 NextGen aircraft is a great example of this. The Q400 has long been recognised as the turboprop, best suited to perform in diverse and challenging landscapes and environments and is widely recognised as a strong and valuable asset. In fact, the Q400 NextGen, with its exceptional range and jet-like speed, is the only turboprop capable of building a pan-India regional network with just four hubs. The other benefits I would like to point out are it's the only turboprop equipped with an auxiliary power unit, which means a cooler cabin and reduced exposure to excessive noise and engine fumes for the passengers, as well as cost-savings and lower fuel-burn for the operator; the active noise and vibration suppression system reduces cabin noise and vibrations significantly. With its true digital avionics suite, the Q400 aircraft offers the most advanced navigation capabilities in the regional airline market; only the Q400 offers front and rear door boarding flexibility. This allows for multiple tasks to be carried out simultaneously—food service, lavatory cleaning, cargo loading/unloading, refuelling—with no hindrance to boarding. It offers a complete dual-class solution as well as jet way-compatible front air stair passenger door; it delivers a 29 per cent maintenance cost advantage per seat over the competing turboprop; with its eight to ten more seats, up to 35 per cent more cargo volume and with jet-like speed, it can fly up to two more flights per day than the competing turboprop. That's 30 per cent more revenue potential at a fraction of the cost. Although the Q400 NextGen traditionally operates on routes of less than 500 nm (less than two hours flying), it is the only turboprop that has the speed and range to reach markets over 1,000 nm (approximately three hours flying)—that is increased flexibility which operators appreciate.
SP's: Do you foresee any competition that the turboprop regional aircraft can face from regional jets especially from the new players in China and Japan?
Mike: We are already far ahead of the competition with a proven offering and an established customer-support network. With respect to future offerings, we are constantly looking at value-added enhancements to make the Q400 NextGen aircraft even more appealing. For example, in 2010, we launched a new business-class configuration, enhanced navigation systems and a drop-down oxygen system to further extend the operational capabilities of the aircraft. The Q400 turboprop continues to deliver the best flexibility and overall operating economics in its market segment. Actually, our competitor sold around 595 turboprops in the last 24 years while we sold over 460 in half that time. In fact, since launching the Q400, we have outsold our competitor by 36 to 25 units.
SP's: Does Bombardier provide product support and training globally for its customers?
Mike: Absolutely. Bombardier Customer Services offers comprehensive support and services for its business and commercial aircraft customers around the world. Bombardier has four Customer Response Centres, 15 Regional Support Offices, 11 Parts Depots on five continents, nine wholly-owned Bombardier Aircraft Service Centres employing more than 1,500 OEM-trained technicians, over 60 authorised service facilities across 25 countries and two Bombardier aircraft training centres that train over 6,000 pilots and technicians annually.
Customer-satisfaction is our number one priority. From contract signing to transition into service, we work with operators to ensure that their fleet performance, training, technical publications, spares support and other service requirements exceed their expectations.
As for India, we opened a Regional Support Office in Mumbai in 2010 and set up an engineering centre in Bengaluru in 2012 to undertake complex aerospace projects such as aircraft design, stress analysis and project management services. More recently, we selected India-based Genpact to provide marketing analytical services to our marketing teams. We continue to evaluate opportunities to expand our presence in India and are committed to investing in-country to support successful operations of our growing fleet of commercial aircraft.
SP's: How does Bombardier propose to address environmental concerns on their new fleets that are to be introduced in the near future or are on the drawing board?
Mike: As 60 to 80 per cent of an aircraft's environmental impact is determined at the design stage, Bombardier's innovative design for environment (DfE) approach ensures that environmental considerations are taken into account from the earliest stages of design—product life cycle, recyclability and recoverability, elimination of hazardous substances, new technologies, suppliers involvement. Today, we can point to our commercial aircraft's innovation—particularly with our newest aircraft programme, the CSeries family of jetliners—as a key example of the DfE approach. Our priority is to design and manufacture the most fuel-efficient aircraft with the lowest noise and emissions in their categories.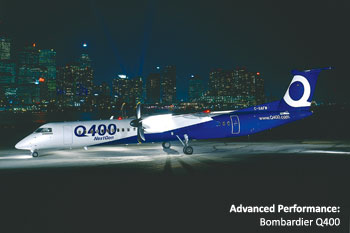 SP's: What has been the progress made by your company with regard to use of biofuels by regional aviation aircraft and what are the plans for the future?
Mike: Alaska Airlines inaugurated biofuel-powered passenger service with a Horizon Air Q400 in November 2011 in a series of 75 test flights between Seattle and Portland, Oregon, fuelled by a blend of sustainable biofuel made from used cooking oil. Bombardier actively supported this initiative by assisting required engineering works and necessary approvals to ensure that the flights ran smoothly.
On April 17, 2012, Porter Airlines operated the first biofuelpowered revenue flight in Canada using one of its Q400 turboprops. The flight from Toronto to Ottawa brought to conclusion the biofuel project first launched by a consortium of partners led by Bombardier, Pratt and Whitney Canada, Targeted Growth and Porter Airlines in July 2010 at the Farnborough Air Show. The Q400 aircraft was powered by a 50-50 blend of bio-derived fuel in one wing and regular Jet A1 fuel in the other. Soon after in 2012, Bombardier joined forces with Aéroports de Montréal and Porter Airlines to launch the inaugural flight of a series of biofuel flights which delivered Raymond Benjamin, the Secretary General of the International Civil Aviation Organisation, to Rio de Janeiro for the United Nations Conference on Sustainable Development (Rio+20).
Bombardier continues to be active in the biofuel arena through the Commercial Aviation Alternative Fuels Initiative (CAAFI) in ensuring that the current momentum created in the biofuel arena is maintained.
SP's: What are the next generation technologies that we should expect to see on new regional aviation aircraft from your company?
Mike: Bombardier regional aircraft are the leaders in operational economic performance and will continue to maintain their advantage. Future next-generation requirements are being implemented as required while we are actively proceeding with product enhancements such as in-cabin personal electronic device connectivity and improved fuel economy. The CSeries will be the most technologically-advanced aircraft in its class and the first single-aisle airliner to enter service with ultra-high bypass engines, advanced material structures as well as advanced systems. Furthermore, the CSeries aircraft will boast growth capability on other advanced features such as enhanced and synthetic vision systems. The CSeries truly is a 21st-century aircraft.
SP's: Bombardier's assessment of the global demand during the next two decades for 20- to 149-seat commercial aircraft stands at 12,800. What, in your perception, are the prospects for the company in the Indian market in this period?
Mike: The Asia-Pacific region, excluding China, will represent approximately 16 per cent of the global market from 2013 to 2032. Although we expect demand to lean towards the 100- to 149-seat category in India and Asia-Pacific markets, owing to higher passenger volumes and longer sectors, we forecast the demand for 60- to 99-seat aircraft will remain significant and will still form an important part of the worldwide demand. We are looking forward to working closely with Indian authorities to expand regional air services among the Tier-II and III cities and accelerate the economic development of these cities. Bombardier's portfolio of commercial aircraft is perfectly suited to achieve this objective and meet the forecasted requirement for over 600 aircraft in the 60- to 149-seat category in India over the next 20 years.
SP's: How do you see rising fuel prices impacting growth in the regional aviation market both globally and in India?
Mike: We continue to anticipate that rising oil prices will present one of the greatest challenges for airlines and will be impacting aircraft orders, deliveries and fleet mix. However, environmental regulations will also feed worldwide interest in new generation technology and steady economic growth in developing markets will present sizeable opportunities for new aircraft demand. We expect these trends to impact India similarly.
Interestingly, at 280 knots, our Q400 NextGen aircraft is as fuel-efficient as any other turboprop on a per-seat basis, while providing advantages in operating cost, speed, passenger and baggage capacity, and delivering eight per cent lower cash operating cost per seat than its competition.
SP's: Can you briefly describe the strategic relationship with the Chinese aerospace industry that Bombardier has developed over the years?
Mike: Bombardier Aerospace and China's Aviation Industry Corporation (AVIC) and its subsidiaries have had a strategic business relationship for more than 25 years. In the 1980s, Xi'an Aircraft Corporation began to provide components for Bombardier's CL-215 and its successor, the Bombardier 415 amphibious aircraft. In the 1990s, SAC Commercial Aircraft Company Limited (SACC) began manufacturing doors for the Bombardier Q-Series family of turboprop airliners. A major strengthening of the Bombardier/China relationship came in 2006 when Bombardier and SACC signed the largest subcontracting agreement in the Chinese aerospace industry to supply major parts for the then-new Q400 turboprop. Today, SACC provides doors, forward, mid and aft fuselage sections, as well as the empennage and wire harnesses for the Q400 NextGen. Actually, about 50 per cent of the overall Q400 NextGen structure is supplied by SACC. Its sister company, Shenyang Aircraft Corporation (SAC) is also contributing to CSeries aircraft. Bombardier was the first OEM to grant design authority to China's aviation industry for major parts. SAC is now a major risk-sharing supplier on the new CSeries aircraft.
More recently, further to the definitive agreement signed on March 21, 2012, covering programme commonalities between the C919 and CSeries aircraft and the LOI signed on November 13, 2012, signalling the beginning of Phase II of their strategic collaboration, Bombardier and the Commercial Aircraft Corporation of China (COMAC) announced last month at the Paris Air Show the signing of another definitive agreement covering four projects. This second phase is expected to contribute to further enhancing the competitiveness of the C919 and CSeries aircraft programmes and will help with maximising the cost-savings and market share.