Till date, unmanned aircraft have flown only in uncontested airspace. As the focus of the US military shifts to the Pacific, the Air Force could be confronted by enemy fighters in unfriendly skies, a mission UAVs aren't yet designed to handle.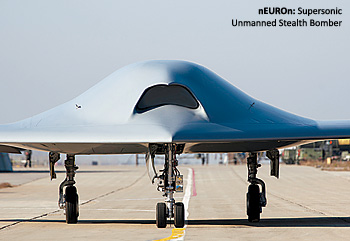 With unmanned technologies starting to prove themselves, the debate between manned and unmanned has heated up. The proliferation and success of unmanned aerial vehicles (UAVs) have caused some to question the relevance of manned aircraft systems in future. This has been more so due to defence budget cuts and competing demands for scares resources. In 2010, for the first time ever, the Pentagon bought more unmanned aircraft than manned. In a press conference on the Obama Administration's new defence strategy in 2012, Defense Secretary Leon Panetta and other officials put off all questions about the costly F-35 aircraft until the fiscal 2013 budget proposals.
However, unmanned systems and intelligence, surveillance and reconnaissance technologies were on their list of items that may see funding boosts rather than cuts. "There's not going to be a way of putting this genie back in the bottle," said Vice Admiral (Retd) Joseph W. Dyer, US Navy. "The world has changed. That doesn't mean advocates of today's manned aircraft won't try to put it back in the bottle. But it isn't going." UAVs have become a potent segment of the US Air Force (USAF) inventory and an indispensable weapon in the global war on terror. Budget crunch and turf wars with old-guard pilots could impede UAV progress. Bulk of the fund allocations for major aircraft projects around the world are for manned aircraft. Purely manned or purely unmanned aircraft possess various inherent advantages and limitations. A manned aircraft can be used in contested environments where command-and-control is limited, autonomy is required, or policy restrictions exist. An unmanned aircraft has no aircrew to limit its range and endurance or has the risk of loss of life or the fear of being captured.
Man on the Spot
"UAVs have a great future, increasing popularity and usefulness, but no machine can replicate the human gift of discovery and situational awareness," says Air Marshal Vinod Patney, former Vice Chief of Air Staff, Indian Air Force (IAF). Today's technology is insufficient to allow unmanned aircraft to make independent, complex judgements in an unknown environment and so must be linked to human judgement, albeit on the ground. The data links can be denied or deceived. Threat of cyber attack today is more potent than Al-Qaeda. Delays in commanded guidance could be crucial if not lethal. All UAV data is still analysed and interpreted by a human.
As it stands, till date, unmanned aircraft have flown only in uncontested airspace. As the focus of the US military shifts to the Pacific, the Air Force could be confronted by enemy fighters in unfriendly skies, a mission UAVs aren't yet designed to handle. Of the 25 most expensive programmes of the US Department of Defense (DoD), none is unmanned. The same is true for all major air forces of the world. Even with a disruptive technology like UAVs, one doesn't let go tried and tested systems, analysts feel.
The first recorded air-to-air engagement was in December 2002, between an Iraqi MiG-25 and an American Predator UCAV armed with Stinger missile. Both fired a missile at each other. The UAV was shot down and the same could be seen through the video downlink. A fighter aircraft has the positioning and speed advantages and better chance of an air-to-air kill. The United States Air Force UAV accident rate at 0.9 per 10,000 hours is much worse than 0.2 per 10,000 hours for manned aircraft. UAVs also require significant manning for their operations. At approximately $75 million ( Rs. 450 crore), the Global Hawk, a Class III HALE UAV, is costlier than many a modern fighter. Collateral damage from UAV attacks continues to be high at 32 per cent. The USA nearly lost a friend in Pakistan when a large number of civilians were killed in one such attack.

Unmanned: The Back-Office war
Unmanned aircraft are already taking-off and landing by themselves including on a moving aircraft carrier (X-47B). "Autonomous air refuelling would leave them on station for months and allow them all roles from combat to cargo handling," says analyst Dan Parsons. The US has already modified F-4s and F-16s to fly them remotely, to enter dangerous areas. Dual use aircraft will greatly reduce development costs and increase operational flexibility. Dassault Aviation of France is developing Neuron, a supersonic unmanned stealth bomber. The DoD is working on hypersonic air devices to strike a target within one hour from detection at Mach 6 to 20. The new long-range strike bomber is likely to be optionally manned. The US Army's dramatic shift to a nearly allunmanned flight over the next three decades is embedded in the UAS roadmap unveiled by General Peter Chiarelli, Vice Chief of Army Staff on April 15, 2010, at the Army Aviation Association of America's annual convention in Fort Worth, Texas. "It is a long range strategic vision," he added. Air Marshal N.V. Tyagi, former Deputy Chief of the Air Staff feels, "There is a clear shift in favour of unmanned systems. Only the US and Israel have been able to allocate resources for research and development (R&D) due to budget constraints. Since the machines will continue to perform the same basic functions, it will only mean replacing man with the processor. This change over could be simple and smooth." UAVs have become too attractive and potent military assets for any significant power to ignore. The USAF had 255 active Global Hawk, Predator and Reaper drones in its inventory in fiscal year 2011. That number is expected to grow to 420 by fiscal 2017. For the first time in its history, in 2011, the USAF trained more UAV pilots than fighter and bomber pilots combined.
At any given time, about three dozen USAF UAVs are flying over Afghanistan and Iraq. Much larger number of Army UAVs are in action. A handful of missile-armed UAVs of the CIA are flying over Pakistan most of the time. "Is the world being over ethical to keep control over UAVs when a cruise missile is allowed to take its own decisions?" is the question being asked today.
The Middle Path
In flier's language, the UAVs are best for "dull, dirty and dangerous" missions. Long endurance means dull, chemical and nuclear sampling is dirty and strikes on a heavily defended target, for example with a Harpy class UAV it can be termed as dangerous. UAVs have much lower training costs. Manned missions are good for unplanned situations. They are good for public confidence. The UAVs can concentrate on intelligence surveillance reconnaissance (ISR), close air support and take on some strike missions but air superiority should be handled by manned fighters. Manned aircraft are much better in dynamic environment. UAVs require much lesser ground infrastructure but those requiring the runway may hog it for long time. UAVs are also very vulnerable to loss of communications and electronic countermeasures. UAVs are also less glamorous than a fighter aircraft. The world is still not ready to give full control to a computer for an autonomous UAV. There is also a genuine fear to allow the computer to take a decision to shoot to kill. "UAVs are an expected advancement in the continuing revolution in military affairs (RMAs). The change must be preceded by requisite infrastructural preparation and doctrinal enunciation. Do not think it will replace the manned strike force. Prepare to counter the armchair strategists' glib panacea for preventing human losses. But some thinning of fighter cockpits will take place," says Air Chief Marshal A.Y. Tipnis, former Chief of the Air Staff. The USAF is currently buying three Predators a month. The Air Force policy has dictated that only experienced Air Force pilots are allowed to fly UAVs, but the service has a test programme under way to train new officers to fly UAVs as their first and only aircraft. Thomas Cassidy of General Atomics Aeronautical Systems, the maker of the Predators, Reapers and Sky Warriors, says the company could conceivably produce up to 36 Predator-class aircraft every month from its up-and-coming new facility.
Joint Operations: Way Forward
"For the US Air Force, the biggest challenge is figuring out how UAV procurement affects the F-35 joint strike fighter programme," said Peter Singer, Senior Fellow for Foreign Policy at the Brookings Institution. "The Air Force's desired procurement numbers have not changed for the troubled next-generation fighter while programme costs have ballooned. While the F-35 has been in development, the Air Force has added more than 300 strike-capable Reaper drones to its inventory."
One of the arguments against UAVs is lack of situational awareness and on the spot decision-making. General Norton A. Schwartz, former Chief of the USAF, sees future UAVs operating under the control of manned aircraft to make "buddy attacks". That day is not far when there will be mixed manned and unmanned formations, with aircrew in the air controlling a swarm of UAVs and giving them clear directions including controlling their attack and weapon release. The US Navy recently formed its first mixed force squadron with manned and Fire Scout unmanned helicopter. UAVs are here to stay and will grow in numbers. "We made the mistake of removing the aircraft gun too early before the missile had proved itself. So need to tread carefully—cannot make that mistake again," says Air Chief Marshal Tipnis. "Can you replace the US President with a computer?" asked a young fighter pilot. There are decades of debate ahead.