Presently, airlines in India are going through turbulent times, making one wonder how new airlines are daring to enter this business when there is bloodshed around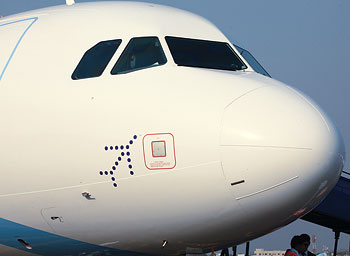 It is an airline conundrum. Four of the six commercial airlines presently operating in India are bleeding profusely, even while new airlines are venturing into this business. Something somewhere is right, something somewhere is wrong.There is no disputing the fact that India's aviation sector has enormous potential for growth, but presently the airline industry is in a major crisis.
Immense Opportunity
It is projected that India would be the third largest aviation market by 2020. It is now among the top 10 globally with a size of around $16 billion. The numbers augur well. Passenger traffic increased from 73 million in 2006-07 to 159.3 million in 2012-13. Passenger capacity climbed 3.5 per cent in 2013, and load factor was 74.6 per cent, up 1.7 percentage points compared to 2012. Air freight touched 2.19 million tonnes, a compound annual growth rate of 10 per cent over 2012-13. However, the International Air Transport Association (IATA) noted that the demand environment was challenging in view of the weakening economy, inflation and slow down in manufacturing and resource industry.
Considering the trends and the potential, India may well achieve the third largest aviation market status, but the question is what role will the home-grown airlines play in this endeavour? Presently, they are going through turbulent times, making one wonder how new airlines are daring to enter this business when there is bloodshed around.
Cumulative Losses
The cumulative losses of all airlines have been estimated at Rs. 49,000 crore with Air India accounting for a staggering Rs. 30,000 crore. And in the recent past, the industry has witnessed merger or closure of airlines such as Air Deccan, Kingfisher Airlines, Paramount Airways and Air Sahara. It has also witnessed the birth of new airlines Air Costa, AirAsia India, and soon-to-be-launched Tata-Singapore Airlines. There are a number of new ventures approved but yet to takeoff. Indian carriers are expected to double their fleet size by 2020 to around 800 aircraft.
LCCs Dominate
Over the last decade, there has been a significant upward movement of the low-cost carriers (LCCs) in India. In 2013, LCCs accounted for almost 70 per cent of the domestic capacity, driving growth through low fares, regional routing and discounted offers.
The potential for growth is a great story, but the airline industry is weighed down by adversity. The most important factor impinging on profitability has been the rising price of aviation turbine fuel (ATF) that is fuelled by both the escalating price of crude and devaluation of the rupee.On an average, fuel costs are around 60 per cent higher in India than in other countries and adding to that is the mosaic of state taxes, some as high as 35 per cent, making India one of the costliest places in the world to run a fleet of planes. It is not surprising that the balance sheet of majority of the airlines in India is in the red.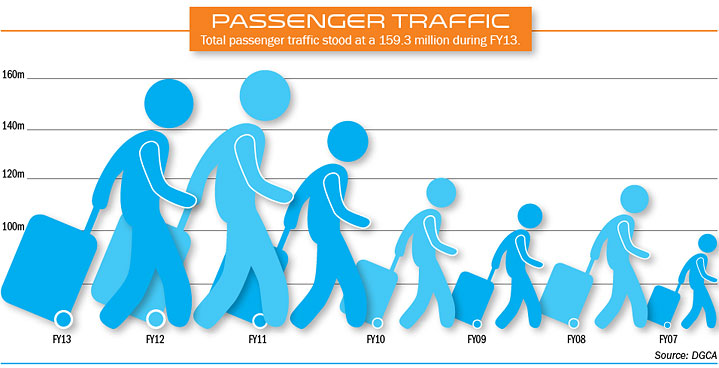 Restructuring of Air India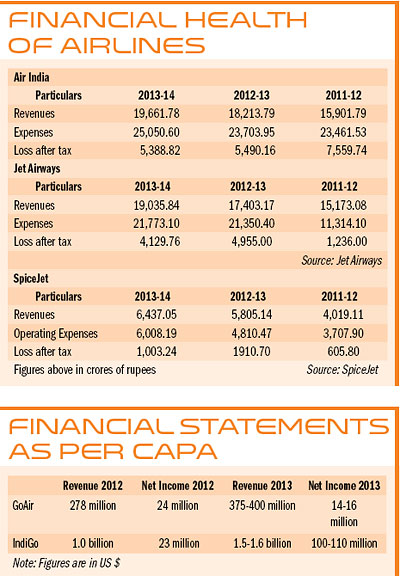 The national carrier Air India has been on life support for quite some years now. It has embarked upon a path of restructuring and it remains to be seen how it will emerge out of the deep morass it is in. It ended the financial year 2014 with operating loss of Rs. 2,123 crore, but reported EBIDTA (Earnings Before Interest Depreciation Taxes and Amortization) positive for the second consecutive fiscal at over Rs. 700 crore, a significant increase from Rs. 19 crore in the previous fiscal. The signs are encouraging.
Air India has been assured of an equity infusion of over Rs. 30,000 crore by 2020, provided it achieves certain milestones. The Ministry of Civil Aviation in its 2012 audit found that 13 long-haul international routes accounted for about 80 per cent of losses during 2011-12. Hopefully, Air India's entry into Star Alliance will prop up its overseas operations.
Jet Airways in Distress
Pre-2007, before it took over Sahara, full-service carrier Jet Airways was known for on-time-performance and world-class service. However, in 2013-14, Jet Airways reported its highest-ever annual loss of Rs. 4,129 crore, forcing it to adopt tough measures to lower costs and achieve profitability with a three-year business plan. Jet Airways ranks second by market share and has not reported an annual profit since 2007. As part of the restructuring process, it has shut down JetLite, its low-cost arm, and is focused on its full-service operations. Etihad Airways has a taken a 24 per cent stake in Jet.
"We as an airline confused customers with multiple brands. The main aim in the tie-up with Etihad Airways is to increase market share," says Jet Airways Chairman Naresh Goyal. According to Kapil Kaul, CEO South Asia, Centre for Asia Pacific Aviation (CAPA) Jet Airways lost focus in the domestic market after 2005-06 as it concentrated largely on international services, to become another 'Singapore Airlines'. "Jet Airways went in for 20 wide-body aircraft for international operations. Its expansion happened without an adequate capital base. The 2006 Air Sahara acquisition, which to me was a big mistake, blocked precious capital at a very crucial phase of Jet's international programme."
In 2005, the airline's profit was Rs. 392 crore while its debt was under Rs. 3,000 crore. In 2008 Jet's consolidated loss was Rs. 654 crore and its debt had ballooned to Rs. 12,600 crore, compounded by a bad acquisition.
IndiGo-Consistent Performance
IndiGo, India's largest airline by market share of 31.6 per cent, is a profitable carrier. For 2012-13, IndiGo reported a net profit of Rs. 787 crore. Delhi-based Rahul Bhatia's InterGlobe Enterprises holds over 51 per cent stake in IndiGo while India-born US citizen Rakesh Gangwal's Caelum Investment LCC holds 48 per cent stake. InterGlobe Enterprises, the company that owns IndiGo, has revived plans to launch an initial public offering (IPO) to raise $400 million. Launched in 2006, IndiGo has captured the imagination of passengers through its operations, on-time-performance, connectivity and reasonable pricing. It is the fastest growing airline in India. It has a fleet of 79 aircraft with an order book of 186.
SpiceJet Looking for Equity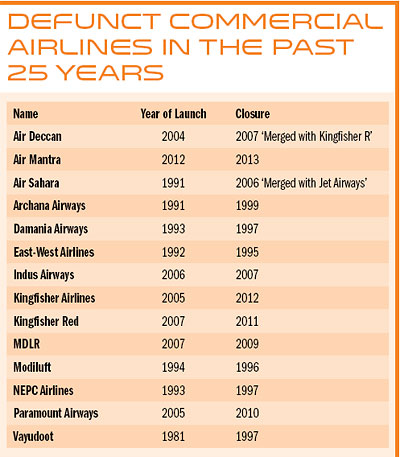 India's second largest low-fare airline SpiceJet, owned by media baron Kalanithi Maran, is in advanced stage of negotiations with an overseas investor for a possible infusion of capital to help fund its expansion plans and pare debt. An equity infusion is critical for SpiceJet as losses continue to mount. SpiceJet posted a record net loss of Rs. 1,003.24 crore for the fiscal year ended March 2014. The loss widened five times from Rs. 191.07 crore a year ago, as a weak rupee and rising operating costs took their toll.
SpiceJet recently said in a statement: "The year ended March 31, 2014 was perhaps the most challenging in Indian aviation history. The sharp depreciation of the Indian rupee during the quarter ended September 30, 2013, was unprecedented. Given the fact that over 75 per cent of any Indian airline's cost is influenced by the dollar, the effects of the exchange rates on a broad spectrum of cost heads were crippling."
SpiceJet is working to achieve profitability by garnering a greater market share and reducing costs, a strategy that will help the airline in the future. SpiceJet has started filling up empty seats by offering heavy discounts, which have ensured that fixed costs like taxes and fuel charges are recovered, even if the airline doesn't make any profit from those seats.
GoAir—Slow and Steady
Run by the Wadia Group, GoAir is a low-cost airline with a fleet of 19 aircraft, soon to go up to 20. It made a profit of just under Rs. 100 crore in the fiscal year 2014, as against a little over Rs. 100 crore in the previous year. Staying nimble since its November 2005 launch, GoAir has focused on flexibility.
To beat competition, GoAir increased aircraft utilisation, raising it to 13 hours a day while the industry average is 11 hours. Currently, GoAir has 24 per cent of flights on metro routes, 70 per cent on metro to non-metro and six per cent on non-metro routes. It is said to be in talks with foreign airlines for a possible equity stake sale to support future expansion.
Air Costa, so far, so good
End 2013, Vijayawada-based LEPL Group forayed into regional aviation with two Embraer aircraft and the regional airline is said to be doing well. Buoyed by its initial performance and expansion plans of pan-India connectivity, Air Costa signed a definitive agreement with Brazil's Embraer for 50 E-Jet E2 planes with purchase rights for additional 50 jets. The initial order is for 25 E190-E2s and 25 E195-E2s, which together are estimated to be priced at about $2.94 billion.
Currently the fleet size is four (two E170s and two E190s) which connect nine destinations such as Ahmedabad, Bengaluru, Chennai, Hyderabad, Jaipur, Vijayawada, Coimbatore, Madurai and Visakhapatnam.
AirAsia India, hoping to make waves
India's fourth budget carrier AirAsia India, commenced operations on June 12 this year with its first flight from Bengaluru to Goa. It is currently operating flights from Bengaluru to Kochi, Chennai, Goa, Jaipur and Chandigarh. AirAsia India is a three-way venture between Malaysia-based AirAsia Berhad, Tata Group and investment firm Telestra Tradeplace. Announcing the new routes, Mittu Chandilya, CEO, AirAsia India, earlier said, "Given the size of the population in India, there is great potential to expand. Starting flights to Jaipur and Chandigarh was a strategic decision since we wanted to accelerate our operations in the North, considering the demand for our services." As per Tony Fernandes, AirAsia India would take at least a year to break-even.
"We are lot more bullish about the Indian market. There is no secret recipe to doing that. We are very much conscious about the costs and the discipline about keeping everything low. This is about volume. The secret weapon is to grow very quickly and become a mass-market company. If we are doing one flight a day, our aim is to make 10 flights a day. Second, infrastructure is there and if we can use it more, we can offer less cost per passenger," said Tony Fernandes.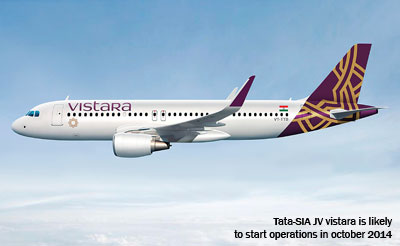 Vistara—Limitless Expanse
Vistara meaning 'Limitless Expanse, is the name given to Tata SIA Airlines Limited (TSAL), a joint venture between Tata Group and Singapore International Airlines. Vistara is expected to launch operations in October 2014 and promises to transform the air traveller's experience. Headquartered in Delhi, Vistara will take delivery of its first plane, an Airbus A320-200, in September and plans to increase its fleet to 20 aircraft, including A320neos, by the end of the fifth year of operation.
Prasad Menon, Chairman, TSAL, said, "Vistara will redefine the way we travel in India. I can confidently say that Tata's and SIA's legendary hospitality standards and service excellence will make Vistara a natural choice for passengers."