India will be setting a new template for defence cooperation with Japan, which other strategic partners of Japan would also like to emulate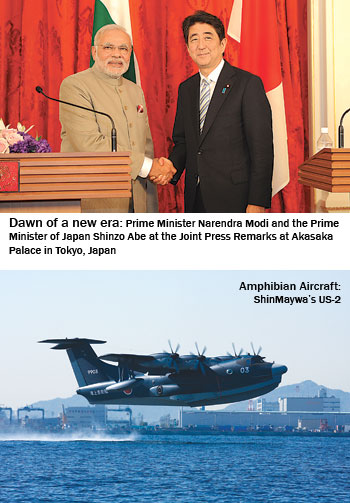 After the summit meeting on September 1, 2014 between Prime Minister Shinzo Abe and Prime Minister Narendra Modi, India and Japan will witness an enhanced and new era of cooperation between the two countries in defence and security arena, for which the way has been cleared by the Japanese decision to lift the ban on six Indian defence entities including the Hindustan Aeronautics Ltd and the decision to accelerate the talks on US-2 amphibious plane transfer to Indian Navy. In fact India will be setting a new template for defence cooperation with Japan, which other strategic partners of Japan would also like to emulate.
Both countries decided to upgrade and strengthen their defence cooperation and directed the officials of the two governments to launch consultations to promote military equipment cooperation and speed up discussions on modalities for the supply and transfer of technology of the US-2 amphibious plane. A joint statement said, "Both sides directed the Joint Working Group to accelerate progress in the discussions and preparations for a road map for the development of the Indian aircraft industry through US-2 amphibian aircraft cooperation including the transfer of the aircraft and its technology to India."
If the US-2 deal materialises India will perhaps be first country since World War II to acquire a military system from Japan. To facilitate this Prime Minister Abe had only a few months ago decided to dismantle the ban on weapons exports that has dissuaded his country from entering into world arms market in spite of possessing most advanced and competitive defence technology. The US-2 (ShinMaywa industries) amphibious aircraft deal will be worth $1.65 billion, which includes off-the-shelf purchase and technology transfer for license manufacture in India. According to sources India is negotiating for at least 15 planes for direct sale at the cost of $110 million each.
The US-2 plane, likely to be based at the Andaman Nicobar Islands, can fly for 4,500 km which will give a reach up to South East Asian coastal areas and can be employed in support missions. This will step up the profile of Indian Navy across the Indian Ocean which will help in countering rival China.
The US-2 will prove to be a symbolic launching of defence cooperation between the two countries. To enable deeper cooperation the two sides signed a Memorandum of Cooperation and Exchanges in the Field of Defence during Prime Minister Modi's five-day visit. "We intend to give a new thrust and direction to our defence cooperation, including collaboration in defence technology and equipment, given our shared interest in peace and stability and maritime security. We have also decided to expand our cooperation in advanced technology, science and technology, people-to-people exchanges, educational exchanges, etc," Modi said at the joint press briefing with his Japanese counterpart.
The Tokyo Declaration said,"The two Prime Ministers expressed hope that this would usher in a new era of cooperation in defence equipment and technology. They recognised the enormous future potential for transfer and collaborative projects in defence equipment and technology between the two countries,".
The foundation for defence and security cooperation was laid in 2006 when the then Defence Minister Pranab Mukherjee had visited Japan and issued a joint statement with Fukushiro Nukaga, Japan's Minister of State for Defence, who emphasised on "deepening the dialogue and cooperation" in security and defence fields and a deep interest in tackling regional and global security challenges. In 2001, the bilateral Comprehensive Security Dialogue was initiated. The two countries further institutionalised the bilateral security cooperation by issuing the Joint Declaration on Security Cooperation between Japan and India in October 2008 and commencement of 2+2 bilateral dialogue involving the defence and foreign ministries. Under this the following elements were included.
Information exchange and policy coordination on regional affairs in the Asia-Pacific region and on long-term strategic and global issues.
Bilateral cooperation within multilateral frameworks in Asia, in particular the East Asia Summit, ASEAN Regional Forum and ReCAAP processes.
Defence dialogue and cooperation within the framework of the Joint Statement signed in May 2006 between the two Defence and Foreign Ministries.
Cooperation between coast guards.
These dialogues continued on a regular basis and the latest decision to upgrade the defence cooperation is a result of the Modi-Abe summit which will see a new era of cooperation in defence sector between the two Asian giants. Prime Minister Modi told the Japanese businessmen to take advantage of India's liberalised FDI regime in the defence sector.
The cooperation and joint programme between the armed forces of two countries will also become a regular feature. As the two countries decided to include Japan in the bilateral India US Malabar maritime exercises on regular annual basis, the two Prime Ministers also welcomed the dialogue between the Director General of Indian Coast Guard and the Commandant of Japan Coast Guard and the joint exercise between Indian and Japanese Coast Guards conducted off the coast of Kochi in January 2014. Both sides expressed their desire to further promote bilateral and multilateral cooperation on maritime issues and decided to hold the next bilateral dialogue in Tokyo and joint exercise off the coast of Haneda between Indian and Japanese Coast Guards in October 2014.
Though the Japanese were in the forefront of imposing sanctions on India after India conducted nuclear tests in May 1998, the role of Indian Navy in November 1999 when they rescued the Japanese Alexandra Rainbow ship from the sea pirates impressed the Japanese decision-makers so much that they decided to take a U-turn and initiated the talks with India in defence and security arena. These talks have now matured to the level of the Tokyo Declaration which expresses the resolve to strengthen defence and security cooperation. Perhaps the ongoing spat with China over Senkaku (Diayou) islands in East China Sea has encouraged Japan to find a new partner in Asia in defence arena to bolster its maritime security.
The resolve to enter into a defence and security cooperation with India will allow the Japanese defence giants like Mitusbishi Heavy Industries Limited and Kawasaki Heavy Industries Limited to enter in a big way in Indian defence sector, These companies already supply important components to US and British aviation and armament companies. Since India is a leading market for defence hardware, the Japanese government would not like to be absent from the Indian market, which offers huge scope of over $100 billion in the next decade. India needs cutting-edge technology in defence electronics and the Japanese electronics companies are well suited to meet the needs of the country's armed forces. Japan seems to have shed its post-war inhibitions and is ready to work with India as a reliable partner in defence sector.