JAL's wholly-owned subsidiary J-Air is playing a significant role in JAL's restructuring and the new E-Jets ordered are in line with its regional expansion plans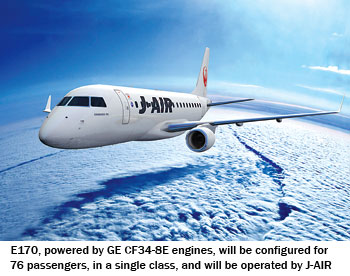 In 2011, Japan Airlines (JAL) came out of bankruptcy. It made a strategic and significant decision of expanding its regional services, under its medium-term business plan from 2012-16. The strategic shift is towards domestic regional markets using 'right size' aircraft. The airlines understood that it had to make early expansion moves, both on international routes and domestic routes, if it had to survive, considering that Japan's population growth has been on the negative side. In an analysis, the Centre for Asia Pacific Aviation (CAPA) has noted that JAL differentiates itself from the low cost carriers and is responding to technological innovations. It intends to stimulate new air travel in a country where the population is shrinking. It is reported that Japan's population is expected to shrink one-fourth by 2060, declining from 128 million to 95 million. To spur domestic travel, airlines have to rethink their strategies and JAL has taken the lead.
J-Air Concentrating On Domestic Expansion
JAL's wholly-owned subsidiary J-Air is going to play a significant role in JAL's restructuring. J-Air is a regional commuter airline with its headquarters at Osaka's Itami Airport. The carrier is a wholly-owned subsidiary of Japan Airlines and an affiliate of the OneWorld Alliance. J-Air has a fleet of 24 aircraft, consisting of 15 Embraer 170s and nine Bombardier CRJ-200s. It operates scheduled passenger services to 21 destinations across Japan. J-Air currently operates 176 daily flights across its network of 21 cities that include Osaka-Itami, Sapporo, Sendai, Kagoshima, Miyazaki, and Fukuoka. To expand its regional operations, J-Air has embarked upon aircraft acquisition programme with a combination of Embraer jets and Mitsubishi Regional Jets (MRJs).
New E-Jets Orders
On August 28 this year, Embraer S.A. signed a firm order with Japan Airlines for a total of 15 E-Jets comprising the E170 and the E190 jets models, as well as for an additional 12 E-Jets family options. The value of the firm order is estimated at $677 million, based on 2014 list prices. The order will be included in Embraer's 2014 third-quarter backlog. All aircraft will be operated by Japan Airlines' wholly-owned subsidiary, J-Air, which has headquarters at Osaka's Itami Airport. This order is added to the existing 15 E170s that the airline currently flies. New deliveries of E-Jets are scheduled from 2015.
"We have been operating our E-Jets for five years and the aircraft have achieved an outstanding 99.7 per cent dispatch reliability. They are efficient and have displayed exceptional performance," said Yoshiharu Ueki, Representative Director, President of Japan Airlines. "Having the combination of E170s and E190s in our fleet will give us greater flexibility, enabling us to match capacity with demand on routes within our existing and future networks. Our passengers have been impressed with the space and comfort on board our E170. They value the fact that there is no middle seat."
"This repeat order by Japan Airlines is an affirmation of the added value that E-Jets have brought to its operations over the years – it has enabled the airline to grow its domestic network in a sustainable way," said Paulo Cesar Silva, President and CEO, Embraer Commercial Aviation. "The E-Jets have a proven global track record and we look forward to the operational debut of the E190s in Japan. It is a reaffirmation of the family concept to see the E190 complementing the E170 fleet also in Japan, enhancing J-Air's operations, and delivering a seamless passenger experience across its network. The airline will also benefit from the high level of commonality between the two E-Jet types."
Around the same time, JAL signed a letter of intent with Mitsubishi Aircraft Corporation to buy 32 MRJs, as the next-generation regional jet for the JAL group. JAL plans to deploy the MRJs on domestic routes from 2021, operated by J-Air.
Orders MRJs too
Mitsubishi Aircraft has made steady progress on the development of the MRJ, Japan's first passenger jet, which is scheduled first delivery in 2017. As a network carrier that also operates regional jets, the JAL aims to contribute to the birth of this passenger jet that Japan boasts to the world, by not just operating the MRJ, but also providing comprehensive support. Equipped with newly-developed geared turbofan engine, the MRJ will achieve significantly lower operating costs than current regional jets. JAL will operate the MRJ as the core aircraft on its regional routes, and remains committed to improving products and service quality from the passengers' point of view and developing more convenient networks. The MRJ will support JAL explore a new era of air travel.
Although Mitsubishi Aircraft Corporation has not provided any details of its new letter of intent with Japan Airlines, sources suggest that JAL is planning to order both the MRJ70 and MRJ90 versions of the Mitsubishi Regional Jet family.
ATR yet to make an entry
The European turboprop manufacturer ATR has obtained certification to start operations of the new ATR 72-600 in Japan. This certification, granted by the JCAB (Japanese Civil Aviation Bureau), marks the last step before the introduction of the first ATRs that will fly in the colours of a Japanese airline. Though Air Link was to take delivery of the first ATR 72-600, the operator since has filed for bankruptcy.
As part of the certification process, Japanese authorities have approved the operation of the new equipment of the new ATR-600 avionics, such as the MPC (multi-purpose computer), as well as new autopilot, communication, navigation aid and flight management systems.
Meanwhile, at Farnborough International Airshow 2014, Nordic Aviation Capital (NAC), the world's largest regional aircraft leasing company, has signed a letter of intent with Japan's Amakusa Airlines for a sole ATR 42-600. When the Kumamoto Prefecture-based regional airline accepts the aircraft in the fourth quarter of 2015, it will become the first ATR 42 operator in Japan. Established in 1998, Amakusa Airlines provides regular scheduled regional services connecting the Amakusa City off the coast of mainland Kyushuu in south-western Japan to large cities to such destinations as Kumamoto, Fukuoka and Osaka, offering up to 10 frequencies daily.
"We are delighted to make this agreement with Nordic Aviation Capital and look forward to welcoming this brand new ATR 42-600," commented Takashi Yoshimura, President of Amakusa Airlines. "The ATR 42-600 is a fine aircraft, combining excellent economics and versatile characteristics with superior cabin comfort which our passengers will love."
The aircraft will replace the airline's existing 39-seat turboprop, enabling Amakusa Airlines to offer greater capacity thus playing an even larger role in developing tourism while most importantly better serving the local people.
To date, there are almost 260 ATRs operating in the Asia-Pacific region, operated by 50 companies in 23 countries. The ATR 72-600 is also the 70-seat aircraft which has most recently obtained certification from the major international certification authorities, the EASA in Europe and the American FAA.
Domestic air travel is dominated by the JAL Group and the ANA Group, which each consist of several airlines and serve over 50 airports across the country. In addition, there are several smaller airline companies competing with JAL and ANA on the country's most popular routes. JAL's recovery path has been noticeable. In June 2014, the Senior Managing Executive Director and General Manager of Finance, Norikazu Saito, gave financial details as per which the ASK on domestic routes decreased by 4 per cent from a year ago, RPK increased by 2.2 per cent. As a result, the load factor improved by 3.8 points to 62.4 per cent. Unit price declined due to a larger percentage of group passengers and an increase in passengers using advance purchase discount fares. But on the whole, demand has been strong.
He said: "In the first quarter, we enjoyed strong sales of the new Tokubin Discount 21 fares, which can be purchased 21 days prior to the boarding date. We also implemented measures such as extending the booking time line of travel products for group passengers from 10 days to 7 days before the day of departure. Furthermore, on May 28, we rolled out JAL SKY NEXT services, offering more legroom, on the Haneda-Fukuoka route, and this has been well received by the customers. Yield was a negative 4.9 per cent from the year before due to more passengers flying on advance purchase fares such as Sakitoku discount fares, and a larger proportion of group passengers in the customer mix. As a result, domestic passenger revenue declined by 2.8 per cent year-on-year to 105.7 billion yen." What is significant is the airline is creating demand.