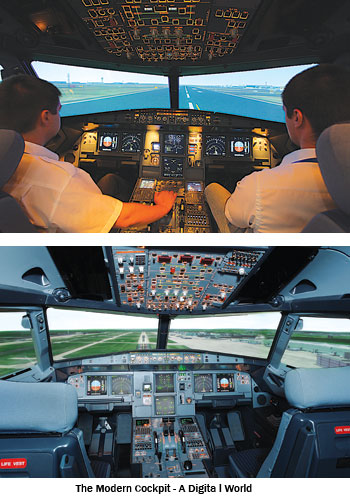 If we look at the global scenario for aviation safety, approximately 1,00,000 flights take to the sky and land without incident on a daily basis
There is this interesting story in USA Today wherein a reader, Paula from North Carolina, is a little concerned about her travel on a regional jet and poses a question to John Cox, a retired airline captain with the US Airways and runs his own aviation safety consulting company, Safety Operating Systems. Paula's question is simple: Are regional jets safe and how experienced are the pilots?
John Cox reassures her stating that regional jets are safe. "The pilots and flight attendants have completed extensive training and demonstrated their ability to handle normal and abnormal situations." He further comforts her by stating: "I ride on regional jets frequently and am not concerned about the safety of the flight. Additionally, I put my family on regional jets frequently. If I had any safety concerns, I would make other arrangements. That is the best example I can give you."
Another flier from Boston, Jeff, asks whether there is a difference in the level of safety in regional flights compared to mainline flights. Cox answers, "All airlines in the US are regulated to the same standard. The Federal Aviation Administration (FAA) requires uniform standards of safety and operational excellence in both main and regional airlines. Some airlines voluntarily exceed that standard, creating a safety difference. While there is much attention focused on the regional airline safety record, my experience is than the safety attitude and commitment is more important than the size of the airline."
These are just samples from the US that can be extrapolated to any part of the world where mainline as well as regional airlines fly. If we look at the global scenario for aviation, approximately 1,00,000 flights take to the sky and land without incident on a daily basis. In 2013, over three billion people flew and there were 210 fatalities. The International Air Transport Association (IATA) mentions: "Regrettably, we have surpassed that number already this year. But even so, getting on an aircraft is still among the safest activities that one can do."
Hiring and Training of Pilots
In the wake of the Colgan Air accident near Buffalo in 2009, the US passed the Airline Safety Act to strengthen standards for hiring and training of pilots for regional carriers and to provide the same level of safety among mainline and regional carriers. According to Arnold Barnett, a Massachusetts Institute of Technology professor, who specialises in aviation safety statistics, the Continental crash and safety questions about regional carriers have blurred an important distinction between jet and propeller aircraft. "Historically, the safety record for piston and propjet aircraft has not been as good as that for pure jets," Barnett says. "US regional jet flights have a splendid safety record," he goes on. "They have suffered only one fatal crash in the past two decades." According to Barnett's analysis, the risk of death on your next regional jet flight in the US is one in 30 million. In other words, you can travel every day for the next 82,191 years before you will die on a regional jet. For comparison, your chance of dying on your next trip on a major carrier, one of the big airlines, is one in 60 million.
"Propjets, planes with propellers driven by turbojet engines, are a different story," Barnett points out. "Your risk of death on your next propjet flight, he says, is one in five million. Yes, the risk is greater than a jet flight, but you can still fly every day for a very, very long time before you run into a problem."
"There is no difference between regional and major airlines when it comes to safety of passengers and crew, the No.1 priority of all airlines," Roger Cohen, President of the Regional Airline Association (RAA), a trade group representing 30 airlines has said. "Regional airlines and our 60,000 airline professionals are proud of our performance serving 160 million passengers every year and especially of our commitment to transport them safely." "This is all one industry," Cohen insists. "One level of safety. And that's something the industry is committed to 24 x 7."
With safety as its highest priority, RAA represents North American regional airlines and the manufacturers of products and services supporting the regional airline industry, before the Congress, DOT, FAA and other federal agencies. With more than 13,000 regional airline flights every day, regional airlines operate more than 50 per cent of the nation's commercial schedule.
The RAA and its member airlines are launching a Strategic Safety Initiative to study and recommend actions responsive to challenges facing the airline industry. This initiative has four elements—Review Safety Procedures, Study Impact of Fatigue, Fatigue Awareness Management Programme and come up with recommendations.
Currently, cockpit voice recordings can be reviewed only as an accident investigation tool. Yet, an initiative permitting safety experts to conduct random audits to track trends and mine data, could provide valuable information before an accident occurs.
The FAA said it plans to:
Write new regulations on how many hours pilots can work. Several efforts in recent decades have failed, but Babbitt said, "We will get a new rule."
Pressure all airlines to adopt safety programmes that closely monitor data from every flight. All the major carriers use such programmes, but many regional carriers do not.
Improve the ability of airlines to research the flying records of pilots before they are hired. Currently, airlines are only required to look at a prospective pilot's records at other carriers for the past five years.
European Scenario
Air transport is one of the safest modes of travel and the work that European Regions Airline Association (ERA) does on safety aims to further it more. Safety issues are addressed by the ERA Air Safety Advisory Group and involves working on subjects such as advocating a non-punitive reporting culture, assisting members to implement a safety management system (SMS), in putting into Eurocontrol's European Action Plan for the prevention of runway excursions and providing a confidential safety forum where safety incidents can be discussed in order to share lessons learned and produce best practice.
The ERA Directorate works closely with the European Aviation Safety Agency (EASA) and has several member representatives on their safety groups such as the European Commercial Aviation Safety Team (ECAST) and SAFA forums. The use of Personal Electronic Devices (PEDs) is now part of normal everyday life, with most people owning a mobile phone, tablet computer, laptop or an MP3 player. Working on the assumption that most airline passengers will, on an average, be carrying at least two of the aforementioned devices. A flight with 200 passengers could be accompanied by over 400 PEDs.
Many airlines have found the introduction of the new guideline seamless. The obvious benefit to the passengers following publication of the new guideline is the increased freedom to use their PEDs regardless of the phase of flight. However, the benefit to the passengers has come at a cost to the airlines whereby a problem has been created in respect of safety including distractions to passengers rather than listen to the safety-critical pre-flight cabin announcements and whether passengers have actually switched the PED to airplane mode. Regular announcements over the PA system could help alleviate this problem.
There is also the added danger of lithium battery fires. The increase in electronically adjusted passenger seats has identified the risk of a PED being dropped between the seat and the interior trim. If the PED is caught in the seats electronic mechanism any movement of the seat could cause a lithium fire. At the IATA conference, concerns were raised as to the correct procedure should such a fire occur on the flight deck with an electronic flight bag. Several airlines stated that their flight crew would tackle the problem in situ whereas other airlines reported that the procedure would be for the immediate removal (if possible) of the device from the cockpit into the main cabin area for the cabin crew to deal with! There is continuous monitoring of safety, depending on the situation on ground and in the air.
IATA's Six-Point Safety Strategy
IATA has a six-point safety strategy that encompasses all scheduled airlines across the world. The strategy is a comprehensive approach to identify organisational, operational and emerging safety issues. The strategy focuses in six key areas: reduce operational risk (runway safety, loss of control in flight, controlled flight into terrain, collisions and fatigue); enhance quality and compliance; advocate improved aviation infrastructure (IATA safety will continuously promote improved ATM infrastructure related to phasing out NDB/VOR approaches, airport and air navigation harmonisation); support consistent implementation of safety management system (involving safety performance monitoring, analysis and dissemination of information and safety promotion and facilitation); support effective recruitment and training (ATC next generation of aviation professionals, ground handling agents etc) and Identify and address emerging safety issues.
The last of the issues relates to management of unmanned aerial vehicles, transportation of lithium batteries, signal interference (GNSS jamming and space weather) and laser attacks.