The Aeronautical Society of America declared Bessica's flight as the first solo flight by a woman in the United States for which she was awarded a diamond-studded gold medal inscribed 'First Woman Aviator in America'.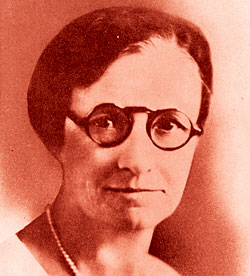 There were two claimants to the title of the first woman in the United Sates to fly solo of whom Bessica Raiche was declared the winner. And there's no denying that Bessica was the first anywhere in the world to solo in an aircraft she herself built. A person of many distinctions, she was a dentist, physician, musician, painter and linguist. She was also well ahead of her time, being skilled in manifestly 'unfeminine' pursuits like driving a car, swimming and shooting.
Although it was an age when women first began to be recognised as individuals in their own right, it was still believed that flying was socially inappropriate for females – on par with smoking, drinking, dancing and whatever else was deemed immoral.
Little is known about the early life of Bessica Medlar Raiche except that she was born in Wisconsin. Even her date of birth cannot be fixed more precisely than April 1875. She was sent to Paris to study music and she happened to witness the Wright Brothers demonstrating their flying machine to rapturous crowds. It was also the time when Raymonde de la Roche was in the news for her aviation feats. Bessica Raiche was greatly impressed by Raymonde and decided that she too would take to the air as soon as possible. After returning to the US, she met and married François Raiche, a Frenchman. The newly-weds painstakingly built the various parts of a biplane they designed, that vaguely resembled a Wright Flyer. Their design space was their living room and their workshop was their backyard. Since they couldn't get a powerful enough engine they used bamboo and silk, rather than the heavier canvas favoured by the Wright Brothers, so as to keep the weight of the biplane as low as possible. For the same reason, they decided that Bessica rather than François would pilot the machine because she was lighter of the two.
On September 16, 1910, at Hempstead Plains, New York, Bessica Raiche made her first solo flight. She had no first-hand experience of aviation and her only lesson was by a mechanic who pointed to the control wheel and said, "Pull it this way to go up and push that way to go down." She took off and skimmed over the airfield a few feet off the ground. The fifth flight of the day ended in a mishap that definitely qualified as the first aircraft crash by a woman. This is how The Knoxville Sentinel dated the same evening reported it: "Mrs Raiche came out on the field this morning for an initial trial, which with beginners, consists of what is known as 'grass cutting' or skimming the field. She had gone perhaps a mile when suddenly she ran into a depression and came to grief. The nose of the machine was jammed into the ground. Mrs Raiche was thrown out, the machine falling on top of her. She scrambled out from under the wreck and ran, limping somewhat, to shut off her motor, which was still running at full speed. The machine was damaged." Another newspaper added: "She calmly said she was not injured to those who ran to her aid and then she directed the men to drag the wrecked plane back to the shed."
Was Bessica's flight truly the first by a US woman? Blanche Stuart Scott had already got airborne two weeks earlier on September 2, 1910. However, Blanche had been taxiing and was briefly and inadvertently lifted into the air by a gust of wind. In contrast, Bessica got airborne on a planned flight; besides her feat had enough eyewitnesses and was well documented. Bessica, not wanting any rivalry to develop between herself and Blanche Scott, graciously said: "Blanche deserved the recognition, but I got more attention because of my lifestyle." In the event, the dispute was settled by the Aeronautical Society of America which declared Bessica's flight as the first solo flight by a woman in the United States. Bessica was awarded a diamond-studded gold medal inscribed 'First Woman Aviator in America' at a dinner the Society held in her honour.
Later, François and Bessie Raiche formed the French-American Aeroplane Company and produced several more aircraft. One of them was Bessica's design and she flew it herself. But once, when she became seriously ill, the doctor declared that the air in the clouds was bad for her lungs. She took his advice and retired from aviation. She decided to enter medical school where she again made a mark. After she received a degree in medicine, she became a practising physician, one of the first woman specialists in obstetrics and gynaecology in America.
On April 11, 1932, Bessica Raiche died in her sleep of a heart attack. At the time of her death, women comprised just three per cent of the world's licensed pilots. Bessica herself never got her licence. That feat was reserved for Harriet Quimby who became the first US woman to obtain a licence on August 1, 1911, and only the second in the world after France's Raymonde de la Roche who received her licence on March 8, 1910.