At the moment, it does not make sense for any city to have a secondary airport – critical mass is required for two or more airports to survive in a particular city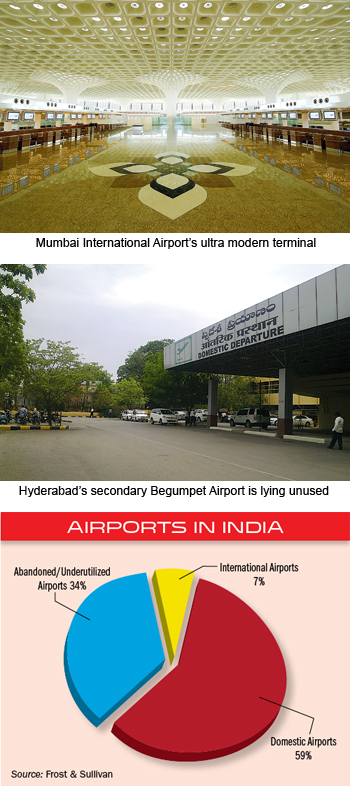 London has six operational airports – Heathrow, Gatwick, Stansted, Luton, City and Southend. Taken together, they are the busiest airport system in the world by passenger numbers and the second largest by aircraft movements in a metropolitan area. Heathrow is one of the top international airports in the world, while Gatwick offers point-to-point flights to Europe. Stansted is one of the operational bases of Europe's largest low-cost carrier (LCC) Ryanair and Luton is the headquarters of LCC easyJet.
What does this mean with reference to India? That as and when capacities saturate at the primary airports, India has to look at secondary airports for which planning has to be done now, considering the projections of growth in passenger traffic and aircraft movements.
Navi Mumbai on the Horizon
Presently, no city in India has a secondary airport, let alone six airports. There is one on the horizon i.e. Navi Mumbai International Airport in Mumbai and it is still in the process of land acquisition, a cumbersome process in India. The Maharashtra Chief Minister Devendra Fadnavis announced recently that the Navi Mumbai International Airport would be made operational by 2019, but before that Mumbai's primary airport, Chhatrapati Shivaji International Airport in Santa Cruz is expected to reach saturation point in 2017.
Why are we talking of a secondary airport when primary airports are struggling to stay afloat? At the moment, it does not make sense for any city to have a secondary airport – critical mass is required for two or more airports to survive in a particular city. However, as and when the primary airports achieve capacities, then comes the necessity of a secondary airport to decongest the skies and more so the airport. It is not just about decongesting, but also that of giving an option to aircraft operators that are segmented as full-service airlines, low-cost carriers, regional airlines and general aviation. The high cost of operations at these airports has been a bugbear for all airline operators.
Airport development in India in the recent past has changed the face of Indian airports. Some of the airports have become ultra modern, technology-driven and most importantly have started handling huge passenger and cargo movements with room for more. An airline operator once had commented: "We want a functional and good airport, not an ultramodern and high-cost one. We are a low-cost airline but are paying high cost at some of the airports." There has been a murmur among low-cost carriers, regional airlines and general aviation that they need airports that are in sync withn their austere business models.
Old Airports Remain unused
Bengaluru and Hyderabad have the old airports intact which can be operationalised either for regional airlines or general aviation or both. The government is yet to take a decision on this. In Bengaluru and Hyderabad, the airports are about 30 km away from city limits, while the old airports are within city limits. Both the new airport concessionaires were awarded the projects on the condition that there would be no competition by way of another airport within 150 km of the existing one, leaving the two old airports highly underutilized.
The old airport in Bengaluru is being used by the Hindustan Aeronautics Limited (HAL), the Indian Air Force and by general aviation aircraft; but not by airlines. HAL has been trying hard since 2008 to get the government to take a decision to reactivate the airport for commercial operations with regional airlines. With the closure of the airport to commercial operations in 2008, HAL is said to have lost of over Rs. 1,200 crore in revenues till date. As regards Hyderabad, the High Court there recently dismissed a petition stating that it was for the Centre to decide on what to do with the Begumpet airport, which is the venue of the biennial India Aviation event. Opening up these airports for short-haul flights would make sense.
Also, one needs to look at how air travel is growing. The number of passengers carried by domestic airlines during the period January to December 2014 was 673.83 lakh as against 614.26 lakh during the corresponding period of the previous year, thereby registering a growth of 9.7 per cent. It is estimated that by 2020, airline traffic will touch 375-400 million, driven by the population in Tier-II and Tier-III cities.
Airports Expansion
Airports expansion is happening on an aggressive scale and the airports of Mumbai, Delhi, Bengaluru and Hyderabad are of exceptional international standards. Presently, these airports have room to handle higher capacities, but considering the projected growth in air travel, these are likely to be saturated by 2020 and this would call for secondary airports in these cities. Other than at Navi Mumbai, on the anvil is a secondary airport in Mopa in Goa.
There were plans to have a second airport in Jewar in Noida to decongest Delhi, but this plan has been abandoned. Though there is no space in Delhi for a second airport, the Airports Authority of India (AAI) could look at Gurgaon or NOIDA.
Modi Directive
Prime Minister Narendra Modi is said to have asked the Ministry of Civil Aviation to look at building secondary airports in some cities and also ensure that major airports are connected with metro rail network. The airports sector is expected to attract investments worth $12.1 billion during the Twelfth Five Year Plan period (2012-17), including $9.3 billion from the private sector.
The government has also planned to develop 50 new lowcost airports across the country to cope with the growing air traffic. These airports would come up on a public-private partnership model and the government has earmarked Rs. 100 crore for each airport. The government has also announced a regional and remote area connectivity policy to expand pan-India air connectivity.
Planned over the next 10 years, these airports are expected to bring down the cost of operation of airports and airlines. The Airports Authority of India will be coordinating the development plan, besides taking up modernisation of the communication and navigation systems at all major airports to increase air safety.
The development of secondary and tertiary airports assumes significance as the nation moves towards pan-India connectivity, not just concentrating on the trunk routes. The low-cost carriers and regional airliners would stand to benefit as and when regional airports come up.
Incentives to Invest in Airports
The private sector needs incentives to invest in secondary and tertiary airports which have long gestation periods. There are five PPP airports (Delhi, Mumbai, Bengaluru, Hyderabad and Cochin) accounting for approximately 54 per cent of total passenger traffic in the country.
The government also announced that it would offer four airports operated by AAI to function under the PPP model. AAI operates 125 airports across the country although around 50 of these do not have any scheduled services, and a handful are actually profitable.
India, like China, has many airports and all that they need is restoring and refurbishing them for use either by LCCs, cargo carriers, general aviation etc. It would be easier and faster to develop these airports than going for Greenfield projects where land acquisition is a major challenge in India. Importantly, developing an existing airport would cost much less which hopefully would drive air travel costs down, thus attracting more airlines and passengers alike. A model of low-cost airlines and no-frills airports will drive down costs, lift volumes and improve connectivity.
An important differentiator between a full service carrier and an LCC or a regional airliner will be the choice of airport, wherever it is available. Flying out of low-cost airports enables airlines operate more efficiently and unbundle services, thus resulting in up to 13 per cent lower airport-related costs.
AirAsia initially operated to Delhi, Mumbai, Kolkata, Chennai, and Trichy but later withdrew from Delhi and Mumbai airports, owing to high airport charges, even as it introduced its third daily flight from Trichy, becoming the largest airline there. It carries substantial international passengers and vies with Kolkata in numbers. In fact, its international passenger traffic to South East Asia is over eight times its domestic passenger traffic.
Considering high costs of operation in major metros, some of the airliners such as AirAsia are reluctant operators. Robey Lal, a former member of the AAI board, has said: "As a rule of thumb, a second runway is required by the time passenger demand reaches 25 million per annum, and a secondary airport by the time it is 40 million per annum." Delhi, Chennai, Mumbai, Kolkata, Bangalore will definitely need a secondary airport in the next 10 to 15 years or even earlier.