The general and business aviation sector which exhibits huge growth potential has virtually no dedicated policy or regulatory framework nor infrastructure to support it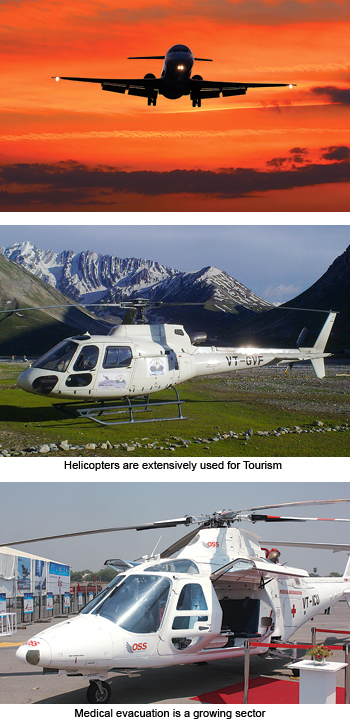 As per the Directorate General of Civil Aviation (DGCA), there are 121 non-scheduled operators (NSOPs) with 364 aircraft both fixed- and rotary-wing. However, there are twice as many aircraft in the general aviation fleet in the country that include business jets, helicopters, turboprop and piston engine aircraft. This figure is expected to touch 2,000 by 2020, according to a Centre for Asia Pacific Aviation (CAPA) report of 2011. CAPA India had estimated that the direct and indirect economic contribution of general aviation could be close to $4 billion per annum by 2020. However, there has now been a downward revision of the projections.
The revised assessment is that in the next five years, the sector may add another 500 general aviation aircraft, rotaryas well as fixed-wing, if the momentum in economic growth is maintained. However, there are doubts about the numbers on account of the several hurdles which the aviation industry has to negotiate if it has to fully exploit its potential. There are a number of economic drivers such as the growing number of billionaires, corporate companies understanding the value of general aviation, use of general aviation for VIP movement, election campaigns, tourism, economic surge, and improved transportation network. But going by the present travails of the general aviation sector, whether these will help translate into a healthy aircraft fleet, is the million-dollar question.
Economic Slowdown
During the economic slowdown in the period 2008 to 2012, though Indians purchased 38 per cent more aircraft than the previous five years, the numbers are not huge. In this period, about 65 business aircraft were delivered in India, though this figure was higher than the 47 aircraft received in previous five years, the increase was not phenomenal. During this period, China had 119 deliveries, Hong Kong 47 and South Korea 10. Knight Frank Wealth Report 2013, Beechcraft said the number of wealthy businessmen or High Networth Individuals (HNIs) in India would double from 8,481 in 2012 to 17,032 in 2022. During the same period, the number of HNIs in China will grow 137 per cent from 10,849 to 25,660. The two countries are certainly going to be increasingly on the radar of the business aircraft manufacturers for the long haul.
Presently, the sector is highly fragmented, unstructured and underfunded. That explains why it is not making headlines like the commercial airlines whenever these business operations or close down. In a 2011 report, CAPA's Kapil Kaul said: "What we found was a paradoxical situation of a sector which exhibits huge growth potential and yet has virtually no dedicated policy or regulatory framework nor infrastructure to support it. Aside from the operational challenges which this presents, there are significant implications for safety and security. However, with a clear vision of the potential for general aviation in India, and a commitment by the industry and the government, the sector could emerge as an exciting driver of economic development and one which establishes a leadership position in the Asia-Pacific region."
As regards economic development, the anticipated levels of growth have gone up following the election of Narendra Modi as the Prime Minister who has shown a keen sense of purpose in extending development, providing good governance and transparency. The overall industrial sector is buoyed with the changes that are taking place. For instance, there is talk about private sector participation in the Airports Authority of India that has under its belt over 125 airports and also in Pawan Hans, the largest helicopter operator in India with a fleet of 47.
India's outlook is for strong and sustained economic growth of close to nine per cent per annum over the next decade. With the government's 'Make in India' programme and incentives to those setting up units in backward regions, growing international trade links, new industrial hubs coming up, the prospects for business jet activity are bright.
Many Challenges
One of the many reasons for the sector not to bloom is that lack of dedicated infrastructure, be it dedicated airports for general aviation, fixed based operations at airports, helipads, aircraft management companies, maintenance, repair and overhaul (MRO) facilities.
The sector needs a shake-up and for this to happen CAPA has said the following are a must:
Recognition of the role of general aviation at policy level.
Application of high and consistent regulatory and training standards.
Relaxation of the currently negative fiscal environment in certain areas.
Market entry by professional, experienced and well capitalised operators.
The Government of India has recently announced a regional and remote area connectivity policy and it is hoped that when this gets implemented, it will open up opportunities for general aviation. Tourism has potential to prop up the general aviation sector.
Helicopter Tourism
Helicopter tourism in India has opened up a world of new possibilities for travellers. There is considerable helicopter movement, driven by pilgrims. India's four holiest Hindu places of pilgrimage are in the state of Uttarakhand. These are Gangotri, Yamunotri, Kedarnath and Badrinath, collectively called the Char Dham. Tour packages are available to one or more of these places, including helicopter tours to Kedarnath and Badrinath. The five-day Badrinath pilgrimage departs from Delhi. The round trip helicopter segment is on day three of the tour, from Augustmuni to Badrinath, which is at an elevation of 3,133 metres (about 10,000 feet). The Kedarnath helicopter tour takes to the shrine of the Hindu Lord Shiva against the backdrop of the lofty Kedarnath mountain range. The helicopter segment is between Augustmuni and Kedarnath. These are popular helicopter tours.
There are several heli-tour operators in India and the number is expanding. It is claimed that Helitours India was the first organisation to execute this Helitourism venture in India. Helitours India has designed advanced helitour packages all over Kerala and in the major metro cities such as Chennai, Bengaluru, Delhi and Mumbai.
Air Ambulance
Unlike in the developed countries of the world, India does not have any dedicated air ambulance service. It is said that about 15 aircraft are used as and when required, converted into an air ambulance. The size of the industry in India is rather small but growing at 20 per cent a year. Air ambulances are happening as some hospitals are using them to get overseas patients and also to benchmark themselves. Air ambulances are seen mostly in the major metros of Delhi, Mumbai, Bengaluru and Hyderabad. The number of enquiries in big hospitals/ corporate hospitals for air ambulances are about eight or 10 a month. One of the reasons for the absence of dedicated air ambulance service, according to Pradeep Thampi of Executive Airways, is that it is not a volume game. "No operator can afford to keep a plane only for the purpose of medical evacuation, as there are no volumes," PradeepThampi, Director of Executive Airways, has said. Another important cause is the lack of insurance cover. In the West, insurance companies bear the cost of transportation of an accident victim to a hospital; but this is not covered in India.
Planes commonly used as air ambulance are the B-200 and Pilatus (PC-12) amongst turboprops and Citation in the case of jet engine aircraft. These are preferred for their wide cabin size and doors, allowing easy manoeuvrability of a stretcher. Unlike some of the corporate jets, these planes have small galley space in front. The per-hour flying charge is Rs. 75,000 to Rs. 90,000. Use of medical facilities and escort, including a doctor, comes for Rs. 25,000 to Rs. 40,000 per hour. In addition, there are ground transport charges.
Petroleum and Mining
The oil and gas sector in India is booming thanks to largescale public and private sector investments. Helicopters play an important role in the development of the petroleum industry. They form an essential and critical part of offshore operations as they connect the exploration sites to the mainland. Presently, about 50 helicopters are being used by six operators for the petroleum sector. By 2016-17, India's demand for petroleum products is expected to touch 186.2 million tonnes and this certainly means more business for helicopter operators.
Corporate aviation
In India business aircraft have continuously evolved to meet the increasing market demands for speed and comfort and the selling prices have increased just as rapidly. Corporate aviation is a significant business tool to enable quicker access to corporate customers.
National Business Aviation Association of the US stated that the major advantages are sometimes considered to be convenience and cost. Statistical studies indicate that business jets generally are more cost-effective than commercial services even when there are commercial services available between the cities involved. Using business aircraft saves four hours travel time and eight hours of productive time per trip. Business aircraft saves hotel bills and overnight time away from home.