The Airbus Group is a European multinational aerospace and defence corporation comprising three business divisions—Airbus, Airbus Defence and Space and Airbus Helicopters. It is a global pioneer in aeronautics, space and defence related services, creating cutting-edge technology. It has a strong presence in India and continues to advance the relationship. In an interview with SP's Aviation, the President of Airbus Group in India, Yves Guillaume spells out the company's strategy.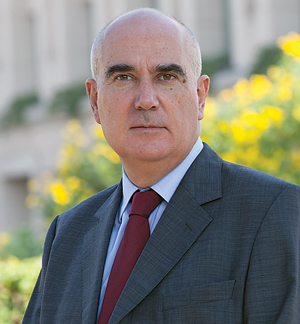 SP's Aviation (SP's): Could you tell us what you look forward to in the defence sector in 2015?
Yves Guillaume (Guillaume): As you know, we have already been selected by India to supply six A330 MRTT air-to-air refuellers. I think both sides now really need to finalise the contract. We are also hoping that the Indian Government will progress the Avro replacement programme for which we have submitted a joint bid with Tata. We are offering the modern C295 medium military transport aircraft. Majority of the aircraft will be manufactured and assembled by Tata in India with significant benefits for the local supply chain.
On the helicopters side, there are a number of campaigns where we hope to make progress. The AS550 C3e Fennec is foreseen for Indian Army's and Air Force's reconnaissance and surveillance helicopter (RSH) campaign. As you know the tender was cancelled for the third time and has been re-started under the 'Buy & Make (Indian)' category. Then there is the AS565 MBe Panther which fits the requirements of India's naval utility helicopter (NUH) programme which envisages acquisition of around 100 units. In addition, the EC725, fitted with the relevant weaponry and sensor suites, can perfectly meet the Indian Navy's 120+ naval multi-role helicopter (NMRH) programme requirements.
SP's: How was 2014 for your civil business in India?
Guillaume: It was a very successful year. Airbus signed an MoU with IndiGo for 250 A320neo Family aircraft. The agreement will become Airbus' single largest order by number of aircraft. Airbus also signed a long-term Flight Hour Services Tailored Support Package (FHS-TSP) with Vistara, its first FHS customer in India, leading to the expansion of Airbus team in New Delhi. Commercial A380 flights to India started last year as did AirAsia India operations using A320 aircraft. Also, Vistara commenced operations using A320 in January this year.
SP's: How are you planning to support the 'Make in India' initiative?
Guillaume: We have a rich history in India and have proved ourselves to be a reliable partner. As the country continues to grow and the government seeks to catalyse the local aerospace and defence industry through the 'Make in India' initiative, Airbus Group stands ready to leverage its existing partnerships and invest in new ones to meet India's expectations. Our proposal to build the C295 with Tata to replace the Avro and our JV with Larsen & Toubro for manufacturing radar, avionics, electronic warfare and mobile systems for military applications show our commitment.
Let me give you another example of how we have helped countries acquire skills in defence and aerospace. In Australia, where Airbus Helicopters won the contract for 22 attack helicopters, 18 of them were assembled locally by an Australian company, Airbus Group Australia Pacific (AGAP), that acquired enough technologies and programme management expertise to further assemble transport helicopters and upgrade military aircraft, including production of 43 out of the 47 NH90 acquired in another major order. AGAP is now one of the leading national aerospace and defence companies with about 1,300 employees.
SP's: You claim sourcing is part of your industrial strategy for India. Do you have any examples to show that?
Guillaume: It is not just a claim. It is a fact that India is an integral part of Airbus Group's global supply chain. We have over 30 local suppliers, public and private, and more than 5,000 jobs have been generated by Airbus across this supplier network. The top three commodities that we source from India are engineering and IT services, aerostructures and detail parts and systems. To give you some examples, HAL produces half of all A320 forward passenger doors while Dynamatic Technologies, a global tier-1 supplier, provides flap track beams for the A320 and A330 Family aircraft. Tata Advanced Materials Limited, in partnership with Sprit Aerostructures, is producing composite parts for the A350 XWB programmes. In addition, Aequs supplies several detail parts. Companies such as Infosys, Tech Mahindra, Tata, HCL, Geometrics and Wipro also provide information system and engineering services. Overall, Airbus' procurement from India has tripled in the last three years and was over $350 million in 2013. There is a bit of Made in India in every Airbus aircraft.
This is not all. In 2007, together with the Supply Chain Management Institute at the EBS Business School in Germany, we have endowed a research chair for Sourcing and Supply Management at the Indian Institute of Management in Bengaluru.
SP's: The Indian Coast Guard is pursuing a tender for 14 ship-based helicopters where you are a contender. What's the latest on that?
Guillaume: Our EC725 recently underwent the field evaluation trials (FETs). You will understand that we cannot disclose any details. However, I would say that the EC725 has superior performance for the required missions and is a fully combat-proven military helicopter. It is flying in its civil and military variants for similar maritime roles in many countries. The logical sequence should allow a finalisation in 2015, but we need to adapt to the customer's schedule.
SP's: You signed a contract with the Indian MoD for a periscope maintenance facility. Can you tell us more?
Guillaume: Airbus Defence and Space's Optronics business unit and the Indian MoD signed a €13 million contract for the delivery of a periscope maintenance facility in Delhi. This dedicated facility will be for the maintenance and repair of all of India's submarine fleet periscopes and will be implemented in partnership with Tata Consultancy Services and H&H Precision Pvt Ltd. It is due to be completed in September 2016. The maintenance facility contract demonstrates our commitment to not only supply systems and technologies to customers, but also to equip them with the necessary operational maintenance capability.
SP's: How is your collaboration with India in the field of space?
Guillaume: The Indian Space Research Organisation (ISRO), its commercial arm, Antrix, and we are working as a team. We have jointly designed and built two communication satellites—Eutelsat W2M in 2008 and HYLAS 1 in 2010—for European customers. In addition, ISRO has successfully launched our earth observation satellites—SPOT 6 in 2012 and SPOT 7 last year. Furthermore, our products have been present on many important missions of ISRO including the Mars Orbiter Mission and Indian Regional Navigation Satellite System (IRNSS). Our cooperation with India in the field of space has allowed both sides to reap substantial benefits and our objective is to replicate this model in defence.
SP's: You also have a R&D facility in Bengaluru. What is happening there?
Guillaume: The R&D facility in Bengaluru is part of Airbus Group Innovations network of research facilities, scientists and engineers. It carries out R&D in areas such as cloud computing, aero-thermal analysis and signal processing. An ongoing research project in the field of 'Cognitive Radars' being conducted in partnership with the Airbus Defence and Space engineering centre has led to filing of a patent and publications in leading international scientific journals. In 2013, Airbus Group Innovations India established a research chair entitled 'Mathematics of Complex Systems' in partnership with the Tata Institute of Fundamental Research. Moreover, it has successfully concluded research projects with various Indian Institutes of Technology (IITs) in areas related to computing, simulation, navigation and homeland security.