The IAF, after decades of neglect, is undergoing an exciting transformation from a purely tactical into a largely strategic air force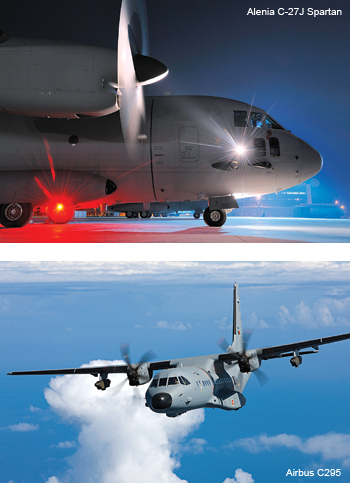 It seemed straightforward. It should have been simple. Yet the long-overdue project to replace the ageing HS 748M Avro fleet of the Indian Air Force (IAF) seems stuck in a quagmire. And there appears scant hope of early rescue since the very need for replacement of the Avro is being questioned, most recently at a crucial meeting of the Defence Acquisition Council (DAC) held on November 22, 2014.
The IAF, after decades of neglect, is undergoing an exciting transformation from a purely tactical into a largely strategic air force. While combat aircraft naturally have pride of place in the process, transport planes and helicopters are also receiving urgent attention. Therefore, the acquisition over the last few years of 10 Boeing C-17 Globemaster III strategic military transport aircraft and six Lockheed Martin C-130J-30 Super Hercules special missions aircraft of which only five remain in service, with six more on order, is deeply satisfying for the IAF. These highly capable aircraft join the IAF's dwindling fleet of Ilyushin IL-76 heavy-lift planes. The modernisation of the fleet of 104 Antonov An-32 aircraft, the workhorse of the transport fleet since induction from 1984 onwards, is also progressing well. At the lowest end are the Dornier Do-228 twin-turboprops that should meet the IAF's light transport needs till around 2025. So it is a pity that the replacement of the Avro by a suitable tactical transport aircraft is in danger of becoming a lost cause.
WHETHER REPLACE OR NOT?
The 5.1-tonne payload capacity twin-turboprop Avro was initially acquired for the IAF from Britain's Hawker Siddeley from 1964 onwards. It was later produced under licence in India by state-owned Hindustan Aeronautics Limited (HAL). About 56 planes remain in service with the IAF, employed primarily for troop transport, communication, logistic support tasks and training.
A key requirement of air power is that it must offer a range of options,tactical as well as strategic. However, so far as air transport goes, this range of options is available only if the fleet has a balanced structure and composition. Unless a fullycapable light-to-medium tactical transport aircraft is available, larger and costlier planes may be used for less-demanding missions or to convey small loads. Since the Avro has mostly outlived its suitability for tactical missions, the IAF transport capability is currently biased towards heavy-lift.
"Wait!" cry some analysts, "What about the upgraded An-32; what about the multi-role transport aircraft (MTA) under development in collaboration with Russia?"
The An-32 fleet is already 30 years old and its refurbishment will keep it operational only another 10 years, perhaps 15. And the joint Indo-Russian project to produce the MTA has been under consideration since 2007 with little progress. The MTA would probably have 18- to 20-tonne payload capacity and lie towards the strategic end of the spectrum. Once the An-32 fleet is retired from service, low-end tasks would still need a medium-lift aircraft of about fiveto ten-tonne payload capacity. At least 45 MTA, perhaps another 45, are planned. It is unlikely that they would be available in adequate numbers within a decade from now to replace the retiring An-32, leave alone the Avro.
So why not keep the Avro flying another 10 years or more? There's a proposal by HAL to extend the life of the fleet, mainly by replacing its Rolls-Royce Dart engines with modern fuel-efficient ones. It sounds good. But integrating a new engine with a vintage airframe is no simple matter. HAL's tardy pace of implementation of practically every project entrusted to it by the IAF means this too would probably need many years to fructify. By then it might no longer be needed. Besides, due to their advanced age, the Avros already suffer from numerous technical snags and low serviceability, that a mere engine upgrade cannot remedy. It would be rather like installing a new processor in an old computer and expecting the machine to function flawlessly.
Some even propose that the 70- to 90-seat Regional Transport Aircraft (RTA) that HAL and National Aerospace Laboratories (NAL) jointly plan to develop, could replace the Avro. However, apart from the fact that the RTA too is at least a decade away from entering service it would be a purely passenger plane, quite unsuitable for military airlift.
WELCOME PRIVATE INDUSTRY
India's aerospace requirements, defence as well as civilian, are growing. It is an open secret that the public sector has largely failed to meet these needs. HAL's monopoly in defence aerospace, undisputed since Independence, has been problematic, to say the least. It is hard to name one project it has undertaken that has not been marked by huge cost and time overruns or unmet operational requirements. Introducing competition would probably help. The country's telecom revolution happened only after the sector was thrown open to private players. Similarly, civil aviation would still have been stuck in a time warp had it continued to be the preserve of Air India and Indian Airlines, as it was till the early 1990s. But HAL has never faced competition.
Therefore, in May 2013, the Ministry of Defence floated a global tender valued at about $2.5 billion for the supply of 56 aircraft to replace the Avro fleet. The aircraft were to be purchased from a foreign original equipment manufacturer (OEM) that needed to tie up with one or more Indian private sector entities and nominate an Indian Production Agency (IPA). The first 16 aircraft would be bought off-the-shelf from the selected OEM while 40 must be produced in India. Of these, the first 16 would have to be built with 30 per cent indigenous content while the remaining 24 with 60 per cent indigenisation.
HAL felt it was best qualified to be the IPA for the aircraft that might be selected to replace the Avro. However, the company is already tied up with a whole range of development and production efforts of several different types of aircraft. How can it take on yet another project? Indeed, if all the claims of India's public sector R&D and production agencies had actually materialised, the country would probably boast of possessing one of the world's most modern and self-reliant air forces today. Besides, HAL was consciously excluded from the process to create a little space for private industry.
There was only one bidder for the tender that closed on October 22, 2014, with Airbus Defence and Space and Tata Advanced Systems Ltd (TASL) jointly proposing to supply the Airbus C295. The C295 is a twin-turboprop medium tactical transport manufactured by Airbus Defence and Space in Spain. It is a rear-ramp aircraft that has proved popular with a number of military forces around the world. With a maximum takeoff weight of 23,200 kg, cruise speed of 480 kmph and range of 1,300 km at maximum payload, it takes 71 troops or a payload of 9,250 kg. It has proved cost-efficient to operate and offers large savings over comparable aircraft over its service life.
Yet there were a flurry of objections.
SINGULAR OBJECTION
If it were just a matter of replacing the Avro, the IAF would have preferred an outright buy. However, the crux of the pioneering proposal was to encourage India's private sector to get involved in the aerospace industry. There is currently no other viable entry-level project and a similar opportunity will not arise for at least another two decades. Hence opponents of the project need to answer this question: Should the private sector be barred from meaningful participation in aerospace?
A dispassionate observer would agree that the terms of the Avro replacement tender were not attractive to a businessperson. So it is a huge positive that at least one party did make a bid. And this is no ordinary collaboration. While Airbus is one of the world's foremost aircraft manufacturers with impeccable credentials, Tata is perhaps India's most respected business group, noted for its capability, efficiency and ethics. A better outcome could scarcely have been hoped for.
Besides, there aren't too many options in this transport category so it is quite likely the C295 would have emerged the winner on purely technical and economic grounds. The Alenia C-27J Spartan, the Antonov An-148 and others might have been contenders. But the C-27J is practically ruled out due to corruption allegations and the An-148 is trapped in the Ukraine-Russia faceoff.
Therefore accepting this single vendor is practically a no-brainer. And the DAC is fully empowered to do so.
LAST CHANCE, LOST CHANCE?
The latest nail in the coffin of the Avro replacement project is Defence Minister Manohar Parrikar's statement that weapons purchases must be "prioritised"; in other words, put this proposal on the backburner. While it makes sense considering the limited funds available for defence, it fails to take a visionary view of India's aerospace industry. It fails to promote the strategic goal of freeing the country from the shackles of HAL's monopoly, where mere licensed production or assembly is passed off as indigenisation. It does not walk the talk on 'Make in India'.
The stakes are high. Competition makes any industry more efficient and productive. A substantial private industry presence in defence aerospace, with a level playing field, can boost the entire sector, including HAL.
Since the Avro replacement project is the only feasible way for private industry to gain a foothold in aerospace, it needs to be cleared without delay. Shelving it would sacrifice a unique opportunity to kick-start a vibrant aerospace industry. It would firmly shut the door on private sector participation. HAL's monopoly would continue for the foreseeable future. The IAF would remain shackled to HAL forever.
During last year's feverish general election campaign, a favourite theme of the BJP was, "You gave the Congress 60 years; give us just 60 months and we will change the country!" Today that cry may justifiably be echoed by India's private industry regarding replacement of the Avro.