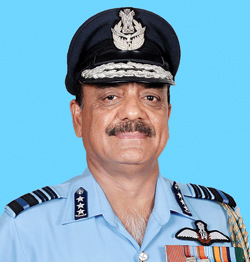 SP's Aviation (SP's): What is your broad vision for training in the IAF and what are the core areas that you wish to focus on?
AOC-in-C: The Indian Air Force (IAF) is on the trajectory of modernisation and is rapidly transforming into a strategic aerospace power. The professionalism and competence of the "man behind the machine" is of vital significance for the IAF to exploit its full capability and meet the security challenges. Accordingly, the vision of Training Command is, "To develop young men and women into professional air warriors, teach them our core values of mission integrity and excellence, to make IAF the world's most competent Air Force". Our mission is, "To train air warriors to deliver air power for the nation". The core areas in line with our vision and mission statement are:
Ingraining professional knowledge and skills during ab initio training to prepare them for a technology-intensive full spectrum war.
Redraw the syllabus to cater to future inductions and technological advancements.
Raise the quality and standard of instruction by focusing on enhancing the quality of instructors.
Enhance the quality and efficacy of training by state-of-the-art infrastructure, facilities and training aids.
Ingrain in ab initio trainees, our core values of Mission, Integrity and Excellence.
Emphasise on sports and other team activities to promote camaraderie and build on physical fitness.
Improve the overall quality of life of the trainees and all personnel under this Command.
SP's: Air Chief Marshal N.A.K. Browne, the former CAS, has propagated a philosophy "People First, Mission Always". What is the essence of this philosophy and its import for Training Command of the IAF?
AOC-in-C: "People First, Mission Always" underscores the fact that the man/woman behind the machine is the "pivot factor" that will eventually decide the outcome of any operational endeavour. Emphasis on capability-development of the air warrior stems from our ongoing strategic transformation wherein it is absolutely essential that technology imbibed is ably exploited to derive maximum advantage in any operational situation. The statement is a leadership paradigm which exhorts leaders in the IAF to avoid the pitfall of overly focusing on the technology at the cost of building up on our people. The import for Training Command accordingly is to focus on benchmark functions of recruitment, training and development of officers and men and to make them competent professionals. The vision and core areas of Training Command, which I had elaborated upon earlier, are based on this requirement. We have culled out our slogan as "Trainees First, Training Always", implying our focus on trainees.
SP's: You assumed charge as AOC-in-C, Training Command at a time when basic flying training was just about recovering from a state of flux during which flying training was in disarray. Can you please update our readers on the flying training pattern being followed now?
AOC-in-C: Some stop-gap measures were instituted after grounding of the HPT-32 fleet. However, the training pattern has now been streamlined with the induction of PC-7 MK II. We are following a three-stage pattern of training. In Stage-I, all trainees fly around 55 hours on the PC-7 MK II aircraft. After completion of first stage, the trainees are trifurcated into Fighter, Transport and Helicopter streams where they fly Kiran, Dornier or Chetak aircraft respectively as part of Stage-II training.
On successful completion of Stage-II, the trainees are commissioned into the IAF and they proceed to Stage-III which involves advanced training on aircraft of their stream, viz, Hawk for fighter, An-32/ Dornier for transport and Mi-8 for rotary-wing.
SP's: What is the induction plan for the Pilatus PC-7 basic trainer fleet beyond the first batch of 75 aircraft? Is there any plan on parallel track to procure an indigenous equivalent from HAL and if so, in what time frame?
AOC-in-C: The government had earlier approved procurement of 181 basic training aircraft (BTA) for the IAF. Of these, 75 aircraft were to be procured through a global tender and 106 were to be developed and manufactured by HAL in a time bound manner. For the global procurement, contract was signed with M/s Pilatus of Switzerland for PC-7 Mk II aircraft. The delivery of these aircraft is on schedule and 55 have been received till date at AFA. The PC-7 Mk II has proven to be a very reliable aircraft with good serviceability and training potential. The IAF has been able to restore its 'basic flying training capability' that was affected by the grounding of HPT-32 fleet. The development of indigenous BTA has been considerably delayed and no time frame has yet been drawn for its availability. The IAF needs the remaining 106 BTAs urgently for which all options are being deliberated at the Ministry of Defence (MoD). In the interim, the Defence Acquisition Council has cleared the proposal by the IAF to procure another 38 Pilatus PC-7 MK II aircraft.
SP's: What is the status of the Hawk advanced jet trainer fleet whose induction had begun under your Command?
AOC-in-C: The Hawk Mk-132 aircraft was inducted when I was the Air Officer Commanding (AOC) of Air Force Station Bidar. The induction was smooth and the endeavour was to set up a viable and effective training system to prepare pilots for direct induction into front line operational squadrons by exploiting its entire capability. The training syllabus, method and curriculum has come up extremely well and has been refined after it was first set up in 2008-09 when the first course commenced training on this platform. Sortie profiles have been designed to build both flying and system management skills with a view to exploit the capabilities of any fighter platform. Simulator training forms an important and integral part of Hawk training and has been embedded in the syllabus. On completion of year-long training on Hawks, fighter pilots are posted to various operational fighter squadrons of the IAF. The Hawk has integrated extremely well into the IAF's training concept and has proved to be an effective training platform.
SP's: There have been reports in the media about the IJT programme running into problems. Can you please update us on the status of the IJT programme?
AOC-in-C: The IJT project was initiated by HAL in 1999 with initial operational clearance to be in 2004. The programme is running more than a decade behind schedule. HAL has sought consultancy from BAeS to resolve issues of stall and spin. It has now emerged that there would probably be a requirement to redesign the tail plane and rear fuselage which would imply that the aircraft may have to go to the design board again. The required structural changes are expected to increase the weight of aircraft by more than 300 kg. This weight increase on an already overweight IJT prototype would adversely affect its performance. The delay in availability of a suitable trainer aircraft for the IAF's intermediate stage flying training is of serious concern and we are considering various options to deal with this eventuality.
SP's: Having been in service with the IAF for over four decades the Kiran fleet is ageing and has been somewhat overstretched. What are the plans for its replacement especially as there is no certainty about the time frame for the availability of an indigenous IJT?
AOC-in-C: The Kiran fleet has been a reliable workhorse on which a very large number of IAF and other service officers have trained. There is no doubt that the fleet has become old and is presently overstretched. We had to give further extension to Kirans, since the availability of the IJT being built by HAL has been significantly delayed. The IAF is considering all options to deal with the shortage in the Intermediate Stage training capacity. The Kiran aircraft would probably be in service till 2017 by when the IJT, if available, would be considered or else an alternative option would have to be sought.
SP's: What measures are being adopted or contemplated to restructure the training pattern of technical personnel to enable them to cope with the demands of advanced technologies?
AOC-in-C: The IAF has recently adopted an integrated pattern of training (IPT) with effect from January 2014. In this pattern, the initial 24 weeks consist of basic phase of training in which a civilian is converted into an air warrior. Thereafter, 64 weeks of training is imparted to make him a technician and to give thorough knowledge and skills of his trade. The technical training curriculum has been re-designed to keep air warriors abreast of latest aviation technologies. Modern aids, aircraft metallurgy, manufacturing techniques, computer-based learning and animation have been introduced to make the training effective and futuristic. Actual hands-on practice is imparted during the advanced phase of training in TETTRA establishments. This part of the training imparts the required knowledge and skills for a particular aircraft/system. The training pattern therefore ensures both theoretical and practical training.
SP's: What are the implications of the plan to construct the second runway at the Kempegowda International Airport (KIA) for flying training activities at Air Force Station Yelahanka?
AOC-in-C: Presently, only one runway is operational at KIA and work on second parallel runway has not commenced. The second runway would impact transport and helicopter flying training since it is conducted north of Yelahanka. The lateral spacing between aircraft on final approach for Runway 9 at KIA and helicopters at Yelahanka would reduce to approximately 2.5 nautical miles. This may pose a problem for flight safety. This issue has been taken up at the Joint Working Group meeting and with NATS, UK which is the third party consultant appointed for resolving airspace management issues of airfields in Bengaluru. The consultant is expected to submit a report by March 2015 with possible solutions which will give us a way forward.
SP's: Media reports in the past had indicated that there are issues concerning the prestigious Aero India International Airshow, a biennial event that is held at Air Force Station Yelahanka. Are there any uncertainties in this regard in view of the increase in the volume of traffic at the KIA?
AOC-in-C: Aero India is held under the aegis of the MoD. The IAF is involved in various activities related to the event including static and air display of aircraft. Due to proximity of KIA and for safety reasons, the air display necessitates closure of KIA airspace which in turn requires rescheduling of civil flights at KIA. The timings for closure of airspace are resolved amicably between the Ministries of Defence and Civil Aviation and so it was for Aero India 2015. The IAF and KIAL work in close coordination to address closure timings and safety parameters. Any uncertainties for future would be addressed at an appropriate level for airshows in the future keeping all aspects of airspace management and concerns of stakeholders in mind.