The international travel route for business jets out of India is not that significant but the popular routes are in the neighbouring region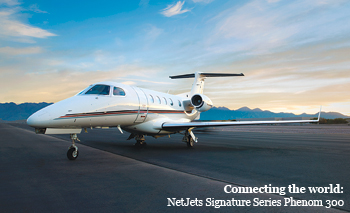 The US remains the world's most important private jet market by some distance, according to private aviation provider NetJets. This dominance is borne out when we consider the globe's busiest private jet routes where 60 per cent of the traffic starts and ends in the US.
NetJets confirms that Europe is the second-largest market, at around 25 per cent of the US. Russia continues to represent a significant portion of overall European demand. Moscow is among the top ten routes with highest hours flown, as recorded by NetJets, reflecting the ongoing importance of Russian wealth in luxury property markets in Europe and the US.
London's standout performance in Europe as an investment destination is confirmed by the fact that 30 per cent of the most frequented routes in this region either start or finish in the UK's capital city. NetJets reports that the synergy between New York and London is greater than ever, with traffic on this major route increasing every year. While Dubai and the broader UAE are seeing increasing traffic, the Middle East's position as the world's third largest market is being challenged by the rise of traffic in China and Brazil.
While jet-setters were jumping in and out of the big apple most often, the report found that the most popular route was the trip from Moscow to the Côte d'Azur in the south of France. According to the Knight Frank report, Ibiza saw a 17 per cent increase in traffic over 2013, with similar increases to places like the Maldives and the Seychelles.
What About India
The international travel route out of India is not that significant, but the popular routes are in the neighbouring region. The Maldives, Dubai, Colombo, Shanghai, Kathmandu, Bangkok, Singapore, Langkawi, Bali are some of the destinations that private jets are flying to and from India on personal charters, tourism and also business, while some high flying billionaires go up to London or Geneva/Zurich.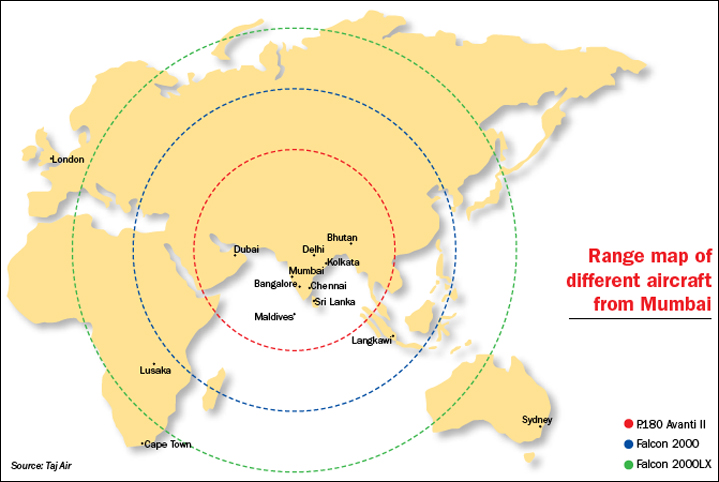 There are few operators based out of India who have been promoting international destinations. Taj Air is one of them. It has two aircraft – Falcon 2000 and the P180 Avanti II. Presently, Taj Air has special offers running till March 31, 2015, to the Maldives, Colombo and Langkawi. Taj Air has these offers wherever it has its own hotel properties, thus promoting both private jet travel and their hotels business.
Taj Air has a package to the Maldives from Mumbai for three nights for eight persons on its Falcon 2000 midsize jet at a price of $85,000 inclusive of hotel rooms. The package to Colombo, Sri Lanka costs $60,900 and to Rebak Island resort, Langkawi it is $70,000.
Taj Air has been providing exclusive charter services in India since 2002, bringing to the industry the world-renowned service and Indian hospitality of the Taj Hotels Resorts and Palaces. Today, Taj Air is globally recognised as the finest executive charter airline service in the country. Taj Air is equipped with a young fleet of aircraft; the youngest available in India for charter flights. The private jets fly to more than 150 airports in 56 countries. Within India Taj Air flies to over 130 destinations while commercial airlines cover 71 destinations. It's fleet of private jets can fly anywhere in the world within a flying time of eight hours and fly even further with refuelling halts.
Club One Air is one of India's oldest and largest air charter company owning a fleet of jets that cater to corporate India and individuals with exclusive taste. It is the only Indian company with operational base in Delhi, Mumbai and Visakhapatnam and flies within the country and beyond the subcontinent on charters.
Global company Air Charter Service (ACS) has expanded its services in India. With a network of offices spanning North America, South America, Europe, Africa, CIS, the Middle East and Asia, ACS is the proud supplier to thousands of clients worldwide.In fact every year it arranges close to 9,000 charters worldwide.
As regards India, since the international private jet traffic is not in the same league as in the US or Europe or even the Middle East, there is no ready data available to indicate travel trends on private jets. However, operators in India are looking at connecting within the country which has vast geographical distances and to destinations that are less than eight hours of flying time.