Maritime patrol and reconnaissance aircraft makes significant difference in reaction time and countries are now realising the importance of such aircraft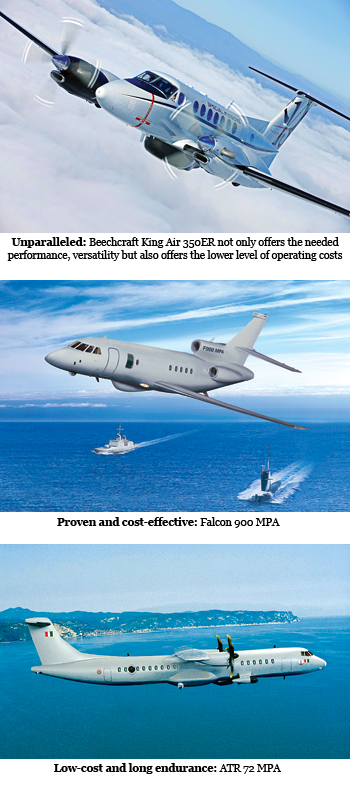 A maritime patrol aircraft (MPA) is a fixed-wing aircraft designed to operate for long durations over water in roles such as search and rescue, anti-submarine and anti-ship activities. The first aircraft that would now be identified as maritime patrol aircraft were flown by United Kingdom's Royal Naval Service during World War I, primarily on anti-submarine patrols. Maritime patrol/reconnaissance aircraft have since then been deployed in crucial roles in many countries where the vulnerabilities of sea exist. For nation such as India with long coastlines, MPA is pivotal to maritime security, particularly post-26/11 terror attacks on Mumbai. To ensure a secure coastline from external elements MPA is the answer. Though India is not vulnerable to piracy threats that abound around Africa, however border security patrols and commercial sea traffic need to be addressed.
Sea piracy is increasing and specific areas of concern are around the Suez, the Strait of Malacca, the Persian Gulf and the Gulf of Aden. One of the timeless challenges is coordinating a rapid response to a pirate attack when ships must cover such large distances. Even advanced maritime vessels can take days to reach the source of an alert. Having maritime patrol and reconnaissance aircraft makes significant difference in reaction time and countries are now realising the importance of such aircraft.
India's P-81
India has got six P-8I MPA and will have in all eight, adding to Indian Navy's strengths. Based on Boeing's next-generation 737 commercial airplane, the P-8I is the Indian Navy variant of the P-8A Poseidon that Boeing builds for the US Navy. The P-8I incorporates not only India-unique design features, but also Indian built sub-systems that are tailored to meet the country's maritime patrol requirements. The P-8I features open systems architecture, advanced sensor and display technologies.
Here are some of the top MPAs in the world which have been active in many countries.
P3 Orion, World Standard
The P-3 Orion is a peerless airborne hunter. Its reputation as the ultimate submarine finder was earned through nearly 50 years of service, from the Cuban Missile Crisis to round-theclock patrols throughout the Cold War. With 435 aircraft worldwide operated by 21 governments and agencies in 17 countries, the P-3 remains a relied-upon asset today. Time and time again, the P-3 proves that it is remarkably well adapted for maritime patrol and support.
Uniquely suited as the world's premier multi-mission maritime long-endurance aircraft, the P-3 performs air, surface and ubsurface patrol and reconnaissance tasks over extended periods and far from support facilities. Recently, the P-3 provided support for Operation Unified Assistance in South East Asia, Hurricane Katrina, Operation Atlanta in the Gulf of Aden, and the BP Horizon oil rig disaster in the United States No other aircraft is better suited for these missions, and Lockheed Martin's P-3 mid-life upgrade programme will help ensure the P-3 is mission ready for decades to come.
P-8A Poseidon for advanced missions
P-8A Poseidon is an aircraft designed for long-range anti-submarine warfare, anti-surface warfare, and intelligence, surveillance and reconnaissance missions. It is capable of broad-area maritime and littoral operations. A derivative of the next-generation 737-800, the P-8A, and its variant for India, the P-8I, combine superior performance and reliability with an advanced mission system that ensures maximum interoperability in the future battle space. Boeing in January this year delivered the eighth P-8A Poseidon, completing all planned deliveries to the US Navy for the year on time and on cost. The Navy plans to purchase the versatile multi-mission aircraft to replace its P-3 Orion fleet. Boeing is currently under contract for 53 P-8As.
EMB 145 AEW&C, affordable platform
The EMB 145 AEW&C is the most advanced and affordable Airborne Early Warning and Control aircraft available on the market. It is the perfect blend of Embraer's proven, reliable and cost-effective ERJ 145 platform with a unique, high-performance, multi-mode active phased-array AEW radar, a powerful command and control system and a comprehensive set of support systems like ESM, self-protection and communications, including data links. The core of the EMB 145 is a compact, state-of-the-art mission system. Built by Ericsson Mircrowave, the Erieye AEW system has intelligent sensor technology and a user-friendly command and control system, capable of quickly acquiring accurate and comprehensive information. The radar system can detect and track both sea and airborne targets, over land and water, all with an impressive instrumented range.
CN-235, Ocean Sentry
The CN235 MPA is a multi-role maritime patrol and surveillance aircraft based on the proven CN235 military transport aircraft. It represents a reference for maritime surveillance and homeland security missions as well as search and rescue (SAR), logistic transport and personnel transport. It also served as basis for the HC-144A Ocean Sentry surveillance aircraft used by the US Coast Guard. Two General Electric GE CT7-9CE turboprop engines, each with a rated power of 1,750 shp, ensure superior performance. Considering a standard MPA configuration, the CN235 Persuader maximum endurance is over 11 hours and the time on station at 200 nm distance is over nine hours. The CN235 Persuader is in service as a MPA since 1994, operating routinely in hostile maritime environments.
It has been contracted by 10 operators from eight countries, making it the most successful in the medium MPA market. It is also in operation with the US Coast Guard, which is planning to increase the number of aircraft up to 36 units. The CN235 is also operating in Colombia, Ecuador, Ireland, Mexico, Spain and Turkey.
Beechcraft, ideal surveillance aircraft
When government, military and commercial customers want airborne solutions for critical missions, they turn to Beechcraft which has aircraft that offer high performance and flight characteristics required to address the unique challenges of special mission operations. With unparalleled performance, versatility and low operating costs, Beechcraft products are preferred for pilot and crew coordination training, military liaison, priority transportation, air ambulance, surveillance, maritime patrol, cargo hauling, flight inspection, high-capacity/airline shuttles and numerous other time-dependent operations.
King Airs are ideal surveillance aircraft. Each model features a large, pressurised, environmentally controlled cabin, high dash speed and extensive endurance. The King Air 350ER offers even more endurance, performing overland surveillance with sufficient payload to operate a moving target indicator, synthetic aperture radar, EO/IR (FLIR), streaming video data link, self-protection systems, and a wide variety of high-performance communications systems.
Imagery systems have been installed in virtually all models of the King Air. Today's data link technology allows relatively simple transmission of real-time streaming video to fixed or vehicle-mounted ground receivers for timely dissemination to tactical units. A few years back, Selex ES has been responsible for the design and integration of a complete surveillance solution for one of Beechcraft's customer's maritime patrol aircraft. The solution provided saw a Beechcraft SKA 350ER equipped with a retractable electro-optical system and ventral radome, all integrated together under the ATOS (airborne tactical observation and surveillance) system. The modifications, which have been certified by the European Aviation Safety Agency, grants the aircraft the capability to patrol for more than six hours, an equivalent performance to the VIP version of the aircraft.
Saab Swo rdfish, high-end MPA
The Saab Swordfish MPA is a high-end, multi-role C4ISTAR platform, capable of achieving superior maritime domain awareness through use of its advanced mission system and tightly integrated sensor suite.
Capable of operating independently or as part of a wider force, Swordfish MPA is easily integrated into existing infrastructures, ensuring maximum efficiency within a network environment. The Swordfish MPA is a strategic surveillance and command and control platform, capable of long range, high dash speed and significant on scene endurance. Mission flexibility is key – the aircraft is able to be rapidly re-tasked during flight when the situation dictates. Its roles include anti-submarine warfare; anti-surface unit warfare; long-range search and rescure; maritime counterterrorism; anti-piracy; special forces support, etc.
ATR 72 MPA, excellent for SAR missions
The ATR 72 MPA, based on the ATR 72-600 platform, developed by Alenia Aermacchi, is primarily deployed in surveillance and reconnaissance, maritime patrol and search and rescue (SAR) missions. It is in service with the Italian Air Force. It is equipped with Selex Galileo ATOS Mission System, which is interfaced with onboard sensors and equipment to perform electronic surveillance, optical reconnaissance, vessel identification and pollution detection. The aircraft is powered by two Pratt & Whitney Canada PW 127M turboprops. Each engine driving a six-bladed, variable-pitch propeller provides a maximum cruise speed of 248 kt and an endurance of 10 hours.
Falcon 900 MPA offers operational flexibility
The Falcon 900 MPA by Dassault, fitted with a fully-fledged advanced mission suite, is able to detect all kinds of threats and to react with the appropriate response. As the Falcon 2000 MRA, it offers an outstanding operational flexibility, as well as excellent performance. As for the Falcon 2000 MRA, the concept of the Falcon 900 MPA builds up directly on lessons learnt from the longrange maritime patrol aircraft 'Atlantic' family delivered to five different navies and air forces. It is a unique concept of high performance, low cost and low risk development, long range MPA.
The Falcon 900 MPA, derived from the Falcon 900 business jet, is perfectly sized for maritime patrol missions. It is persistent, capable and safe. From the onset of the project, the state-of-the-art mission system and the sensors suite, as well as the platform have been developed with the necessary growth potential provisions, in order to meet new requirements that could arise during the long life of the aircraft.