Victims of serious injuries have the strongest chance of survival if they are transported to a designated trauma centre within the first 'Golden Hour' following their injury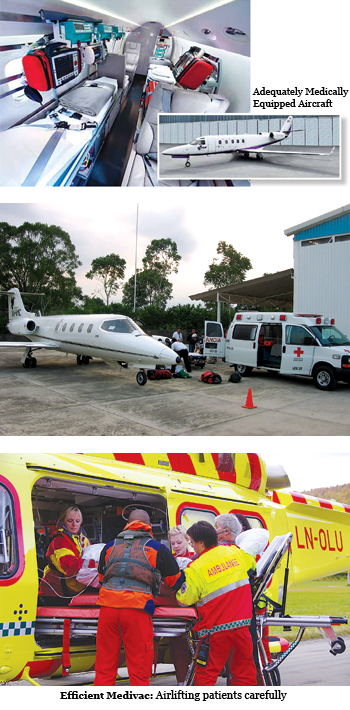 In the Indian epic Ramayana, Hanuman flies the 'Sanjeevani herb' from the Himalayas to Sri Lanka to save Lakshman. This could be called the beginning of 'aero-medical' transport. Historically too, the earliest known use of flying aircraft for medical purposes has been recorded during the Napoleonic wars. In 1870 during the Prussian siege of Paris, hot air balloons were used to evacuate the wounded out of the city.
As regards airplanes used for medical transport, it commenced as early as 1930s in the United States and the first hospital-controlled helicopter programme was in Loma Linda, California, in 1972. Lufthansa has the facility to carry patients in special compartments called 'Patient Transport Compartments (PTC)' on board a Boeing 747 aircraft, wherein there is a stretcher, seats for doctors and medical flight assistant, medical equipment, drugs, oxygen and other emergency medical systems. This has revolutionised aero-medical transport on longhaul flights.
We have come a long way. The linkages between aviation and health care are growing by the day. Air ambulance services are provided by operating either helicopters or fixed-wing aircraft in order to respond to medical emergencies and transport patients, from, or between points of definitive care. These air ambulances fulfil both emergency medical services functions, as well as patient transport between home or any other location to a hospital.
'Golden Hour'
Victims of serious injuries have the strongest chance of survival if they are transported to a designated trauma centre within the first "Golden Hour" following their injury. Depending on circumstances, emergency medical responders may arrange to transport trauma victims via either ground or air ambulance. Helicopter air ambulances, are critical to the survival of many trauma victims. Air ambulances are best used only when medically necessary, when flying conditions are safe and when air transport is faster than alternative ground ambulance service.
Fully Equipped
The more common aero-medical transport happens on either rotary- or fixed-wing aircraft. These air ambulances are lifesavers. Aircraft such as King Air C90 and B200, Pilatus, Lear Jet, Bell 206, 212, 412, Ecureuil, Augusta, Eurocopter, etc, are configured and deployed as air ambulances. Dedicated air ambulances with all intensive care facilities onboard and trained medical personnel have made it possible to evacuate any casualty: the commonest indications being cardiac, trauma, neurological, requiring surgical intervention, organ transplantation, etc.
All airworthy portable medical equipment including monitors, life packs, ventilator, defibrillator, suction, spinal boards, neck collars, vacuum splints, head immobilisers, portable oxygen cylinders, infusion pumps, medical emergency boxes, telescopic stretchers, reeves stretcher, vaccum mattresses, and other items needed for any emergency medical and rescue services are carried onboard.
Indian Scenario
The emergency medical services (EMS) and air ambulance industry in India is in a nascent stage. The importance of air ambulances is growing and is mostly driven by big corporate hospitals. In 2011, three private hospitals – Narayana Hrudayalaya, Apollo and Medanta—joined hands to start an air ambulance consortia to transfer critically ill patients from smaller towns to Delhi and Bengaluru in the first phase. At that time, Dr. Devi Prasad Shetty, founder Chairman of Narayana Hrudayalaya, had stated that the consortia planned to create at country-wide network to move patients from different parts of the country to hospitals for timely treatment.
Although there are independent air ambulance charters that carry patients, they are prohibitive. Dr Shetty had mentioned that 'if an air ambulance does 300 hours of flying it will equal the cost of road ambulances. Even if this is an exaggerated figure, it will still cut costs by a good 60 to 70 per cent." A fully-equipped air ambulance costs over Rs. 10 crore in India.
Recently, India's first state-of-the-art air ambulance, Flying Doctors India, was launched in Delhi. The new aircraft is tailormade and equipped with a state-of-the-art intensive care unit (ICU) on a dedicated chartered aircraft. The goal is to provide critical care even when a patient is in transit. "Earlier whenever we got a call, we would take a private aircraft, tape off the chairs and fit our equipment in. It was basically a 'jugaad' (temporary fix) of sorts. Now we have a dedicated air ambulance ready for all emergency services," Dr Naresh Trehan of Medanta Medicity had told the media during the launch. The response time now is just 20 to a maximum of 90 minutes, whereas earlier it would take three hours just to prepare the aircraft.
Another timesaver is the aircraft's longer endurance level of up to seven-and-a-half hours unlike earlier when the aircraft would have to stop after three hours for refuelling. Hiring an aircraft is still not cheap. It can cost at least Rs. 50,000 per hour. "The cost of air ambulances is high because of the high profit margins of air companies. We are inviting more hospitals and corporates in the consortia. We are planning to fly the ambulances on an equity model, where all hospitals have an equal share and the debt burden comes down. We will have it managed by a neutral body," said Dr Shetty.
Similarly, Bengaluru-based Aviators India Limited (AIL), which is planning to start air ambulance services in the country, has signed an agreement with GVK Emergency Management and Research Institute (GVKEMRI), the provider of 108 ambulance services. As per the agreement, GVKEMRI will provide its fleet of 2,400 ambulances as first and last-mile service in South India for the air ambulance service.
Air ambulance service, the first of its kind in India, is expected to be operational by the last quarter of 2015. In November last, AIL, US-based Air Medical Group Holdings Inc. and Airbus Helicopters had signed a tripartite agreement to begin the service under the name Aviators Air Rescue Pvt. Ltd. "We want to provide air ambulance service at an affordable price for the common man. GVKEMRI's local presence in the South will help us to coordinate efforts faster," said Arun Sharma, Managing Director, Aviation Air Rescue.
In the first phase, the helicopter emergency medical service will be rolled out in Kerala, Karnataka, Tamil Nadu, Andhra Pradesh and Telangana using Eurocopter's EC 135 helicopter. In the second phase, the company intends to expand the service to cover Uttar Pradesh, Bihar, West Bengal, Madhya Pradesh and Chhattisgarh.
However, there are many issues that still need to be tackled in India to facilitate more usage of air ambulances. Helipads or the lack of it is one of the major issues. Not many hospitals in India have helipads. Primary evacuations are also not possible in India due to landing restrictions and infrastructural problems. In India the reasons for using air ambulance transport seems very appropriate; namely to provide rapid transportation of the patients to specialised centres to tertiary medical care.
Health care and aviation have joined hands for a larger humanitarian cause, while both the industries have enormous business potential. In India, the health care industry is pegged at $65 billion and the medical tourism segment accounts for nearly $2 billion. While in medical tourism, individuals mostly fly in and out of the country on commercial airliners, the segment of air ambulances is also picking up. A multitude of factors indicate a promising future for health care and aviation in India.