Presently, the regionals in India are operating from point-to-point and there is hardly any cooperation between mainline airlines and regionals on maximising air transport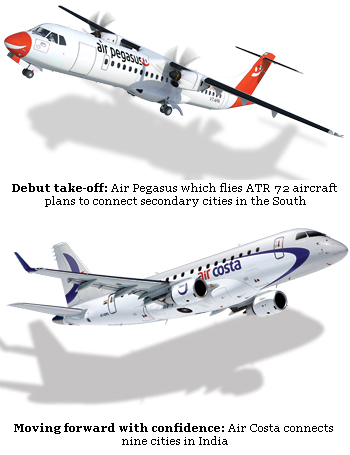 The third regional airline in India (after Air India regional and Air Costa) – Air Pegasus took to the skies on April 12 from Bengaluru to Hubli. Air Pegasus which flies ATR 72 aircraft plans to connect secondary cities in the South as it makes its first moves. Air Costa is connected to nine destinations, while Air India regional has networked in the North East. Then there are a few more pending applications for starting regional airlines. The secondary market is slowly opening up. In this background, it would be prudent for Indian operators (both mainline airline and regional) to look at how different models have worked in different countries. Presently, the regionals in India are operating from point-to-point and there is hardly any cooperation between mainline airlines and regionals on maximising air transport.
There is no doubt whatsoever that a mix of mainline and regional airline for countries as vast as India helps in economic development. The US is a classic example of how the two have networked the country for good. Overall, the scale of regional aviation itself has grown substantially in recent decades with the average capacity of turboprop aircraft rising from 19-40 seats to over 70 seats and jets from 50 seaters it is now comfortably placed at 70-120 seats, a clear indicator of traffic movement from Tier-II and III cities to the metros.
In India, of the seven full service airlines (Air India, Jet Airways, SpiceJet, IndiGo, GoAir, AirAsia India and Vistara) only Air India has a subsidiary regional airline, indicating how all the airlines are focused on trunk routes, doing their bit on Category-II routes. Whereas in the United States, regional airlines were considered an important building block of today's passenger air system and the government encouraged the forming of regional airlines to provide services from smaller communities to larger towns, where air passengers could connect to a larger network.
US Model
Some of the original regional airlines sanctioned by the US Civil Aeronautics Board in the 1940s and 1950s laid the foundation for a good air transportation network. Some of the airlines such as Frontier Airlines, Pacific Airlines, Pacific Southwest Airlines, Piedmont Airlines and Southern Airways have been instrumental in keeping the regional aviation momentum going, though now most of them of that period have folded up, giving birth to new ones or feeder airlines. Around 1985, a vast majority of regionals within the US with over 10 aircraft fleet lost their individual identities and now serve only as feeders, to Alaska Airlines, American Airlines, Delta Airlines or United Airlines major hubs. With newer aircraft which are capable of flying longer distances with comfort levels, it is making sense to have a judicious mix of aircraft to have a seamless movement of people and cargo from Tier-III and Tier-II cities to metros.
The rationale for such a business model is clear as first it gets incremental traffic feed revenue; city-pairs that are most cost effected when served by an affiliated regional airline with much lower costs/seat mile than the mainline jet airline partner; and/or experimenting on new thin city-pair markets to see whether or not these can be grown into trunk-line routes.
According to a report a rather simplistic market access or protection strategy was first deployed by US Air. Linking the US Air commuter group services (Allegheny or Piedmont) to US Air's rather expensive jet operations in what were mostly monopoly northeast US city pairs locked up feed and therefore market share and geographic predominance. Many other US trunk airlines quickly adopted the same strategy as US Air in the late 1970s and early 1980s. This trend was also noticed in Canada, Australia and New Zealand where mainline airlines deployed commuter affiliates, due to large territorial expanse, limited population density and limited national jet airline competition. As long as markets were growing and deregulation forced reallocation of city pairs then all was well. The model worked brilliantly and many stand-alone regional airlines began thinking of how to best maximise shareholder value, which led them to affiliate and re-affiliate with the highest bidder jet trunk airline.
Feeder Network Competitiveness
The US experience showed that it took about two deregulated cycles (about 10-15 years) for feeder network competitiveness to start becoming critical, with three evolving strategies for commuter feed manager (brand-franchise premised, nonequity based management; constant building and rebuilding of a trunk airline's own majority-owned commuter network and airline partners; and development of self-standing non-major airline affiliated commuters.
Regional Airlines Integral Part of Aviation
Thus regional airlines, operating smaller aircraft, have become an integral part of the world's aviation infrastructure without which major airlines would lose a significant portion of their feeder traffic. They enable airlines to provide the right balance of capacity and frequency on key routes. In the important role of feeding mainline carriers, regional aircraft can supplement mainline capacity and increase frequency when markets are growing. When markets are weak, regional aircraft can be used to defend an airline's position by maintaining frequency with less capacity or by replacing narrow body aircraft that may be too large. Regional aircraft can also enable airlines to manage demand fluctuation between seasons or even during the day. These applications, among others, show how regional aircraft are an integral part of the world's aviation system.
The role of regional carriers in feeding traffic to mainline carrier long-haul networks, whether they are wholly-owned subsidiaries, franchise operators or providers of capacity in the form of wet lease arrangements or capacity purchase agreements has been significant. The role of independently branded carriers, which in some cases also feed mainline operators or service distinct local markets and government sponsored public service obligations.
Optimising Business
According to a study by the European Regional Airline Association, while smaller than narrow body operations, the scale of regional aircraft operations is substantial. Also regional aircraft have the right capacity for many routes that do not justify narrow body equipment. Regional aircraft can enable network airlines to optimise capacity and frequency for high yield business passengers and they can compete favourably with the operating costs of narrow body aircraft particularly on short sectors.
Regional airlines generally operate aircraft up to 100 seats on routes with a maximum flight time of two hours. The market in Europe is dominated by the affiliates of mainline carriers for example Lufthansa Regional or Brit Air and City Jet, both of Air France. According to a study, nearly 60 per cent of the regionals are largely or wholly operated by a major carrier and operating on its behalf. Independent carriers have the possibility to cooperate with other airlines on code share agreements and by joining a strategic airline association. In India, this has not happened and the airlines are operating in silos. Regionals can probably benefit from the mainline's cut back of uneconomic routes.
The large network carriers can profit from outsourcing their feeder traffic on low density routes or off peak traffic between hubs and regions. The network carrier can benefit from the cost advantages of the regionals with their adapted size of planes, lower overheads and greater flexibility. The smaller carrier profits from the brand and image of the senior partner. However, in India the regionals are getting into under-served or not served markets and are point-to-point operations and it will not be long when they start operating as feeder airlines. There are so many ponderables, but opportunities exist for regional and full service airlines to join hands, particular when a nation's economy is opening up, not just in the metros, but beyond them.