Mary Bailey twice won the Harmon Trophy as the world's outstanding aviatrix in 1927 and 1928, the first two occasions on which it was awarded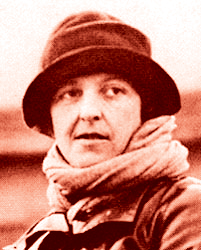 Mary Bailey was not in the least attracted by the life of staid domesticity that her aristocratic roots foretold. She was born Mary Westenra, daughter of the fifth Baron Rossmore, in Rossmore Castle, Ireland, on December 1, 1890. She was sporadically home schooled and raised to be 'proper'; but she rebelled and even tried running away from home at the age of 16. Her childhood was happiest when she was out hunting, shooting and fishing.
Later, she apparently purchased a motorcycle to satisfy her need for speed and then raced around in a car. In 1911, she was married to Sir Abraham 'Abe' Bailey, a wealthy South African mining magnate of British descent who was more than twice her age. They had five children over a span of eight years. When World War I began in 1914, Mary volunteered to be an aviation technician and was stationed in Britain and France with units of the Royal Flying Corps.
After the War, aviation began to spread all over the world and many in Britain decided to take to the air. Mary Bailey's humdrum family life again began to vex her and she signed up for flying lessons in secret as a means "to get away from prams" as she put it. To his credit, Abe Bailey never tried to discourage his wife and instead footed the bills for her many adventures. She gained her pilot's licence in 1927 and soon embarked on a record-breaking career. She was the first woman to fly across the Irish Sea. On July 5, 1927, she set a Fédération Aéronautique Internationale (FAI) world height record of 5,268 metres in a light aircraft category. But her hour of glory was still to come. In 1928, she decided to leave her children in the care of nannies and fly solo from London to Cape Town, at the Southern tip of her adopted country. It was less than a year after Charles Lindbergh's first solo nonstop flight across the Atlantic.
On March 9, 1928, Mary Bailey departed from Stag Lane Aerodrome, the main base of the de Havilland Aircraft Company Limited. She was flying a standard de Havilland DH.60X Moth that she had bought directly from its designer Captain Geoffrey de Havilland. It was a light plane, weighing just 417 kg when empty. It was powered by a single air-cooled Cirrus Mark II inline four-cylinder engine. It cruised at 135 kmph and could remain airborne almost four hours and cover a distance of about 510 km. However, Mary had an extra tank fitted in the front cockpit so she could count on remaining airborne for 10½ hours at a stretch. Her luggage was in two suitcases and she was her own engineer.
Mary Bailey's troubles began on the very first leg. Crossing the English Channel, she encountered bad weather, gale force winds and then fog. The weather deteriorated into a snowstorm that dogged her transit through much of France. In Cairo she was detained for several days because the authorities refused to let her proceed without a male escort. She was equally adamant that she didn't need a chaperon. Finally, a British officer who was flying to Cairo agreed to accompany her and they took off. Since the plane had no radio, she often had to land simply to ask for directions to the next landmark. Bad weather continued to trouble her including sandstormswith high winds, poor visibility and stifling heat. When she tried landing at Tabora, Tanganyika, in rather challenging conditions, the plane flipped over and was wrecked. Luckily Mary was unhurt. What next?
Her millionaire husband came to the rescue, purchasing another de Havilland Moth and arranging for it to be flown to her. After receiving her new plane, she pressed on, fell ill with severe influenza, recovered and finally reached Cape Town on April 30 after a journey of over 12,800 km. It was a record for the longest solo flight and the longest flight by a woman. "Anybody who can drive an auto could do it. My flight was long but uneventful and not extraordinarily difficult," she said modestly.
After a break of four months she started the return journey across Belgian Congo, along the Southern edge of the Sahara and up along the West coast of Africa. Then she disappeared in the Sahara desert. Her daughter later recalled the trauma of being summoned from class and told that her mother was missing. After four days Mary was found and decided to continue. She flew through Spain and France and returned to London on January 16, 1929, having flown a distance of about 28,800 km.
In February 1931, Mary Bailey put her flying abilities to good use in the service of archaeology. She flew over some important archaeological sites and took aerial photographs to facilitate excavation and reveal other promising sites. In just two weeks, her team was able to build a comprehensive picture of a large excavation site in the Kharga Oasis, the largest and most populated oasis in Egypt, about 200 km to the west of the Nile Valley. It may have taken months to complete the same task on foot.
Mary Bailey twice won the Harmon Trophy as the world's outstanding aviatrix in 1927 and 1928, the first two occasions on which it was awarded. She was one of the finest women pilots of her time. She died on July 29, 1960, at the age of 69. She has been called one of the most remarkable Irishwomen of the 20th century. Isn't that quite an achievement for one who started out as something of a rebel?