In 1929, Pancho Barnes became the first woman pilot of the movie industry, flying aerial stunts for the war film, Hell's Angels based on World War I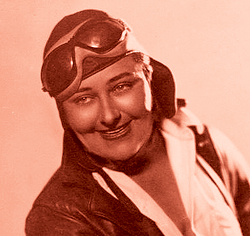 Most pioneer aviators were a daredevil lot. Perhaps that is why they chose to engage in an occupation where death might come calling at any time, and often did. The women too were usually those who were not deterred by social opprobrium or being called "unladylike". Pancho Barnes epitomised the type. She was a colourful character who positively despised convention. She didn't do anything in a predictable way or conform to what others expected.
Her language rivalled that of a drunken sailor. But her courage too was quite extraordinary and her aviation skill kept her going through years of barnstorming, breath-taking aerial stunts for the movies, record setting and inevitable crashes.
Florence Lowe 'Pancho' Barnes was born on July 22, 1901, in Pasadena, California. She was brought up more like a son than a daughter and could outrun, outswear and outpunch most boys. Her grandfather, Thaddeus Lowe, was a pioneer balloonist and the first person to take reconnaissance photographs from a balloon. He had been the Commander of the US Army's Aeronautic Corps during the Civil War and the US Air Force sometimes traces its roots back to him. In 1910, Thaddeus Lowe took his nine-year-old granddaughter to the first American aviation exhibition near Long Beach. She was hooked for life.
As a teenager though, her exploits grew increasingly wild and she was married off to C. Rankin Barnes, a clergyman, in the vain hope that he might help her "settle down". However, even the birth of a son failed to tame Florence's carefree spirit. In 1928, when some of her male friends decided to get hired on a banana boat bound for South America, she joined them dressed like a man and going by the name of Jacob Crane. However, it turned out that their innocuous looking vessel was secretly running guns to the Mexican revolutionaries. The crew were promptly arrested by the Mexican authorities and thrown into jail. Florence and another crewmember managed to escape and slowly made their long way back to America on foot. Her companion wanted to call her Sancho Panza (after the epic character of the same name in Don Quixote) but he mistakenly said 'Pancho' and the name stuck to her for life.
Finally back home, it might reasonably have been assumed that she had had her fill of adventure and would now settle for something quieter. Not Pancho! Tiring of staid domesticity all over again, she decided to learn to fly. She managed to convince Ben Caitlin, a World War I veteran, to teach her and went solo after just six hours of instruction. She was among the first women in the US to gain a pilot's licence. She bought her own biplane and took to the wandering life of a freelance aviator like a natural. She enjoyed one thrill after another as she put on a series of barnstorming shows, undeterred by the constant danger. The male pilots, otherwise wary of "females who thought they could fly", were more willing to accept this outspoken woman who could fly dangerously, tell aviation yarns, smoke cigars and drink quite like them.
In August 1929, Pancho Barnes entered the first Women's Transcontinental Air Derby, a cross-country race from Santa Monica, California, to Cleveland, Ohio, that one humourist dubbed the "Powder Puff Derby". She didn't cover herself with glory, first getting lost and drifting into Mexico and later colliding with a truck that had strayed onto the runway just before she landed. However, when she next participated in the same race – this time sponsored by the Union Oil Company – she not only won but broke Amelia Earhart's world women's speed record with an average speed of 315.7 km per hour. She was flying a Travel Air Type R Mystery Ship, a compact and light aeroplane built around a 400-horsepower Wright Whirlwind engine that was one of the fastest machines of the period.
Also in 1929, Pancho Barnes became the first woman pilot of the movie industry, flying aerial stunts for the war film, Hell's Angels based on World War I. The intrepid celluloid pilots were almost as much at risk as the military aviators of the War. During the production, three aviators and a mechanic lost their lives and even the producer Howard Hughes was seriously injured. Later, Pancho got together a group of stunt enthusiasts and founded the Association of Motion Picture Pilots in an effort to receive fair remuneration for the tremendous risks they had to face. The association also sought to increase the safety of aerial stunts and tried to introduce insurance for medical emergencies and deaths caused by flying accidents, in what was an extremely hazardous profession.
Even after she stopped flying Pancho's association with aviation continued. In March 1935 she bought a large piece of land in the Mojave Desert, adjacent to what later became Edwards Air Force Base, site of the US Air Force's Test Pilot School, and its foremost experimental flight testing centre. There she built the Happy Bottom Riding Club, a wild and boisterous fly-in ranch, bar and restaurant that attracted scores of test pilots as well as some of her old Hollywood friends. Most of the famous American aviators of the era including Jimmy Doolittle, Buzz Aldrin and Chuck Yeager were frequent visitors. Chuck Yeager, the first person to break the sound barrier, became her lifelong friend. Pancho Barnes died on March 29, 1975, in Boron, California. At her memorial one of California's aviation icons, Jimmy Doolittle, said, "In a few words, she put great store by courage, honour and integrity. She despised dishonesty and cowardice... She said exactly what she thought and believed."