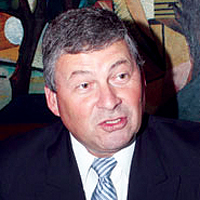 Randal L. Howard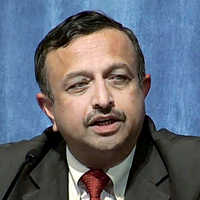 Abhay M. Paranjape
Abhay M. Paranjape (Abhay): We expect the programme to a hybrid case, where there is a direct contract for the capability transfer of production and there a FMS case for the aircraft so it will be a hybrid case. US companies have done that in the past in multiple countries so that will probably be the case here but we don't know exactly how the Indian government is thinking.
Randall L. Howard (Randy): Certainly in the past we have done that in the other countries as well. We also have countries where we started with FMS for the aircraft and transitioned over time into a licensed co-production. There are several examples where we have established production capacity in other countries. One example would be Korea where we worked with the Korean Air Force and KAI. They started with a FMS kind of a program where Lockheed Martin had the responsibility for the production of the aircraft, we built a production facility there with KAI and the second tranche of aircraft was a licensed production processed by KAI. Another perfect example is Turkey. That program started as a joint venture. It evolved over time and built up the Turkish industry TAI which is today Turkey's largest defence industry. It is this kind of experience that we bring to the table with India that Lockheed Martin has successfully shown on how it is done with other countries.
We also successfully established production line in Belgium, The Netherlands. With F-16 there were four other countries. Each of these countries have gone with those facilities and moved them to another level. We built an eco-system there and they used that to propel themselves to the next set. T-50 is an exact example of, an outcome of working with the local industry, transferring technology, creating capacity, so successful to the point that T-50 is now being exported to other countries and is being offered to the US Air Force.
It is a skill-set that Lockheed Martin has. You don't just wake-up and go do this in another country. You need to know how to do it, how to work with local industry, how to work with the US or the host nation where the technologies are coming from, how to work with all of those processes, how to teach the local industry on how to build your product and in all of these, Lockheed Martin has been very successful.
Abhay: F-16 has seen different variants as it has evolved over time. What we are offering is the latest variant — Block 70. What we are offering is to move the sole production line, which is in the US right now, to move that to India. We won't just assemble the aircraft here but also do manufacturing of the various structures, components, the pieces that will go in it eventually. We will do a phased approach, start with the assembly, start with the structures and components, start with the systems. Eventually the goal is to do as much as possible in India and help the Prime Minister's vision of 'Make in India' by building a manufacturing eco-system and provide this aircraft for the Indian Air Force. Also, since this will be the exclusive production line we will also export from here as we continue to sell the aircraft worldwide. The Indian industry will be right in the middle of exporting the aircraft, building the systems, the components, the parts and participating in future upgrades.
Randy: Today we are actively involved in discussions with about five countries in the Middle East, South East Asia, South America and Central Europe for the purchase of this aircraft. Some of these are very near term opportunities. As soon as we can get a decision and stand-up the capacity here in India, our intent would be to produce the F-16 for these other countries, as they continue to express an interest, from here and to deliver those aircraft from here.
This is not an offer that any of our competitors has. There is still a very strong demand for the F-16. Countries recognise the added capabilities that continue to be put into the aircraft. In our competitor's cases, they have production facilities that are either home or abroad that have to continue to be used to produce the aircraft for various customers. So this is an exclusive opportunity to be the only place where F-16s are made.
"WITH AN EFFORT OF THIS MAGNITUDE, WITH SO MUCH AT STAKE, YOU CANNOT AFFORD TO FAIL, OR AFFORD TO HAVE LARGE DELAYS OR HAVE QUALITY PROBLEMS OR ANYTHING LIKE THAT. YOU WANT A GUARANTEE OF SUCCESS AND WE HAVE DONE THIS BEFORE. WE KNOW HOW TO DO THIS, WE HAVE THE RIGHT EXPERTISE!"
Abhay: We have a joint venture with TASL which has been very successful. What we are seeing that once trained correctly, the Indian work force is able to deliver products that are of good quality, on target, price and schedule. We have great confidence that TASL has the right skill set. Lockheed DNA and TATA DNA matches very well. We are compatible so we have decided that for this particular effort, we want to work with TASL and build that capability here in India. We also know that the entire manufacturing eco-system will involve working with several companies. We will look at developing that entire manufacturing eco-system here of Indian companies but TASL will be our primary partner. Details of this partnership are still to be worked out.
We are very confident that they are the right company to work with. They have the capability and also have the same confidence in us which is why they decided to sign up with us.
The required number of aircraft for the Indian Air Force continues to grow. With an effort of this magnitude, with so much at stake, you cannot afford to fail, or afford to have large delays or have quality problems or anything like that. You want a guarantee of success and we have done this before. We know how to do this, we have the right expertise!
Randy: This coming together for this project of Lockheed Martin and TATA is remarkable. You look at the strength of both companies. Lockheed Martin is the recognized leader in this business of fighter aircraft and TATA as the recognized leader here in India, it is a strong partnership. If you look around, it is unmatched in terms of what it can bring to the table.
In case we get it, we envision the first small quantity of aircraft to come from the US in around three years from the time the contract is signed. In the end, the time frame will depend upon how many changes the Indian Air Force requires. What we will do is to bring the industry here from India over to the US and have them work with our people as we assemble the first batch of aircraft there. You do that while you are putting in place the facilities that are necessary to deliver the aircraft from here. From there you smoothly transition from US-based delivery to India based delivery. You establish an industry for supporting and sustaining the aircraft not only for India but having a part to play in the support and sustainment of the 3,000+ F-16 aircraft flying around the globe which is critical for the long term success of your industry. It is not to build up this capability to 'Make in India' for your own 100+ aircraft.
'Make in India' and Make-in-US are complementary. It is a win-win for both our countries, it is a win-win for both our industries, it is a win-win for the Indian Air Force, in every way imaginable. It is jobs here, it is jobs there, it is relationships here, it is relationships there. All of these things have strategic importance more than ever before.
Abhay: We are meeting with the concerned authorities and are currently in the wait and see mode in terms of the government decision making. We don't want to interfere with whatever their internal processes are. So we are watching and waiting to see how that comes together.
On L1, we don't know how exactly the entire DPP/SP policy is going to be structured. We don't know if it is the cost of aircraft, cost of the system, the life-cycle cost, is it cost associated with transfer of production! It is too premature to talk about it. We are happy with the dialogue at this stage. We are making our case and waiting for the government to make up their mind on how they want to proceed.
Randy: F-16 is a bigger aircraft than Gripen. It has a bigger engine. If you look at the long term picture and the life cycle costs of an aircraft that has over 3,200 currently flying and a very robust and economically efficient supply chain, then F-16 has proven time and time again to be an exceptionally affordable aircraft. F-16 cannot be matched in terms of the value it brings to the customer. That is why 4,588 F-16 have been ordered. There is nothing else even close to that. The abundant mass success that the F-16 has had is a result of the value that the aircraft has.
The F-16 that we are offering here is vastly different from anything that we have offered before. It has got the very latest capabilities from an engine or propulsion systems perspective, it has got new mission systems, avionics, new radar that is leveraging the technologies of the F-35 radar, it has got a new mission computer that is exactly what the US Air Force is upgrading their F-16 with.
US Air Force contracted Lockheed Martin 4 to 5 years back asking to extend the life of the aircraft from 8,000 to 12,000 hours. Now we are able to productionise the changes which provide for the new aircraft to do 12,000 or more hours which is significantly better than any of our competitors. The aircraft has new structural elements to it, has the latest propulsion system and new avionics. The radar is the latest AESA radar by the best radar manufacturer in the world.
Abhay: It looks the same but the internals have changed. There is no reason to modify as it works so well! The combination of structure, propulsion and avionics on this is unmatched.
Randy: If you compare the F-16 with its competitors, whoever they are in our class, this airplane goes further. It has significantly more combat radius, can stay out there for longer and it can take more ordnance when it goes. And it flies faster and higher and turns harder. It is superior! F-16 is unmatched in its performance. It is the recognized leader in its class.
We are putting all new stuff in avionics, mission systems, computers, from our prime suppliers who happen to be the same who are working on the F-35 and the same ones who worked on the F-22. We are taking those technologies and putting them in the F-16. New radars, new mission systems, new sensors, new systems and laying in place the opportunity for India to have, going forward, a major part to play in where this system goes in the future.