Embraer believes that working together with multiple stakeholders and tackling environmental matters with an innovative approach is the only way forward to build a better and sustainable future for the next generations
By Mariana Luz


Embraer's Global Head of Sustainability and CSR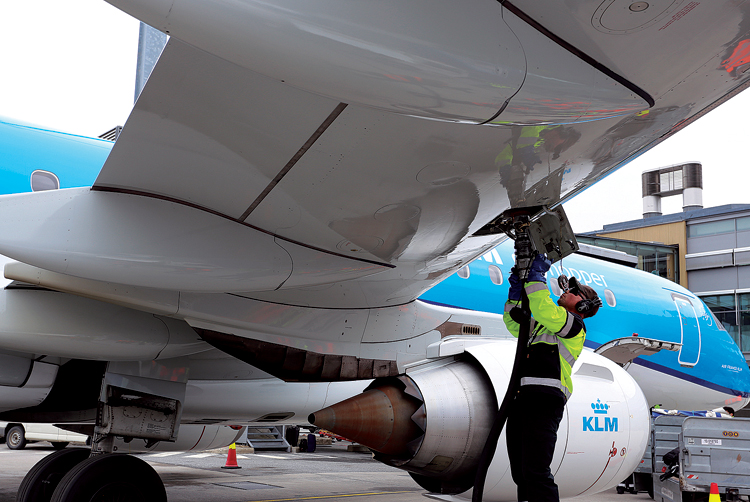 KLM launches new series of biofuel flights from Oslo to Amsterdam
Did You Know?
Brazil now has almost 100 per cent of its automobiles and trucks running also with biofuel – either pure or mixed with gas or diesel oil. With such expertise, it is only natural that the country plays a key role in developing biofuels for aviation.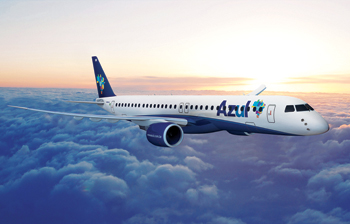 Air connectivity, especially in Asia-Pacific, has grown exponentially over the years and with that, the growing emphasis on sustainability and the environment. Building a sustainable future is one of Embraer's core values. As a company that has, over its 48-year history, delivered more than 8,000 aircraft, Embraer takes into account the full impact of the development of new product based on each stage of the product's life cycle. The Integrated Development of Environmentally Sustainable Products (DIPAS) programme embeds design for the environment practices into Embraer aircrafts' entire lifecycle, to improve environmental performance and minimise environmental harm.
Embraer's long-standing commitment to the environment and sustainability has seen the company listed on the Dow Jones Sustainability Index (DJSI), where the company has been listed for the eighth consecutive year (DJSI World Universe 2017/2018). Based on the analysis of several sustainability metrics, the DJSI lists companies that stand out for their economic, social and environmental performance. Embraer's overall score was worth the second place in the aerospace and defence segment.
Here are some concrete examples of Embraer's emphasis on sustainability and the environment.
The World's First Ethanol-Fuelled Aircraft
Back in 2004, Embraer became the first manufacturer in the world to produce an aircraft entirely fuelled by ethanol when the crop duster Ipanema, an agricultural aircraft, took to the air in October of that year. Since then, the Company has continued its efforts in reducing the use of fossil fuels and in recent years has partnered with others to foster the development of biofuels.
First Flight Tests with Bio-Kerosene
The first flight tests with bio-kerosene at Embraer were held in August 2011 in cooperation with GE. The companies conducted a series of experimental flights with an E170 jet to evaluate the operational characteristics of the aircraft and engine using a bio-kerosene derived from camelina plants, produced through the HEFA (Esters of Fatty Acids Hydroprocessed) process. This was the first renewable kerosene approved for use in commercial aviation.
BACK IN 2004, EMBRAER BECAME THE FIRST MANUFACTURER IN THE WORLD TO PRODUCE AN AIRCRAFT ENTIRELY FUELLED BY ETHANOL WHEN THE CROP DUSTER IPANEMA, AN AGRICULTURAL AIRCRAFT, TOOK TO THE AIR IN OCTOBER OF THAT YEAR
Embraer also partnered with Azul Brazilian Airlines, Amyris, Inc and GE in demonstration flight using an innovative, renewable jet fuel produced from Brazilian sugarcane. Heading to Rio de Janeiro Santos Dumont Airport, the Embraer E195 jet operated by Azul departed from Campinas Viracopos Airport and flew over Rio as part of the UN Conference for Sustainable Development (Rio+20) on 2012.
The ITAKA Project on KLM's Commercial Flights
In 2016, Embraer participated in the Initiative Towards Sustainable Kerosene for Aviation (ITAKA) project with KLM. This was the first initiative by Embraer in collaboration with an airline to test the use of aviation biofuels on regular flights.
80 biofuel flights from Oslo to Amsterdam operated with KLM's E190 over a six-week period. During these flights, Embraer took measurements to gauge the efficiency of biofuel in comparison with kerosene.
In fact, KLM has been increasing its fleet of E-Jets in line with the airline's aim to further reduce CO2 emissions. The E175 and E190s are significantly more fuel-efficient in comparison with the airlines' ageing Fokker aircraft, thus fulfilling KLM's aim to be more environmentally friendly.
Enhancing the Fuel Eficiency of Our Aircraft – The E-Jets E2
For the E-Jets E2, Embraer invested on state-of-the-art engines, which, combined with new aerodynamically advanced wings, full fly-by-wire flight controls and improvements to other systems, will deliver significant reductions in fuel burn, emissions and external noise. The E2s, Embraer's second generation of E-Jets, will have up to 24 per cent reductions in fuel consumption and emissions. Prior to that, in 2014, Embraer presented its E175 featuring a range of aerodynamic improvements that reduced fuel burn 6.4 per cent compared to the original version.
Brazil has been in the forefront of biofuel development and now has almost 100 per cent of its automobiles and trucks running also with bio-fuel – either pure or mixed with gas or diesel oil. With such expertise, it is only natural for Embraer to play a relevant role also on biofuels for aviation.
Finally, since 2012, Embraer has been a signatory party of the aerospace industry's sustainability commitment that establishes two of the industry's key goals: carbon neutral growth by 2020 and a 50 per cent reduction in net aviation CO2 emissions by 2050, considering 2005 levels. Working together with multiple stakeholders and tackling environmental matters with an innovative approach is the only way forward to build a better and sustainable future for the next generations.