Reportedly, India is planning to come up with another Request for Information (RFI) to acquire modern multi-role combat aircraft for the Indian Air Force
The Indian quest for replenishing its depleting combat aircraft numbers is a saga of missed opportunities and bad planning. In 2007, the Indian Air Force (IAF) came up with a tender for 126 medium multi-role combat aircraft (MMRCA) which saw enthusiastic participation from some of the world's leading fighter manufacturers and was called 'mother of all deals'. The Indian leadership, both political and bureaucratic, planned to achieve many objectives from this deal.
They thought this deal, anticipated to be worth over $10 billion, will get India strategic relationship with Western power and the much-needed technology for self reliance in combat aircraft manufacturing. By inserting the offset clause, India planned to reduce the out flow of money from the national economy. All seemed perfect; but everything collapsed, forcing India to buy mere 36 aircraft for about Euro 7.86 billion in 2016, after a decade of floating the tender.
Reportedly, India is planning to come up with another Request for Information (RFI) to acquire modern multi-role combat aircraft for the IAF. If the RFI follows the standard procurement procedure, the finalisation of the deal will take not less than six years and additional 10 years to finish deliveries. In 2016, the IAF initiated a process to acquire around 100 single-engine combat aircraft which saw response from Swedish Saab offering Gripen E and American Lockheed Martin (LM) offering F-16 block 70. But the process which appeared to solve the problem in minimum time with substantial cost saving as both the contenders offered to manufacture the aircraft in India with significant technology transfer, did not go further as the government failed to put aside the demands for including twinengine fighters in the requirement.
Now, it appears that the things have come back to where they were in 2007. If and when the RFI comes, most probably the contenders will be none other than the MMRCA bidders, barring one or two new entrant such as LM's F-35 and the Russian Su-35; at this point of time (notwithstanding some of the reports and sentiments indicate that India is showing interest in F-35).
The 2007 tender saw Boeing's F/A-18 Super Hornet, LM's F-16 Fighting Falcon, Swedish Saab's Gripen, Russian MiG-35, European EuroFighter Typhoon and French Dassault's Rafale which ultimately won the competition. Since 2007, the IAF's need for aircraft has skyrocketed to over 300 and in the coming decade, more aircraft will be phased out. The numbers required can reach 350.
PROBABLE CONTENDERS
F/A-18 Super Hornet
The Boeing's carrier-launched Super Hornet is considered as an all-weather fighter and attack aircraft. The twin-engine F/A-18 E/F, based on F/A -18 C/D, is a mid-wing, multi-mission tactical aircraft first rolled out in 1995 and entered service with the US Navy in 1999. On February 20, 2018, after a gap of 20 months, the first Super Hornet rolled out of the production line. The aircraft is expected to remain in service till 2030s.

F-16 Fighting Falcon
Considered as one of the most capable and combat experienced fourth-generation multi-role fighter, the single-engine, F-16 Fighting Falcon is operational with 28 Air Forces across the world. Since, its introduction in the United States Air Force in 1979, the aircraft has seen multiple upgrades. In last four decades, more than 4,500 F-16s have been delivered to various Air Forces, latest F-16V configuration is expected to keep the aircraft relevant to current and future aerial combats.

Rafale
Winner of the MMRCA competition, Dassault's Rafale, developed for the French Air force and Navy to replace seven types of aircraft, is considered as an omnirole aircraft. India has already ordered for 36 Rafales for over seven billion Euros.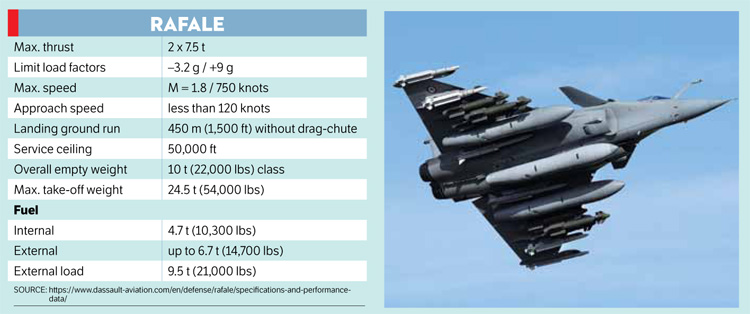 Gripen
The Swedish Gripen E, latest version of the aircraft, is a singleengine multi-role, fully NATO-interoperable, especially designed for 'future Network Centric Warfare (NCW) environment.' Currently, the Gripen is operational with Swedish, Czech, Hungarian, South African and Thai Air Forces. Brazil has also placed orders for 36 of these aircraft.

Eurofighter Typhoon
The Eurofighter Typhoon, in service with seven air forces, came second in the MMRCA competition. The swing-role fighter, equally capable of air-to-air and air-to-ground, first entered service in 2003. Till date, more than 500 aircraft have been delivered to various countries.

MiG-35
An advanced version of the MiG-29K/KUB fighters, the MiG-35 is equipped with the latest avionics and sensors, making it capable of handling fourth-generation advanced fighters. If demanded by customer, it can be powered by vectored RD-33MK engines and its cost of flying 'is almost 2.5 times lower than that of the MiG-29 fighter.'
Russia can also offer their latest Su-35 fighter which is considered as an advanced version of Su-30. Recently, China has deployed its Su-35 on the South China Sea. It is claimed to have the capability to counter fifth-generation fighters. Russia has also deployed its Su-35s in Syria in air dominance role against American fighters.
Finally, what will happen if US offers its fifth-generation F-35 stealth fighter? With its fifth-generation capabilities and falling prices, the F-35 will completely change the dynamics of the competitive tender.
EDITOR-IN-CHIEF'S TAKE
We need to seriously look at the horrific scenario of dwindling number of squadrons and must react to this unacceptable factor;
We must look at the value for money factors while considering and rather reconsidering repeat of MMRCA scenario;
Do we really need to remain complacent accepting the compromised level of capabilities or should we firmly demand "the latest and the best" for our most deserving air force? We must come clear on this;
No step should be taken as an adhoc solution. We must now take long-term based, well measured and calculated steps to meet the requirements and to fill these gaps;
We must keep in mind that our joint programme FGFA with Russia is also appearing to be reaching nowhere; in fact, it appears to be on the verge of being called off clearly hurting our ambition of having our own 5th generation fighter (a view point on the same appears on page 3 in this issue by an Air Marshal).