Practical airplane purchases, hand-me-down jets and more, our Asian neighbour is setting new business aviation trends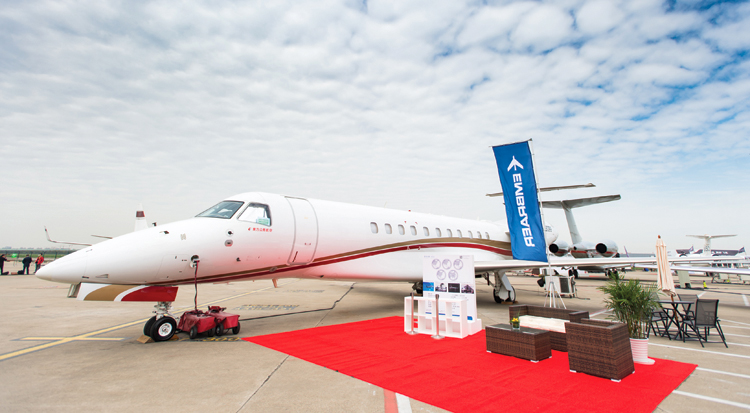 While major global aviation operators are still reeling from the flat fest that was the recently concluded Wings India 2018, the upcoming ABACE Shanghai 2018 may just get everyone's spirits soaring to the skies. From military power to business aviation or even the largest population, India and China have long had a friendly (sometimes unfriendly too) competition of sorts in a quest to be the best or the first in all. And, the Asian Business Aviation Conference & Exhibition (ABACE) is no different. Recovering from almost a decade long slump in business aviation after a meteoric rise, the Eastern neighbour seem to be all set to make up for lost time.
China is on a Shopping Spree
President Xi Jinping's anti-corruption campaign in 2014 has been attributed by many for the slump in Chinese Bizav. However, the Asia-Pacific region, especially China, still remains one of the busiest markets for many business jet operators. According to a 2015 report by business aviation consultants Asian Sky Group (ASG), mainland China remains the largest single market in the Asia-Pacific region with 313 business jets with a net increase of 13 business jets in the fleet in 2016.
Meanwhile, 2017 expansion plans for Boeing Business Jets fleet in China included two BBJs, one BBJ 2 and one BBJ 787 entering service with two BBJ MAX 8s forecasted to be delivered in 2018. Business jet management company HK Bellawings welcomed the first Dassault Falcon 8X in Greater China and a 7X in 2017. In fact, China is the second-largest market for the Falcon 7X with 29 of the model currently in the country, though it's still a far cry from their boom days when there were nearly forty 7Xs in China. Dassault's head of global communications, Vadim Feldzer agrees, "In the past, Chinese customers didn't really care about the cost, they just wanted the biggest jet with longest range and everything more, more, more... there weren't any rational procurement decisions. They prefer to pay for expensive travel rather than have their MVPs stuck in lounges in the middle of nowhere waiting for a connecting flight. Chinese at the peak of the market in 2010 were looking for the most expensive jet in the world."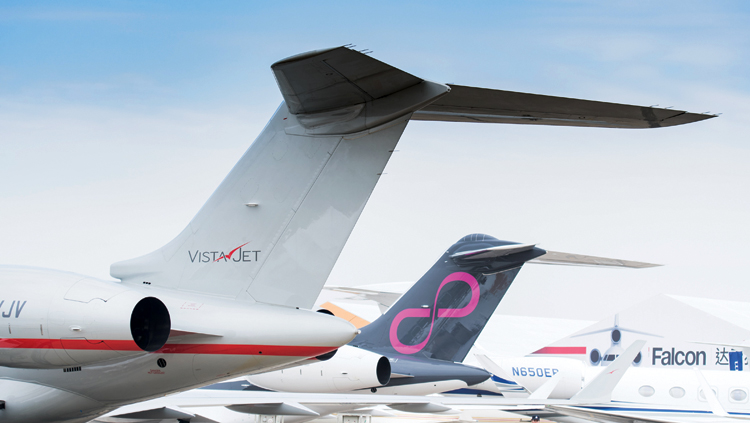 Aircraft on display at Shanghai Hongqiao International Airport, Shanghai
LESS IS MORE
However, contrary to their ostentatious business jet choices in the past, the new age Chinese buyer is more practical. In 2016, Embraer made some rather staid deliveries in the form of one midsize Legacy 500 and two light Phenom 300s in the Chinese market. This just shows that the trends are shifting towards more mature purchases in the country. The aforementioned ASG report also implied that there is a gradual shift towards procuring preowned jets. It claimed that approximately half of the jets purchased in China in 2016 were second hand. Feldzer has a simple reason behind the sudden austerity. He says, "Let me ask you, how many hours on an average do the owners of private jets fly? The answer is something that we have experienced in the ultra long range Falcon 7X. It is capable of flying 14 hours, but on an average, it flies only for 2.5 hours, not more. This means that most of the time, the aircraft is doing short distances. Chinese buyers have changed their minds and so has the global market. It's about rational purchases now...like why buy an 8X if you don't need the maximum range?"
THE DESI CONNECT
"The surge will take India from 18th globally (in terms of private jet numbers) to fourth. Intriguingly, the country boasts almost double (111) the number of private jets than China, even though China has many more billionaires," wrote journalist William Stolerman in a 2010 edition of Luxury Insider, a leading online luxury magazine. And, while many may scoff at the thought of this, a few industry veterans consider it a likely scenario.
Nowadays, companies prefer to pay for expensive travel rather than have their very important people stuck in lounges in the middle of nowhere waiting for a connecting flight
The CEO of Club One Air, Rajan Mehra recently spoke about the same to Sunday Guardian Live. He said, "Just about eight to ten years ago, India had more private planes than China and then in the last ten years, China suddenly exploded with economic growth, with people having plenty to money to buy jets. During this time, a lot of people in China bought private jets. But in the last two years, the Chinese government has clamped down, making it difficult for businessmen to buy private jets. In that respect, if we can get our act right, we can even get ahead of them."
However, the facts may just give you some food for thought. South China Morning Post reports that Mainland China had 466 business jets flying its skies at the end of 2016, with 114 individual business people owned 164 private jets, a number that is less than India's business aviation fleet of 487 in 2015 reported by BAOA.
Hurun Business Jet Owners 2017 report says 'based on its financial progress and economic size, there is enough demand for 1,900 business jets to be operational in the country.'
In China's Five-year Plan for 2016-2020, at least 50 new civilian airports are now being built to facilitate business and leisure travels. Meanwhile India also harbours similar plans with new heliports and airports coming up for the UDAN scheme. Club One Air's Rajan Mehra thinks that this may be the boost Indian business aviationis looking for. He told us, "Some of the smaller towns don't even have airfields, but the good news is that this government is looking at these concerns very positively. They are doing it for regional connectivity, but it will help us too because we will also get to use the airstrips and infrastructure."
It is also important to note that the same Shanghai-based Hurun Report's billionaire list places India on the third spot with China leading the list by producing four new billionaires every week.