Imagine a world without the stress of traffic, where mobility is a breeze, where you can enjoy the best of technology... EVA (Electric Visionary Aircrafts) is the first Compact Autonomous E-VTOL (Electric Vertical and Take-OFF Landing). With their first aircraft, the X01, commuters will leapfrog traffic jams and enjoy the luxury of travel in 5 times less than usual time. With no infrastructure cost, this will be the fastest and best way to skip the traffic in cities coping with traffic jams and pollution.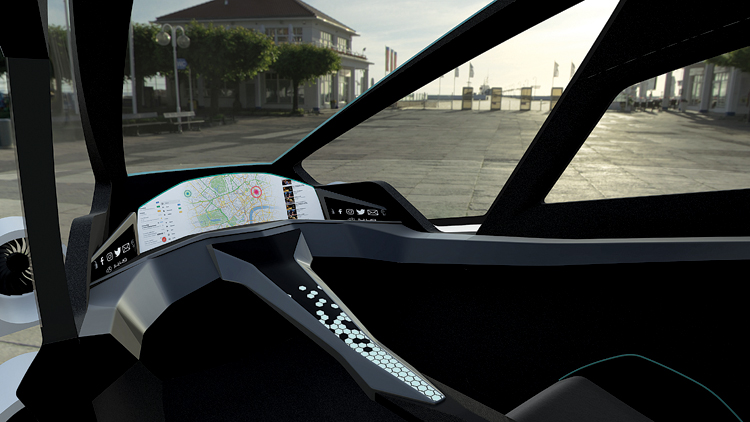 XO1 is the first compact VTOL jet with a cruising sped of 300 km/h
Our first model X01 is the world's first compact autonomous VTOL jet which has a capacity of two passengers or a payload of 250 kgs. It is powered by 24 electric jet engines designed for vertical take off/landing, hovering and cruising.
The aircraft has an autonomy range of 250 kms and a cruising speed of 300 km/hour. It flies in a altitude range of 350m.
This compact aircraft has a length of 5.1m and a total width of 2 m. The aircraft is equipped with foldable wings which makes it possible to accommodate in a car parking space, also to practically land almost anywhere on the street depends the requirements.
X01 is equipped with 12 cameras, 77 GHz Radar, and Lidar for automated flight.
The batteries can be charged from Electric Car charging stations. Also, we are planning to build the automated parking building to recharge batteries, do checkups and maintenance.
The passengers can book the flight by touch of a finger using our mobile application form where they can chose the pickup area and destination.
The interior of the aircraft is equipped with luxurious seats, a set of large Infotainment screens where passengers can see the flight status, change planned course, log in to social apps and watch movies.
When it comes to safety, the aircraft will be equipped with an advanced transponder, parachutes, remote piloting assistance with full redundancy.
In addition to the urban air taxi usage, X01 will be available for VIP usage, search & rescue and short haul cargo delivery.
STATUS
EVA was launched in May 2017, with an office opened next to Hyperloop office at Francazal Airbase in Toulouse, France.
EVA X01: SPECIFICATIONS
Length: 5.1 m
Width of the cabin: 2 m
Wingspan: 11m
Foldable wings with winglets
6 Large rotors in 2 compartments at the rear for VTOL
4 small rotors attached on each wing
2 canards on each side. Each canard has 2 rotors (total of 8 rotors on canard)
A panoramic roof for the enhanced view for the passengers
The design of the X01 has been finalised and we are working on a 1:10 prototype which will be followed by a full scale prototype in early 2019. EVA is working with French Government to establish the air taxi segment in coordination with the transport authority (RATP) and are planning to expand the service to major cities around the world.
We have already signed a non-exclusive agreement in South-East Asia and will join the world cities summit in Singapore.
The company has already selected three test cities for 2019 including Toulouse, France.
EVA was a participant at Viva-technology exhibition 2018 in Paris and was notably attracted by many major visitors including French Ministry of defense.
EVA is open to distribution agreements or cooperation with taxi fleet companies, e-hailing solutions, search and rescue organizations in India.
The development of the full scale prototype is expected to commence in 2019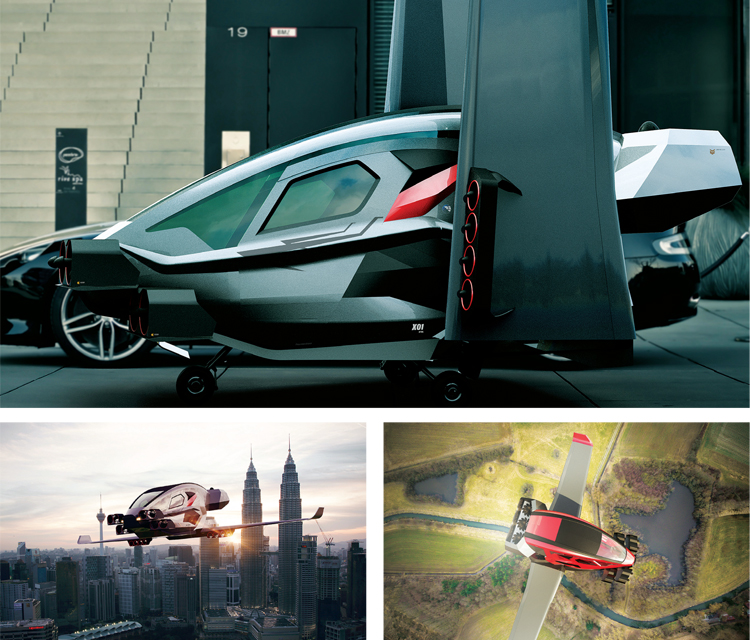 The XO1 is also equiped with 12 camera's, 77 ghz radar and lidar for automated flight