The boost in drone operations comes with the IAF transitioning from ground-based control of UAVs to satellite-aided operations, enabling greater range and flexibility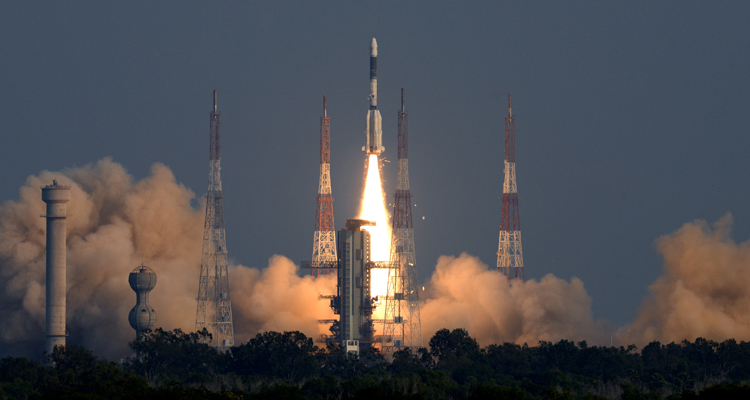 The launch of GSAT-7A is a shot in the arm for India's network-centric warfare capability
On December 19, 2018, India successfully launched GSAT-7A satellite meant for augmenting the existing communications capabilities of satellites utilised by the Indian Air Force (IAF). GSLV-F11 (Geosynchronous Satellite Launch Vehicle) carrying the GSAT-7A satellite lifted off from Sriharikota at 4.10 pm and 19 minutes after the take off, the three stage launcher ejected the satellite into a geosynchronous orbit. Eventually, the satellite is to be moved to its final geostationary orbit slot at an altitude of some 35,000 km by firing its onboard chemical firing system.
As per ISRO Chairman K. Sivan, the GSLV had placed GSAT-7A in a super synchronous orbit achieving an altitude of 2000 km more than the intended slot. GSAT-7A satellite will enable the IAF to interlink multiple ground radar stations, airbases and AWACS aircraft. It will also boost drone operations – help drones in conducting surveillance and satellite-controlled unmanned aerial vehicles (UAVs) improve their range and endurance to strike at enemy targets from long distances. The boost in drone operations comes as IAF will transition from control of UAVs from existing ground control stations to satellite control of UAVs; boosting the range, flexibility of the UAVs.
It may be recalled that in September 2013, ISRO had successfully launched GSAT-7 (Rukmini) communication satellite for exclusive use of the Indian Navy (IN) enabling monitoring the Indian Ocean Region (IOR) up to 2000 nautical miles and providing realtime inputs to Indian warship, submarines and maritime aircraft. Launch of GSAT-7A comes at a time when India is in the process of procuring the Sea Guardian drones from the US; these being the armed Predator-B drones that have are high altitude satellite controlled drones with long endurance and can engage enemy targets from long distance. GSAT-7A satellite is meant to boost IAF's network-centric warfare capacities and enhance its global operations. There is no doubt that GSAT-7A will boost IAF's capabilities, but while we take solace in clichés like 'global reach' etc, our policy makers need to take a holistic look at the environment in which the military will be required to operate, particularly across the Line of Actual Control (LAC) with China, as also the total gamut of military operations. By now it is well known that a Sukhoi fighter of the IAF was downed electronically by China close to the LAC, and same was the case with our UAV that supposedly crashed in Tibet in the vicinity of Doklam. What are our capabilities in this regard and do they match what our adversaries have?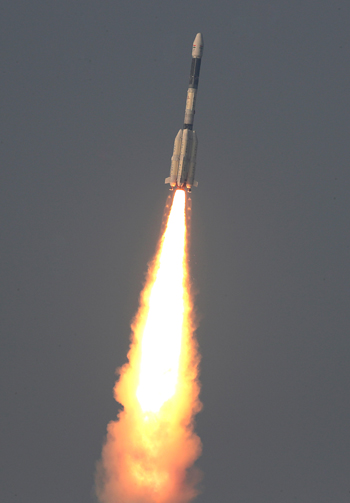 The next stage in satellite-enabled net-centricity is providing real time imagery to the army's foot soldier
China has installed an unmanned all weather observation station close to the LAC in Tibet, in Yumai town under Lhunze county of Shanan Prefecture to assist national defence including what Chinese media mentions as "live-fire conflicts". Media mentions regional weather as an important factor that could influence the take-off and landing of aircraft and the launch of missiles during battle, particularly in Tibet where adequate air pressure is necessity for such activities. The question also arises that while GSAT-7 (Rukmini) is exclusive for the IN and GSAT-7A exclusive for the IAF, ostensibly boosting their network-centric capabilities, what consideration is being given to ground operations by the Indian Army (IA). Much more important is the fact that the IA is constantly engaged in ground operations at the sub-conventional level as part of China and Pakistan's ongoing hybrid war. For the IA, waiting for network-centric capabilities to be built by the time the next 'conventional' conflict occurs, implies paying in soldiers blood on almost daily basis. This is not a turf war that if IN and IAF have exclusive military satellites, so should the IA. With ISRO's proficiency that would be the least problem.
But what do you do with the satellite when the IA's capacity building for network-centric warfare is stagnating. As mentioned in these columns, IA's Battlefield Management System (BMS) has been foreclosed, the F-INSAS programme, dependent on the BMS too has no capability to exchange information, the air defence control and reporting system (ADC&RS) is yet to be fielded, and Government's much hyped Project Network for Spectrum (NFS) for the Army, Navy and Air Force, which was to be originally completed by July 2015 is tied up red tape, with the completion date now being projected in January 2022. But this too may be misnomer because the hiccups are yet to be cleared. For that matter, IA's Tactical Communications System (TCS) is yet to be fielded though finally outsourced to the private sector after the case was perused by two successive defence ministers, file closed and reopened. For that matter, media has just reported there is not a single mobile tower in Arunachal Pradesh close the LAC. But that should hardly be a surprise with little effort to improve the border infrastructure. When Mulayam Singh Yadav visited the Siachen Brigade and gifted four INMARSAT's to the formation, the media went berserk headlining that all communications problems in Siachen had been resolved. With Prime Minister Narendra Modi inaugurating the Bogibeel Bridge on the Brahmputra River, it would be natural for the media to portray that the border infrastructure issues in Arunachal Pradesh stand resolved. The pity would be that most journos would not bother to even find out what is the crow-flight distance from this bridge to the LAC, leave aside the distance along the roads, and where no roads exist at all, as was experienced during China's intrusion in Tuting region during December 2017-January 2018.
ISRO had launched 239 satellites for 28 different countries as of October 2018. These included launch of 104 satellites by a single rocket on February 15, 2017. But the state of the Army soldier is no different from the CRPF jawan battling Maoists in Central India – UAVs flying above but the poor soldier cannot get the real-time information. Ironically, ISRO took off years ago, but MoD appears still in slumber.