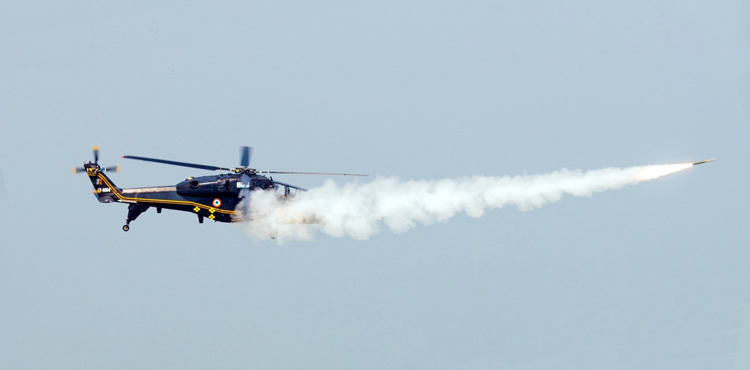 Missile firing completes weapon integration tests for LCH
Kill range of 6.5 km against airborne threats
LCH first Indian missile firing chopper
10 LCH for IAF, 5 for Army
Other weapons include 70 mm rocket, 20 mm turret gun
India's indigenous Light Combat Helicopter (LCH) has achieved missile firing capability and is now ready for induction, Hindustan Aeronautics limited (HAL) declared on January 17.
"A Mistral 2 air-to-air missile was fired from the LCH on a moving aerial target recently at the Integrated Missile Test Range at Chandipur, Odisha. It was a direct hit on the aerial target, destroying it completely," HAL spokesperson Gopal Sutar told SP's Correspondent. The Mistral 2, manufactured by French MBDA, gives the LCH an interception range of 6.5 km against airborne threats.
With this missile firing, HAL - which has designed and developed the LCH - declared successful completion of all weapon integration tests on the chopper.
This clears the decks for the signing of the contract for the first tranche of 15 LCH for an estimated 3,000 crore. Defence Minister Nirmala Sitharaman mentioned the LCH in Parliament on January 4 among the orders for HAL which are "in the pipeline". These orders together would aggregate to 100,000 crore.
Sources hinted that the LCH contract could be signed during Aero India 2019, the forthcoming edition of India's biggest airshow at Bengaluru in February. It'll be a shot in the arm for HAL, India's beleaguered aircraft manufacturing monopoly, which was forced in December 2018 by its poor financial situation to borrow working capital to keep itself going.
Of these 15 combat helicopters, 10 would go to the Indian Air Force (IAF) and five to the Indian Army, sources told SP's Correspondent.
"This is the first time in the country that a helicopter has carried out air to air missile engagement. None of the helicopters with the military services in the country has demonstrated such a capability. With this, LCH has successfully completed all weapon integration tests and is ready for operational induction," an elated HAL chairman R Madhavan declared. The missile system is based on two launchers, each bearing two missiles.
Other weapons on the LCH include 70 mm rockets and a 20mm turret gun, the firing trials for were completed last year.
The HAL did not make any mention of a ground attack missile firing capability. The principal role of an attack helicopter is that of a tank killer, for which it requires an air-to-ground missile firing capability. The IAF is acquiring the iconic Apache helicopter as its principal helicopter gunship. The Army also hopes to get the Apaches.
The LCH, which will supplement the Apache capability, is touted as the only attack helicopter in the world capable of operating at altitudes as high as Siachen glacier. "(It is) Designed and developed by Rotary Wing Research & Design Centre (RWRDC) of HAL in response to the operational needs of Indian Armed Forces, and its capabilities far exceed that of contemporary attack helicopters of its class," an HAL statement added.
The helicopter is equipped with a helmet-mounted sight and a forward looking infrared sighting system. "The fire-and-forget missile is effective against all types of aerial threats, including UAVs and microlight aircraft. Capable of operating from dispersed locations and flying at ultra-low levels, LCH can now effectively provide a protective umbrella from all aerial threats," the HAL statement added.
The missile firing test was conducted by test pilots Wing Commander Subhash John and Group Captain Rajeev Dubey and flight test engineer Colonel Ranjit Chitale.