Air transportation has brought with it the unintended curse of environmental pollution, directly attributable to aircraft engines burning fossil fuels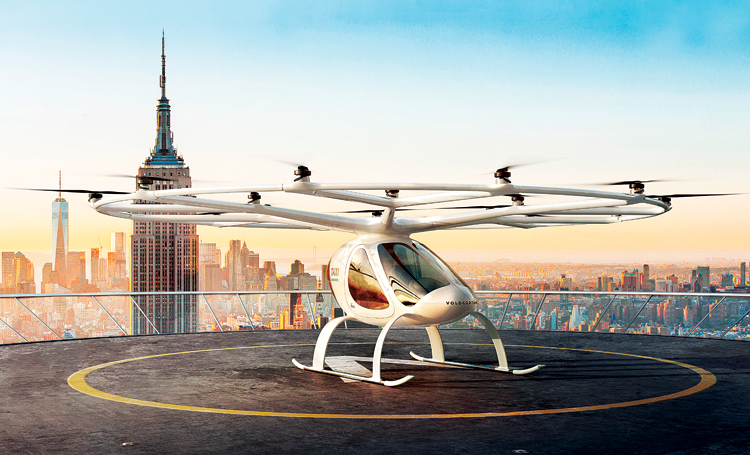 Interesting Initiatives: In the rotary-wing space projects such as the Volocopter with nine electric engines and 18 rotors, is already flying and is expected to contribute hugely to air mobility in the near future.
Air transportation has undoubtedly been one of the finest endowments of technology to the modern world. The ease and speed of international travel that it offers, has brought the world closer and made it a better place to live in. However, it has brought with it, the unintended curse of environmental pollution, directly attributable to aircraft engines burning fossil fuels. The quantum of this pollution has a propensity to increase as the number of airliners and business aircraft proliferate in response to the growing demand for air travel. The current world population is estimated to be in the region of 7.7 billion. About 9 billion passengers fly around the world annually and this number is on the rise.
The United Nations Environment Programme, which monitors climate change through the Intergovernmental Panel on Climate Change, projects that air transportation contributes 4.9 per cent of human-caused climate change, including emissions of CO2 and other Greenhouse Gases. Aviation Turbine Fuel is the largest contributor, not only because it is used by jet engines which power majority of aircraft but also because it generates a lot of CO2 during its combustion inside the engine. All internal combustion engines, jet, turboprop or piston burn fossil fuels. There are initiatives afoot to produce equivalent fuels from biological sources but currently, fossil fuels are being depleted at an alarming pace. Thus, from the point of view of fossil fuel conservation as well as degrading environment due to its combustion, the attention of all stakeholders in aviation is engaged in finding technologies to save fuel and optimise its use.
ENGINE PERFORMANCE
Over the past decade, the antagonistic competition between Airbus and Boeing in the narrow-body, single-aisle segment has led to both facing the dilemma of selecting between designing a new aircraft to bridge the gap between narrow-body and wide-body and enhancing existing aircraft families (A320 and Boeing 737 respectively) to do so partially. This choice became necessary as the incremental changes to the two families were becoming smaller and both the contenders were in search for substantial improvements to their aircraft. Airbus decided to re-engine the existing A320 family, reduce weight through use of composites and introduce some design features to reduce fuel consumption; the enhanced aircraft was called the A320neo. Boeing was less enthusiastic about the concept, but was forced to follow suit with its own family of 737 MAX aircraft. The lure of cost savings, as can be expected, enticed airlines the world over to order the neos and the MAXs.
Termed 'Age of Incrementalism' the favouring of re-engining decision over the risk of developing a new, expensive aircraft was largely driven by the fact that technology offered the promise of reducing fuel consumption. According to Bill Brown, Director of Commercial Engines Marketing at GE Aviation, part of the joint venture with Safran that forms CFM, the advancing state of technology enables a roughly one per cent gain in fuel efficiency annually, with engines driving about 75 per cent of efficiency gains and airframes accounting for the rest. As an aside, Boeing is still actively pursuing a New Midsize Airplane (NMA) which will fit between the narrow body and wide body spaces. Interestingly, unlike the Boeing 737 MAX family which comes with only CFM engine option, three engine OEMs are in contention for producing the most fuel-efficient engine for NMA.
AIRFRAME TECHNOLOGIES
As for contribution of airframe technology towards fuel saving, possibly, the most prominent one is the introduction of winglets that are devices mounted on the wing tips. These serve to enhance the aerodynamic efficiency of the wing through air flow around the wingtip thus producing additional thrust and improving performance by 10 to 15 per cent and cut emissions by around six per cent. 3D printing technology, also called additive manufacturing and the use of carbon fibre materials, and Shape Memory Alloys (SMA) help to reduce aircraft weight while increasing overall construction efficiency. SMAs work through heat and, at the required temperature, the alloy metal transforms into different shapes that contribute to aerodynamic efficiency and weight reduction thus resulting in fuel saving.
Bio-fuel technologies, driven by the dual motivations of fossil fuel depletion and climate change imperatives, are also progressing at a rapid pace
National Aeronautics and Space Administration (NASA) is working on N+3 Programme with a team of engineers from Aurora Flight Science, MIT and Pratt & Whitney to design a concept for a commercial aircraft named "double-bubble" D8 which does not have an engine beneath the wings, but instead on top of the aircraft body near the tail. The result is a dramatic reduction in drag and improvement in fuel efficiency. The laudable objectives of D8 include 37 per cent less fuel consumption than current airliners, 50 per cent reduction in noise and 87 per cent reduction in landing and takeoff cycle nitrogen oxide emissions. A similar design being tested by NASA is the 'Blended Wing Body' (BWB) which has a radical hybrid wing-shaped body which could become commercially available by 2035. It is projected to use 27 per cent less fuel, have 15 per cent lower weight, 20 per cent higher lift-to-drag ratio and 27 per cent less thrust requirement than a conventional aircraft with identical payload.
ELECTRIC AND HYBRID PROPULSION
In May this year, NASA announced a programme called Centre for Cryogenic High-Efficiency Electrical Technologies for Aircraft (CHEETA) at the University of Illinois in US. It will work on the development of fuel cell and cryogenic liquid hydrogen energy storage technologies for completely electric aircraft. It will include a consortium of researchers with the knowledge and experience to make disruptive advancements in cryogenic and superconducting technologies, as well as novel methods for electric propulsion integration, as they apply to aircraft systems. In Europe, French aerospace company Airbus has signed a Memorandum of Understanding (MoU) with Scandinavian Airlines to undertake joint research on operational and infrastructural opportunities and challenges involved with the large-scale introduction of hybrid and full-electric aircraft to airlines. Full scale jet propulsion using electric power is currently not in the grasp of technology as electric energy capabilities of batteries are not dense enough. Hence the term hybrid in the context of electric propulsion of aircraft to indicate the supplemental addition of electric power to existing or modified power plants in aircraft. Until the ratio of battery weight to energy improves with the help of emerging technologies, electrical power may be used in cruise phase while internal combustion engines during take-off and landing.
Electric propulsion would save on fossil fuel thus saving fuel and avoiding environmental pollution. However, it carries the risk of batteries running out in the air over terrain the aircraft cannot land on safely. In an interesting side story, Harbour Air, an operator with 42 sea planes operating in Vancouver, British Columbia and Seattle, has announced plans to convert its fleet to electric power using technology from MagniX, a Washington-based company which builds its own dedicated aircraft-quality electric motors. The companies did not specify battery size, but MagniX says it uses state-of-the-art batteries that have 200 watt-hours per kilogram and can deliver 30 minutes of flight time and 30 minutes of reserve power. The fact that Harbour Air's flights are mainly over the sea, provides the additional safety that in case of battery power running out, a reasonably safe landing on the sea can still be the alternative plan.
In the rotary-wing space projects such as the Volocopter with nine electric engines and 18 rotors, is already flying and is expected to contribute hugely to urban air mobility in the near future. There are similar other initiatives like Safran's "distributed Propulsion system" for example. It is clear that electric power on aircraft is now not a question of if but when.
BIOFUELS
Driven by the dual motivations of fossil fuel depletion and climate change imperatives, biofuel technologies are also progressing at a rapid pace. The technological feasibility of using biofuels in aircraft engines has already been demonstrated amply. It is only a matter of time before the cost of biofuels, which is around three to four times that of equivalent fossil fuels, is brought down by technological innovations to affordable levels.
CONCLUSION
According to industry estimates, aviation fuel demand is expected to increase by 1.9 to 2.6 per cent annually until 2025. The projected growth in the aviation industry could see its share of global emission increase to 22 per cent by 2050 from present 4.9 per cent. Slowing down the growth is not an option as air travel has become a necessity. The only alternative is reducing aviation emissions through reducing fuel consumption and increasing fuel efficiency. The foregoing text barely touches upon the technological initiatives afoot to save fossil fuel and optimise its use in terms of Specific Fuel Consumption, the ratio of fuel consumption per unit time (in kg/hr) to power produced by engine (in kWh). In parallel, technology is being driven to find alternative means of powering aircraft, electrical power being the prominent one. It is just a question of time before we find the right solutions for fuel saving and optimisation in aircraft propulsion.