The gunship India missed having in the Kargil War, the first lot of Apache attack helicopters to operate from Pathankot airbase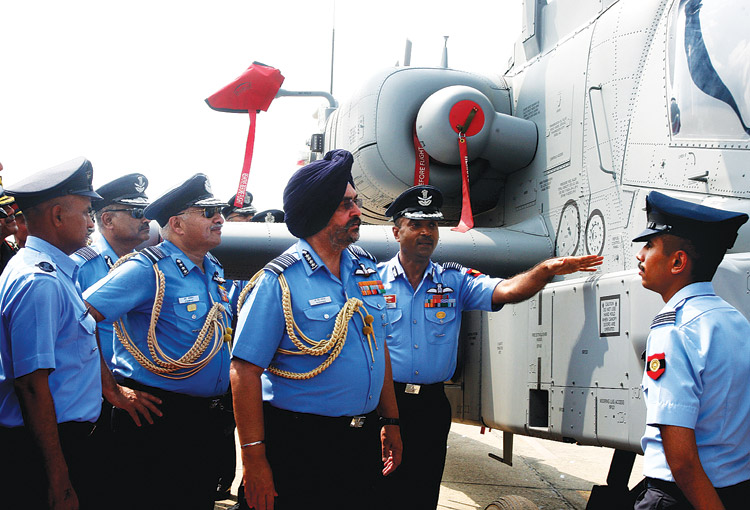 India on September 3 took a significant step to modernise its firepower in support of military operations on the ground by inducting the first lot of eight US-made AH-64E Apache helicopter gunships into the Indian Air Force (IAF).
Equipped with Hellfire ground-attack missiles, the Apache increases India's strike options along disputed boundaries and will provide close-in airborne firepower support to advancing Army formations. Famed as a "tank in the air" and capable of operating at Himalayan heights, it is also the gunship India sorely missed having during the 1999 Kargil War.
Reputed to be the most lethal attack helicopters in the world, the first of the IAF Apaches were inducted into the 125 'Gladiators' Helicopter Unit at the Pathankot airbase in Punjab in the presence of the Chief of Air Staff, Air Chief Marshal B.S. Dhanoa, and the Air Officer Commanding-in-Chief of the Western Air Command, Air Marshal Raghunath Nambiar.
"Apache attack helicopters are being purchased to replace the (Soviet origin) Mi-35 fleet. Alongside the capability to shoot fire and forget anti tank guided missiles, air to air missiles, rockets and other ammunitions, it also has modern Electronic Warfare capabilities to provide versatility to helicopter in a network centric aerial warfare," said Air Chief Marshal Dhanoa at the induction ceremony, attesting that this formidable war machine would enhance the operational capabilities of the IAF.
"This procurement will enhance the capability of IAF in providing integrated combat aviation cover to the army strike corps. These tandem seating helicopters are day/night, all weather capable and have high agility and survivability against battle damage. These are easily maintainable even in field conditions and are capable of prolonged operations in tropical and desert regions," the IAF stated in a press release.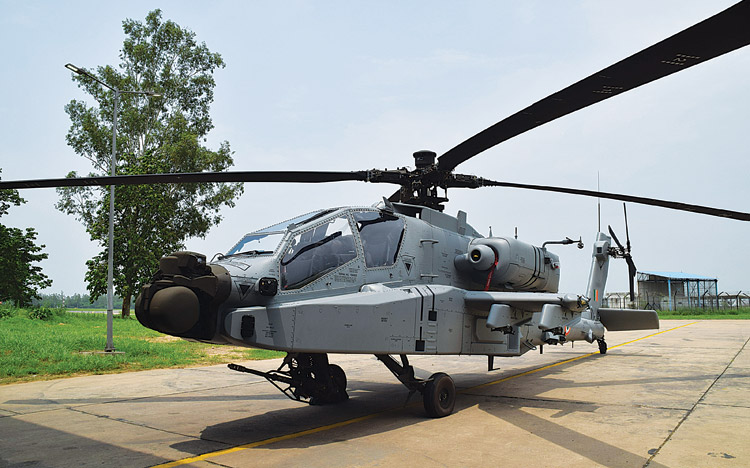 Earlier this year, on March 25, the IAF inducted another iconic American helicopter, the Chinook, in a significant upgrade of its rotary transport capability. Contracts for 22 Apaches and 15 Chinooks were signed by the Narendra Modi Government in September 2015 for an estimated $3 billion. These contracts give India options to place follow-on orders for 11 more Apaches and seven more Chinooks. Both these helicopters are very distinctive symbols of growing India-US military cooperation.
The IAF will operate a fleet of 22 Apaches by 2020. The Ministry of Defence is processing the acquisition of six more of these gunships for the Indian Army, which will gradually take over the attack helicopter role from the IAF. India is the 16th country to operate the Apache.
The helicopter's is equipped with formidable weaponry including air-to-ground Hellfire missiles, air-to-air Stinger missiles and 70mm Hydra rockets. Apaches are also armed with a 30mm chain gun with 1200 rounds as part of area weapon subsystem. A fire control radar gives it 360 degree coverage and a nose mounted sensor suite enables very accurate targeting. It has night fighting capability and night vision systems.
The IAF's first Apache Commanding Officer is Group Captain Mannarath Shylu, a gunship veteran who was awarded a Vayu Sena Medal in 2011 for safely landing a Mi-35 in distress.
The Apache induction is also an important milestone for Boeing's Defence supplies to India. "Boeing is committed to supporting the modernisation requirements of the Indian armed forces and maintaining them to be mission-ready," said Salil Gupte, President, Boeing India. "We are confident that the Apaches will be an indispensable asset to the IAF. We will continue our efforts to deliver advanced capabilities to India's defence forces," he added.