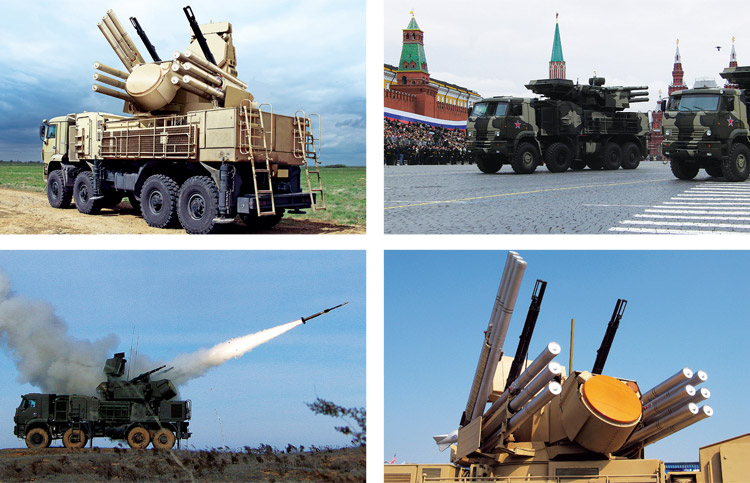 The Pantsir-S1 air defense missile and gun system (ADMGS) is a short range last stand protection against airborne threats with versatility of effect on all types of targets reaching the last defensive line, cruise missiles and high-precision weapons (HPW) in particular.
Pantsir-S1 fully satisfies all requirements for fighting modern air threats thanks to the specific features of its design:
combined missile and gun armament that allows to create an entire engagement zone of up to 20 km in range and up to 15 km in altitude;
jam-proof multimode and multispectral radar-optical control system operating in decimetric, millimetric and infrared wavebands;
automatic operation;
capability to fire on the move and from short stops;
short reaction time of 4-6 sec due to automatic tracking of up to 20 targets by the search radar and high-precision target designation providing for quick fine search and target lock-on by the multifunction tracking radar and optronic system;
self-contained combat operation and coordination of actions within a battery;
simultaneous firing against four targets within a sector of ± 45° in azimuth and elevation.
Constant combat readiness of the Pantsir-S1 system is ensured by built-in test equipment in each combat and maintenance vehicle.
The Pantsir-S1 employs a modular design to allow various chassis (wheeled, tracked), stationary and sea-based installation for protecting huge range of targets of vital importance, both military, state and social. Such a design ensures easy integration into Customer's existing maintenance, training and logistics systems with minimum cost.
Moreover, the modular design ensures upgrade options to meet any future requirements in a cost-efficient way.
Pantsir-S1 ADMGS has been successfully tested in various climate conditions all the year round, day and night. Over 500 SAM launches were performed. The system is in serial production for the Russian Armed Forces and a number of international customers. The system has been successfully tested in combat including anti-terrorist operations in Syria to prove all its characteristics. The unique performance of the Pantsir-S1 ADMGS makes it a perfect option to strengthen the Republic of India and its Armed Forces air defense capabilities.