Amid historic fly-in using sustainable aviation fuel to major announcements, debut and a largescale focus on the future of business aviation through the innovation zone, NBAA-BACE concludes with significant occurrences panned throughout the show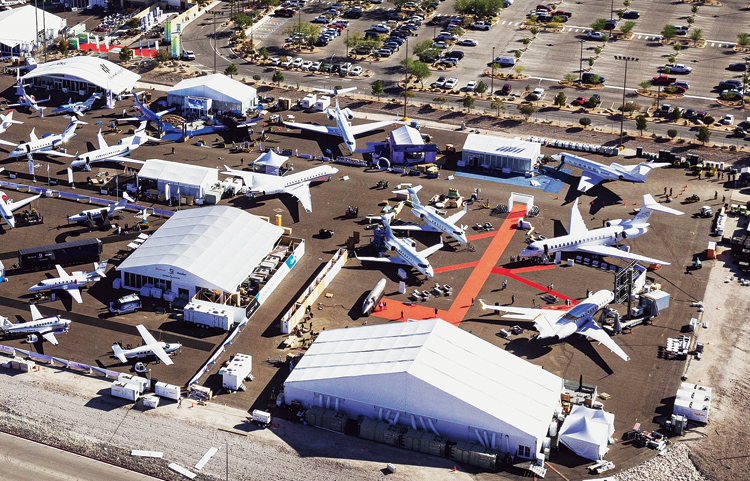 A bird's eye view of the biggest business aviation show on the planet
Yet another edition of the annual National Business Aviation Association (NBAA) Business Aviation Convention & Exhibition (NBAA-BACE) is over. Having taken place this year at the Las Vegas Convention Center and Henderson Executive Airport from October 22 to October 24, 2019, it was an ideal stop where the aviation enthusiasts, high flyers, forward thinkers, established business aviation masters and young aviation entrepreneurs had gathered.
Being one of the most significant convention of the industry, NBAA-BACE allows one to witness business aviation's most important annual event, where participants have an unparalleled opportunity to view the latest business aircraft, products, technology, and services that the industry offers and know about some of the most crucial trade action.
NBAA-BACE 2019 through its several aspects, certainly set the tone for the business aviation industry's way forward.
SUSTAINABLE STRENGTHENING
The commitment of the business aviation industry to ensure a sustainable future was certainly seen as a focus at NBAA-BACE. From a historic fly-in of aircraft using sustainable aviation fuel (SAF) to high-profile education sessions about green technology, the show highlighted the industry's efforts to ensure a cleaner future.
As part of the convention's aircraft display, civic and business leaders welcomed the first-time availability of SAF at Henderson Executive Airport (HND). The fuel is a non-fossil power source that can reduce aviation's carbon lifecycle emissions by up to 80 per cent. Arranged by the NBAA and the General Aviation Manufacturers Association (GAMA), the demonstration was a highlight of the show.
Before the show kick-started, one of the leading independent global supplier of aviation fuel and services, Avfuel, provided SAF to transient business jets traveling to the convention in Las Vegas, in partnership with FBO Avflight at Salina Regional Airport (SLN) in Kansas. Being offered at Henderson Executive by World Fuel Services, four days of SAF availability at Avflight Salina commenced on October 17, 2019.
World Fuel Services announced sustainability initiatives at the convention. World Fuel Services FBO and Flight Department customers can now opt in for carbon neutral bulk fuel purchases.
Avfuel flew its own sales personnel to Las Vegas on SAF and will take them home too on the alternative fuel.
Aircraft manufacturer, Dassault Aviation also participated in the Sustainable Aviation Jet Fuel (SAJF) initiative held at NBAA-BACE 2019 to advocate the use of alternative fuels and aid the reduction of the industry's carbon footprint.
Fueled by SAF, Bombardier's Challenger 650, Challenger 350, Global 7500 as well as the debuting Global 6500 touched down in Las Vegas, promoting the clean and efficient jet fuel.
The entire fleet of Gulfstream Aerospace Corporation (the Gulfstream G650ER, Gulfstream G600, Gulfstream G500, Gulfstream G550 and Gulfstream G280) too flew from Savannah to NBAA-BACE 2019, using SAF and carbon offsets, marking the manufacturing company's first carbon neutral flights. Gulfstream has used SAF in daily operations for its corporate, demonstration, customer Support and flight test fleets since 2016, making over 500 flights on SAF, totaling nearly 1 million nautical miles/1.9 million km and saving approximately 1,200 metric tonnes of CO2. In addition to using SAF at its Savannah headquarters, Gulfstream sells SAF to customers at its Long Beach, California, facility, where it is also used for all completions and delivery flights.
The complete static display and demonstrator fleet of Embraer (Phenom 100EV, Phenom 300E, Praetor 500 and Praetor 600 business jets) also arrived at the show fueled by SAF.
Honda Aircraft Company too flew to the convention powered by sustainable fuel.
TODAY'S INNOVATION, TOMORROW'S FUTURE
It has been well established that technological advancement and the investment in the same accompanied by innovation is transforming the business aviation industry, in fact it is reconstructing the whole aviation picture in itself. The NBAA-BACE 2019 was a powerful affirmation to the above statement.
The future of business aviation was unquestionably on display throughout 2019 NBAA-BACE, but it is still an intriguing subject for many. While there is curiosity, there are also doubts, and so a standing-room-only session was held at the NBAA-BACE Innovation Zone examining two emerging, gamechanging technologies – artificial intelligence (AI) and urban air mobility (UAM) – that will drive this future. Many more of such relevant and informative sessions and discussions were a part of the exhibition related to significant topics that will direct the future of the industry.
From the upcoming ideas to the buzzing technical innovations and an incredible display of the futuristic Urban Air Mobility (UAM) along with the electric Vertical Takeoff and Landing (eVTOL) initiatives, the 2019 NBAA-BACE had it all.
Some of the peruse mockups and technology exhibits present at the Innovation Display Area of NBAA-BACE 2019 included:
Airbus – Vahana
Bell – Nexus
Boeing Horizon X
Bye Aerospace
Honeywell
Jaunt Urban Air Mobility – ROSA
Nexa Advisors
Uber Elevate/SAFRAN
XTI – TriFan 600
Transforming Your Commute: (Left) Bell-Nexus Air Taxi; (Right) Uber Elevate/Safran
Supersonic aircraft (SST) have always held tremendous appeal for business aviation but there has been no certification of any, viable supersonic business aircraft for decades now. However, agencies such as NASA and the FAA have worked for several years to pave the way for SSTs, with significant regulatory work and advanced research to address fundamental obstacles to widespread adoption of the technology: noise, efficiency and emissions. Several companies are now working to develop next-generation SSTs for business aviation uses, and a session at the 2019 NBAA-BACE looked at whether their time has finally come, or if it's just more of the 'same old hype.'
MAJOR ANNOUNCEMENTS & DEALS
A get together of all the major as well as the prospective business industry names invites many major deals and announcements including changes in the organisational structures, agreements between companies, tie-ups, purchases and much more. Some of these that occurred during NBAA-BACE 2019 were:
A purchase agreement was announced by one of the leading global aerospace company, Embraer with Flexjet, a global leader in private jet travel. The deal comprises a fleet of Embraer business jets including the recently certified Praetor jets and the Phenom 300.
Flexjet was also disclosed as the first North American fleet customer by Gulfstream Aerospace Corporation, a major aerospace manufacturer, for its new industry flagship, the Gulfstream G700.
Gulfstream had formally announced Qatar Airways as the launch customer for the Gulfstream G700.
Rolls-Royce partnered with General Electric (GE) Aviation to offer customers tip-to-tail connectivity solutions. The automobile maker, Rolls-Royce, also joined Bombardier Aerospace to celebrate the official entry into service of the Global 6500, which is powered by the automobile company's Pearl 15 engines.
Global manufacturer, Bombardier, declared a Preferred Service Provider (PSP) agreement with GE Aviation which will power Bombardier's cockpit and cabin connectivity solutions. This agreement marks the beginning of the launch of Bombardier's comprehensive Smart Link Plus connected aircraft programme which is aimed at helping customers drive operations and maintenance decisions by leveraging fleet-wide data. GE Aviation is also working closely with Bombardier on the development of the Smart Link Plus box – a Health Monitoring Unit (HMU) "smart" box capable of generating key data for customers, enabling them to increase operational efficiency, and minimize return-to-service times through data-driven decisions.
Bombardier made the announcement of the continued expansion of its Smart Services offerings with the introduction of a new APU costper-flight-hour add-on option for its flagship Global 7500 aircraft. This new option will provide customers with comprehensive cost coverage for the Safran SPU300 [BA] auxiliary power unit, including scheduled and unscheduled maintenance events on or off wing. The company also announced 5,900 nautical mile range for the Global 5500 Aircraft, unlocking new destinations for customers.
Airbus Corporate Jets (ACJ) and Sabena technics signed a co-operation agreement in proposing selfprotection systems (SPSs) for Airbus corporate jets. The agreement was signed by Sabena technics Senior Vice president Sales and Business Development Daniel Soltani and ACJ President Benoit Defforge. Each SPS would combine an existing, state of the art, directional infra-red countermeasure (DIRCM) system with installation on an Airbus corporate jet. SPSs will initially be offered for the ACJ320 Family.
The American multinational aerospace company, Boeing made an announcement about a VIP customer who purchased the two ultra-long range 787-9 Dreamliner airplanes.
Aircraft and service maker, Daher Group announced the acquisition completion of the Sandpoint, Idaho-based Quest Aircraft Company. This marked an important milestone in the French corporation's growth of its North American operations.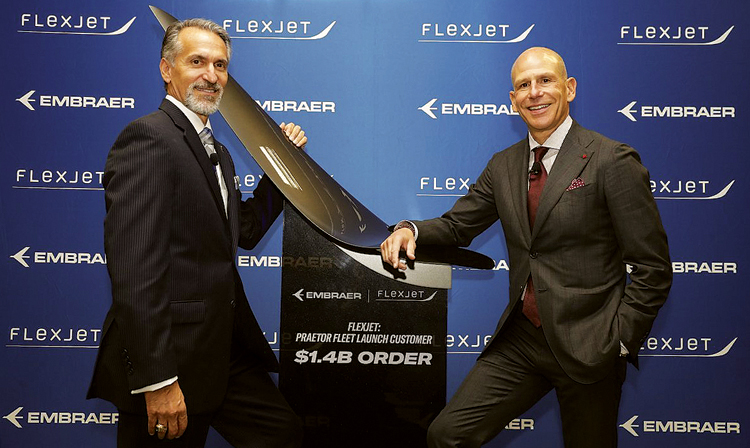 Michael Amalfitano (Left), CEO of Embraer Executive Jets, and Michael Silvestro, CEO of Flexjet, celebrate the deal
One of the leading independent global supplier of aviation fuel and services, Avfuel, provided SAF to transient business jets traveling to the convention in Las Vegas, in partnership with FBO Avflight at Salina Regional Airport (SLN) in Kansas.
SOME KEY INDUSTRY PLAYERS AT NBAA-BACE 2019
Dassault: In the speech delivered by Dassault Aviation's Chairman & CEO Eric Trappier, he mentioned some organisational changes and underscored recent developments in the defense area to underpin the growth of the company. He stated the recent handing over of the first of 36 Rafale fighters to the Indian Air Force and the expected delivery of 26 units this year, including to Qatar and Egypt. Trappier also talked about the company's plan to have a larger role in the space sector. The company has lately started detail design studies for a reusable space transportation system, called Space Rider that will provide routine access and return from low Earth orbit. The Falcon 8X's success and the interest around the scheduled for service introduction, Falcon 6X twinjet were also underlined. The three Falcons on display (an ultra-long range Falcon 8X, a Falcon 900LX and a Falcon 2000S) all flew to Las Vegas with a blend of SAJF and conventional Jet-A1 fuel.
Bombardier: The global manufacturing company's Global 6500 aircraft made its debut on static display at the NBAA-BACE 2019. The aircraft recently received Transport Canada certification and entered into service in September. Global 6500 aircraft provides a stunning redesigned cabin with exclusive features that are innovative and luxurious. The lineup of Bombardier jets showcased at the convention included the industry flagship Global 7500 business jet, the Challenger 350 and Challenger 650 aircraft along with a full-size mock-up of the new Learjet 75 Liberty.
Embraer: The recently-certified midsize Praetor 500 and super-midsize Praetor 600 business jets graced Embraer's static display. They were accompanied by the entry-level Phenom 100EV and light Phenom 300E as well as the Legacy 650E, Lineage 1000E. Interesting new concepts for the future of business aviation were also showcased by the company including the Pulse Concept at their presentation in the Innovation Zone.
Daher: Daher's latest member in its family of TBM very fast turboprop aircraft – the TBM 940 was provided with the TBM 940 programme update and the company confirmed this high-end aircraft's type certification by the US Federal Aviation Administration (FAA), the European Aviation Safety Agency (EASA), along the civil aviation authorities of Brazil, Canada and Japan.
Boeing: Boeing presented live demonstrations of the latest version 2.0 of Flightdocs Aviall.com parts inventory (API) for customers to experience. This version is targeted for release in early 2020. Boeing's partnership with Flightdocs was first announced at the 2018 NBAA-BACE. This is in line with Boeing trying to build on its partnership with aviation software company Flightdocs that provides a comprehensive, fully integrated flight department management solution proven to eliminate inefficiencies, reduce costs, and increase aircraft uptime in a secure, reliable, cloud-based environment. At Boeing's Horizon X stand, the company showcased both supersonic and hypersonic transports for the first time at NBAA.
Airbus: Airbus Corporate Jets (ACJ) and Airbus Corporate Helicopters (ACH) jointly exhibited an ACJ319 and ACH145 at the show. ACJ and ACH are part of the only manufacturer to offer both corporate jets and helicopters, which are marketed as Business Aviation by Airbus in a partnership which began in 2017. ACJ also launched the iflyACJ.com website, allowing VIP travellers to easily plan their world above the world travel with ACJ charter operators.
Honda: A mockup of the first medevac configuration on the HondaJet Elite was exhibited by Honda Aircraft Company at the 2019 NBAA-BACE. The medevac configuration was installed on a HondaJet Elite owned by Wing Spirit, an air ambulance and charter company based in Hawaii. Construction of a second FlightSafety International HondaJet Elite simulator have already started by the company which revealed that the second simulator will be located in Farnborough and is expected to begin operation in April 2020.
Rolls-Royce: The new Pearl 700 engine that powers the just-announced Gulfstream G700 ultra-range business jet, was showcased by Rolls-Royce at the NBAA-BACE 2019. The engine combines the company's Advance2 engine core technology, a new low-pressure system, and various design and material changes to deliver 8 per cent more takeoff thrust, a 12 per cent better thrust to weight ratio, 3.5 per cent less fuel burn, and 5 per cent greater efficiency.
Pilatus: Swiss aerospace company, Pilatus Aircraft, unveiled one of the industry's most versatile single-engine turboprop – the PC-12 NGX. The brand-new turboprop embodies an improved engine, smarter avionics and a completely redesigned cabin with larger windows, making this third generation of the PC-12 airframe the most advanced singleengine turboprop. Building on the experience gathered from the worldwide PC-12 fleet of over 1,700 aircraft with more than seven million flight hours plus Pilatus industry-leading support, the new PC-12 NGX brings the latest technology to the turboprop market. Pilatus reported strong demand for the new aircraft and plans to begin customer deliveries by next year.